HERBS are an obvious choice for the gardening novice. They are easy to grow, require less space than vegetables, thrive in rather poor soil, and are rarely overwhelmed by pest and disease. And of the many herbs you can grow, few are as robust as the garden sage.
Sage is a hardy perennial with handsome, grayish green leaves that look as good in a perennial border as they do in a pot by a window. Of the 700‐odd species of sage, many have good flavor for cooking, but Salvia officinalis is the kitchen standard.
You can grow sage in any large container so long as it receives full sun. If possible, situate the pot in an area close to the kitchen.
How to Grow Sage in a Container
The easiest way to start growing sage is from a small cutting. You can purchase cuttings from your favorite garden center or you can obtain some from an established plant. Simply clip a three-inch cutting from the very tip of a stem, apply rooting hormone on the exposed portion, and plant it in either sterile sand or vermiculite. Roots should emerge within six weeks.
Below is a simple, step-by-step guide to help you grow sage in a container.
Preparing the Container
Before choosing a container, you must first decide how much sage you want to grow. Sage plants usually grow two feet high and need a foot of space in between. Choose containers that will accommodate your plant or plants without crowding. The vessel should permit sufficient room for roots and have at least one good-sized drainage hole in the bottom. Experts recommend clay pots for growing sage.
Once you have decided on a container, wash it with mild soap and water and allow to dry. If you want to use an old container, make sure it is clean. Wash away any residual dirt with mild soap, water, and a brush. Rinse and allow to dry under the sun. Then spray the inside and rim with a simple mixture of seven parts water to one-part bleach. Allow the container to dry before moving onto the next step.
Planting Sage in a Container
You can use store-bought or homemade potting soil for a growing medium as long as it is clean and sterile. Use a mixture that contains nutrient material to feed your plant. The mix should also provide good drainage and aeration. You may choose a medium that is specially made to hold vegetables. Otherwise, use container compost to augment the potting soil. Fill the container with the soil to within 1½ to 2 inches of the rim.
Dig a hole in the potting mix large enough to accommodate the roots of your young sage plant. Place the plant in the hole. Hold it up so that the bottom of the plant is even with the top of the soil. Make sure the roots hang down. No part of the roots should bend at the bottom. Fill the hole with the potting soil and tamp down to firm and settle the plant in place.
Water the newly-planted sage thoroughly and deeply. Allow the water to run out the bottom of the container. Water again once the soil is completely dry.
Care and Maintenance
If you live in a hot, dry area, water your plant more frequently in the summer. Feed your sage with a good liquid or granular fertilizer twice during the growing season. Pinch off any flowers to promote fuller, bushier growth. The more leaves your plant produces, the more abundant your sage harvest.
Sage needs six to eight hours of full sun daily. If your sunny window does not provide this much daily sun, you use fluorescent lighting. Experts recommend a double fluorescent tube mounted under a countertop. You can sit the potted herb 5 inches from the light, but no farther away than 15 inches.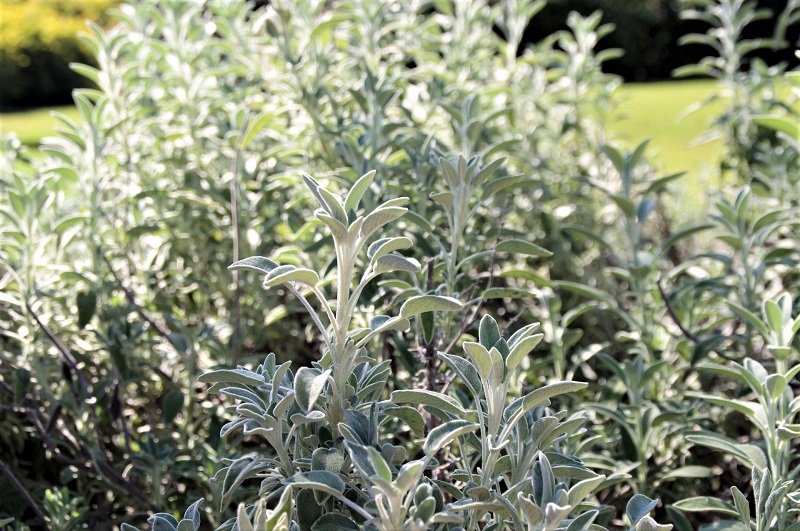 Pruning and Humidity
Indoors, you will need to keep the plants in a warm area, away from drafts. The ideal growing temperature is around 21°C. You will need to provide the plant with enough humidity, as well. You can do this with a nearby pebble tray or humidifier. If you intend to rely solely on artificial light to grow sage, then you should allow the plants 14 to 16 hours of light a day.
Sage requires a hard pruning once a year. The best time to do this is when new growth starts to appear. Young leaves and new buds usually form in the spring. Trim all the dead, decaying, and crossing woody stems. You can do another, less aggressive pruning after flowering ends in the summer.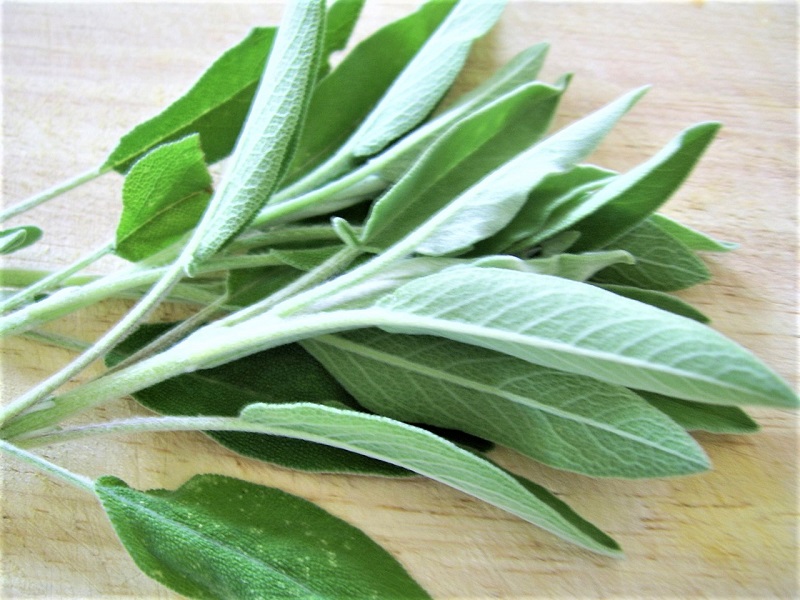 Harvesting Sage
You can harvest sage leaves whenever you need some for cooking, clipping just above the spot where two leaves meet. For the richest concentration of aromatic oils, harvest the leaves in the morning. Keep in mind that sage tends to become woody and its growth starts to decline after a while. That's why experienced gardeners recommended that you replace your plant every four years or so.