THERE WAS a time when mint was like gold. Biblical references suggest it was of such high value that the Pharisees used it as tithes along with anise and cumin. In ancient China, pharmacologists extolled the benefits of mint for regulating qi – energy – in the human body. Around the same time, the ancient Greeks were perfuming their limbs with the sweet-scented plant.
Today, gardeners grow culinary mint for the zest of its leaves. Infused in hot water, they make a wonderfully refreshing tea. The herb's sweet, clean, lingering flavor also adds an unexpected brightness to savory dishes and sauces.
Growing Your Own Mint
Mint is easy to grow – and it is precisely for its vigorous growth that it has earned a reputation for spreading wildly once planted in the garden. So much so, in fact, that experienced gardeners recommend growing this aromatic perennial herb in pots instead of the ground.
You can grow a wide variety of mint. Their leaves smell completely different. Not all are good for culinary use, so choose what you grow carefully.
Starting Mint from Cuttings
Mint seeds are tiny and difficult to coax into germination. That's why experts generally agree that the plant is best grown from cuttings or seedlings. If you choose to start your own plants from stem cuttings, be sure you select strong stems with healthy green leaves.
To extract cuttings form an established plant, snip a few 4-to-6-inch pieces and remove the lower 3 or 4 sets of leaves from each. Cut the stems just below leaf nodes. This will prevent the stems from curling in water. Be sure to choose longer stems because roots sprout from the leaf nodes. More leaf nodes mean more roots and a stronger, more robust plant.
Stand the cuttings in a small glass of water. Settle the glass on a sunlit, airy windowsill. Roots will start to form in 10 to 14 days. You can transplant your mint seedlings into pots three to four weeks after the roots emerge.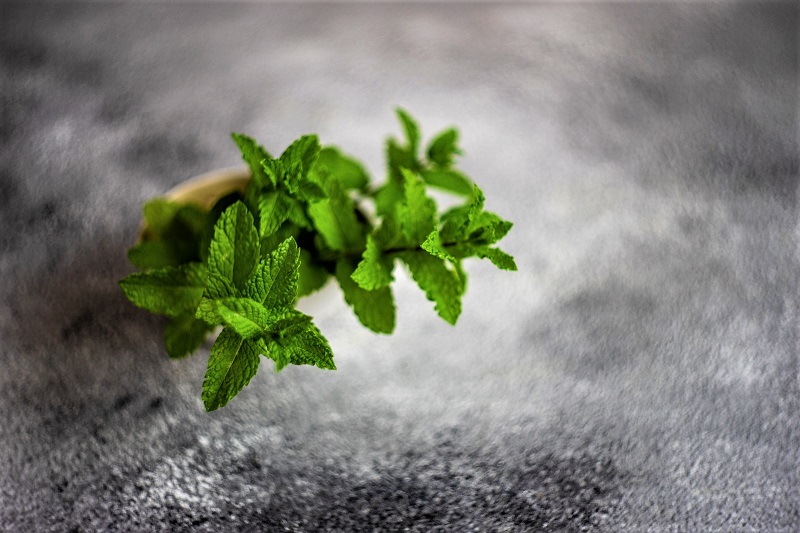 Growing Mint in a Container
Mint requires some room to grow. You will need pots that are at least 10 to 12 inches deep and eight inches or more in diameter for your plants. If you attempt to grow mint in smaller containers, the plant's roots are likely to find their way through the bottom drainage hole. This can weaken the plant. Or, if the container happens to be sitting near bare soil, you will soon find mint growing all over the area.
Mint will grow well in standard potting mix enriched with some aged compost. Ensure that the pot contains plenty of material to facilitate drainage. Mix an assortment of broken pottery, gravel, coir, or pebbles at the bottom of the container for good measure.
The plant produces the best flavor with minimal fertilization. Even so, it is best to mix one teaspoon of slow-release 16-16-16 fertilizer into the soil before you plant the cuttings. That should provide a young plant with sufficient nutrients over a growing season. Repeat the application each spring to grow healthy, productive plants.
Water your mint regularly. Soak the roots but keep the leaves dry to avoid leaf diseases like powdery mildew. Keep the soil moist but not wet.
Indoors and Outdoors
The University of Maryland Extension offers a tip for growing mint indoors. After growing in mint in pots outdoors during the warm seasons, you can move them indoors. But wait until after the first light frost. Mint actually benefits from a little frosty weather. The chill induces a rest period and stimulates fresh new growth once the plant is moved to a warmer indoor environment.
If you want to grow the herb outdoors, simply plant mint in a deep bucket and plunge the container into a gap in the soil. Make sure the lip of the container remains above the surface. This will help prevent shoots from escaping over the top.
Harvesting Mint
Harvest mint leaves before the plant flowers. You can either cut sprigs as you need them, or harvest the entire plant so that you can dry the leaves. Just make sure to cut the plant no shorter than one inch so that it can regrow.
Mint dies back over winter, but you can pick the leaves between late spring and mid-autumn. Pick regularly to keep the plants compact and ensure an abundance of new shoots.
Mint will sometimes develop a fungal disease marked by orange, yellow, or black spots or blisters that form on leaves, along with pale, distorted stems. In severe cases, the leaves fall off and the plants eventually die. Dig up any badly infected plants and dispose of them immediately to prevent the spores from spreading to other plants.