Are you thinking of installing a greenhouse in your garden? People usually consider them luxuries far beyond the means of ordinary gardeners. But the fact is that greenhouses can be as extravagant or as inexpensive as you want to make them.
Our Pick
Walk-in Mini Greenhouse with 3 Tiers Shelves
The portable greenhouse is designed to protect your plants and seeding against rough weather conditions like rain, wind, and snow.
Buy on Amazon
We earn a commission if you make a purchase, at no additional cost to you.
08/28/2022 04:43 pm GMT
Greenhouses offer great value for any gardener who dreams of extending their growing season. They free you of the limitations imposed by weather and geography, providing shelter and temperature control while allowing easy, organized access to your plants.
Types of Greenhouse
That being said, there are a variety of greenhouses available out there. In fact, there are so many types of greenhouse that you should take time to consider which form is best suited to your particular needs.
Here are a few you might want to peruse.
Hoop House
Hoop houses come in many styles. The common factor is the arch of bent tubing that supports the structure. The tubes resemble half hoops. Builders hammer the tubing into the ground and attach a plastic film over the frame to complete the assembly.
Hoop houses are relatively inexpensive, flexible, and offer excellent lighting for your crops. You can easily add a new section to make the greenhouse longer, as well.
The biggest drawback to hoop houses is that they are not particularly sturdy. Hoop houses don't do well in severe weather and may sustain damage in heavy snow.
One option is to add a support beam from the ground to the center of the roof. Even so, you should expect to replace the plastic film every four years or so.
Geodesic Dome
You may have already seen dome style greenhouses as they are quite popular. The outstanding strength of the geodesic dome allows for worry-free winters even in areas that regularly see heavy snowfall.
The geodesic dome greenhouse will stand up to heavy snow. The shape and angle of the roof permits easy snow removal, as well. Moreover, the design allows for efficient cooling vents and good lighting.
As you may have guessed, they are a tad expensive. But the main disadvantage to this type of greenhouse is that the odd angles do not make for the most efficient use of space. Both headroom and layout are limited. You may also need a foundation, which might mean a higher property tax.
Pit Greenhouse
The pit greenhouse is built into the ground. The cement walls make for a sturdy frame. The structure's underground position makes use of natural cooling, which is a cost saver during the hot summer months. This is a good option in places where snow is infrequent and heats can be extreme.
The pit greenhouse receives poor natural light in the morning and the evening. And, since the roof-line is at ground level, the structure itself is prone to mishaps. Unsuspecting dogs, livestock, or humans may walk on – and damage – the roof or even fall into the greenhouse.
Chinese Greenhouse
The Chinese solar greenhouse is a less-commonly used design. This greenhouse generally has three walls of brick or clay or some other material on the north, east, and west sides of the structure.
Only the south side of the building consists of transparent material – usually clear plastic film. During the day, the greenhouse captures energy from the sun in the walls. The design of the greenhouse is such that it releases that heat at night.
The structure offers fairly good cooling with its southern exposure and is less expensive than other options. This type of greenhouse design is good for smaller areas.
The trade-off is that the design of the Chinese greenhouse blocks the morning and evening sun. This type of greenhouse doesn't scale for larger operations, as well, without adding additional supports. You may need a foundation and permits to establish the greenhouse on your property.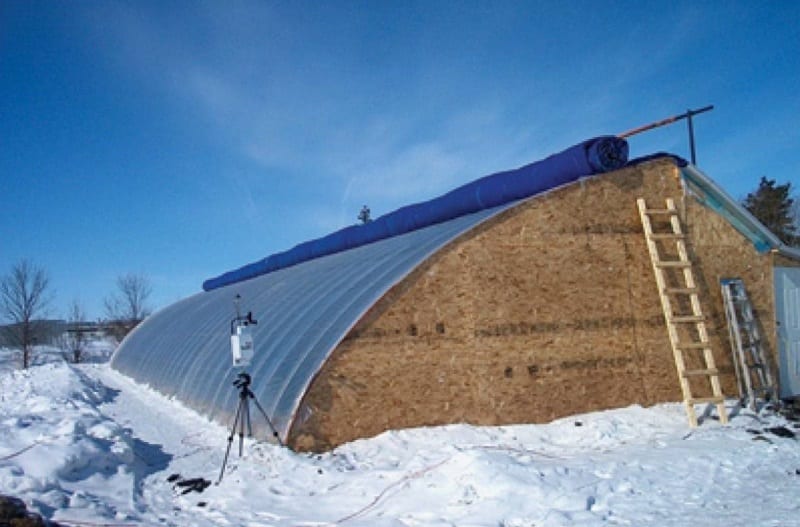 Window Farm
While experts do not consider the window farm a greenhouse, it does take advantage of solar heat through a window. This small setup uses a series of hydroponic plants dangling from chains in a kitchen or living room, among other indoor spaces.
The window farm is excellent for the small-scale production of herbs and leafy greens. Some will go so far as to construct a self-watering system for their window farms, adding to the system's obvious conveniences.
Of course, your production is limited to smaller plants and its design may not go so well with the look of your living space.
Traditional Greenhouse
The traditional greenhouse is a tarped cabin shaped structure you probably see in magazines and websites. This form of greenhouse is popular for a reason. They're very effective.
The frame offers excellent support for heavy snow and the angle of the roofline allows for quick and easy snow removal. The traditional greenhouse also offers excellent lighting and is a durable, long term option.
The design offers flexibility. For instance, you can add vents or glass windows to improve airflow. You can also connect several traditional greenhouses together for larger operations.
Cost is the main drawback to this type of greenhouse. The initial construction will require a considerable investment and is still expensive to heat. Most traditional greenhouses require a foundation, which could result in higher property taxes and a building permit.
Choosing a Greenhouse
By now you might be thinking a greenhouse kit is the way to go. There are several good ones on the market that will allow you to dispense with the hassle of measurements and major assembly. There are also some excellent DIY options.
Remember, most greenhouse kits come with only the basic framing and siding – everything else might entail extra cost. Use your knowledge of costs and sizes to determine which option is best for you.