Slopes and embankments provide a wonderful visual element to a garden. Often, though, heavy rains will wash precious topsoil and nutrients away from these features.
Soil erosion can leave slopes barren, allowing nothing but the hardiest plants to grow. The run-off can create even more problems as water-borne pollutants may eventually find their way into your water supply.
How to Prevent Soil Erosion
Replacing lost nutrients and topsoil is a difficult, time-consuming task – and the risk of failure is almost always greater than your chances at success. That's why experienced farmers and gardeners put extra effort into preventing erosion.
Here are some simple ways to stop – or prevent – erosion in your garden.
Grow Grass and Shrubs
You can grow grass, some herbs, and shrubs to stop and prevent soil erosion. Plant roots hold soil together. This prevents run-off from dragging topsoil off the slope.
The leaves of the plants also reduce the velocity of raindrops, providing cover from rain that could otherwise dislodge large swaths of soil. Ornamental grass, oregano, thyme, and low, spreading shrubs work best as they leave no areas of bare soil exposed.
Erosion Control Blankets and Mulch
There are many types of biodegradable fiber and compost blankets on the market today. Manufacturers design them to minimize the effects of water erosion. Rolled mats are usually made from mulch held together by a fiber mesh.
You can use mulch – which absorbs rainwater – alone on a slight slope, but stone rip-rap is an excellent soil preserver that also works on steep slopes. The loose stones work collectively like a small retaining wall, preventing soil erosion.
Contours, Bevels, and Retaining Walls
Preventing erosion on steep slopes requires a bit more planning and effort. Contours are excellent for climates with heavy rain. They intercept the flow of rainfall and steer it to any area the gardener wants. Some use plastic drainpipe for this purpose.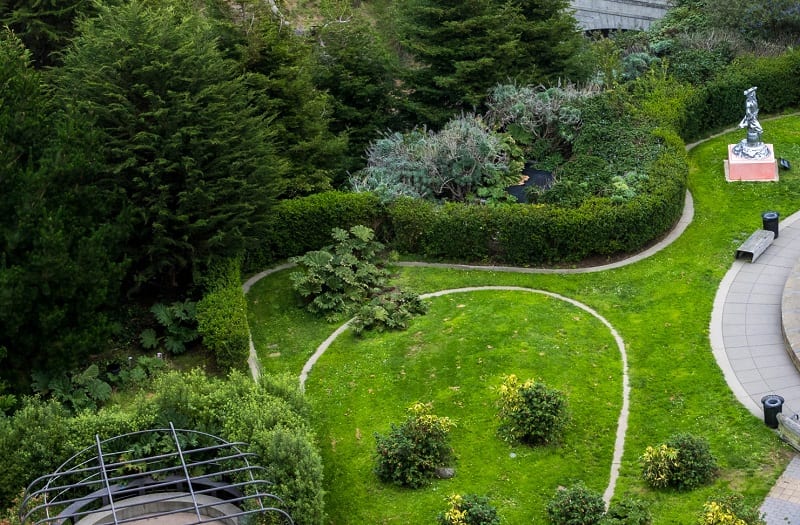 Bevels require some basic carpentry skills. Bevels are basically boxes without a bottom installed horizontally on – and below – a slope and filled with soil. These are excellent for annuals with shallow roots, transforming slopes into showy gardens of blooms.
You can stop erosion on even steeper slopes with retaining walls, terraces, or ground cover that thrives in poor soil conditions. Generally, for most slopes, a retaining wall 3 feet high will be adequate and attractive.
Preventing Soil Erosion
If you notice that the topsoil in your garden is thinning, then you may have a problem with soil erosion. Left unchecked, soil erosion will prevent your garden from producing the fruits, blooms, and vegetables you want in your garden.
But you can stop or prevent soil erosion with the methods we've outlined above. There are, of course, other ways to achieve the same objective.
If you have any advice of your own on how to prevent soil erosion, please feel free to share them here. We'd love to hear from you!