Growing radish is a fun learning exercise for new gardeners. The tangy springtime favorite is hardy, easy-to-grow, and can be planted multiple times in a growing season.
The radish is so robust, versatile, and vigorous that just about every seed you sow from a packet is likely to sprout.
There are two basic types of radish – spring and winter. The crunchy spring varieties are best for early spring planting as they mature quickly in cool weather.
Winter radishes require a longer growing period but maintain their quality in the garden longer. They also store better and have a more distinctive flavor.
Growing Radish
You can plant radish seeds in the spring and the fall. Choose a sunny area for your radish crop. If you plant radish in too much shade – or even in corners where other plants shade them – they will invest all their energy into growing larger leaves.
Follow the pointers we've outlined below for an abundant harvest of radishes.
1. Soil Preparation
Radishes do well in soil that is rich in organic matter but not too compact. You should avoid amending the soil with fresh manure and organic materials high in nitrogen. An overly rich soil will encourage lush foliage at the expense of crisp, tasty roots.
2. How to Plant Radish
For spring planting, sow seeds 4 to 6 weeks before the average date of the last frost. You should plant radish seeds directly in the garden so as not to avoid disturbing their roots later. Sow the seeds outdoors ½ to 1 inch deep and 1 inch apart in rows 12 inches apart.
You can plant a round of seeds every 10 days while the weather is still cool. This will ensure a continuous harvest in the late spring and early summer.
Why not plan on a fall planting, too? You can sow a fresh batch of radish seeds 4 to 6 weeks before the first fall frost.
3. How to Maintain Your Radish Crop
You should thin your plot so that your radishes are about 2 inches apart when they are a week old. Crowded plants do not grow well.
You should water your bed in moderation. Keep the soil evenly moist but not waterlogged. Consistent, even moisture is key to a good harvest.
Mulch the bed with compost enriched with wood ash. This not only keeps root maggots at bay but also helps the soil retain moisture.
4. Harvesting Radishes
Your radishes will be ready to harvest quite quickly. Some varieties are ready for harvesting three weeks after planting. As a general rule, you can begin harvesting radish when the roots are around 1 inch in diameter at the soil surface.
Pull one out and test it before harvesting the rest, suggests the Old Farmer's Alamanac. Do not leave radishes in the ground too long after they mature. Their quality will deteriorate rapidly.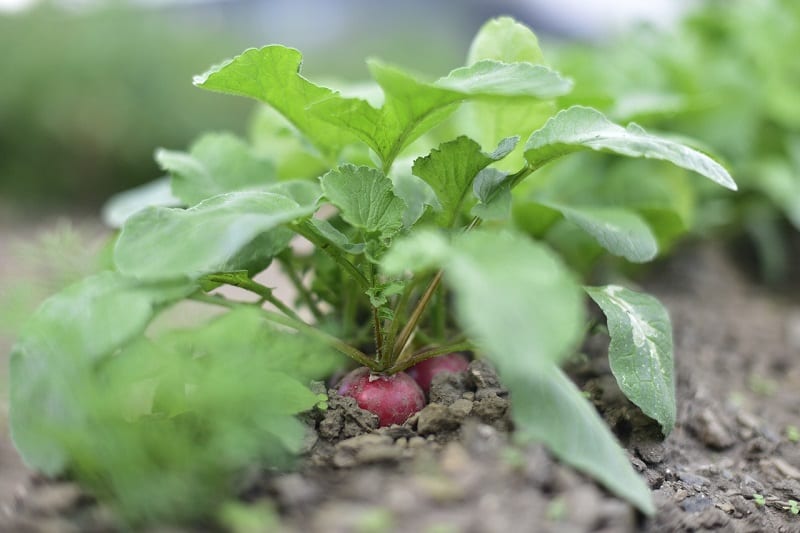 Winter radishes, on the other hand, don't mind a little neglect. You can store them in moist sand in a root cellar but they will keep in the garden under a heavy straw mulch through the winter.
Once you've harvested your radishes, cut the tops and the thin root tail off. You can then wash the vegetables and dry them thoroughly. You can store washed radishes in plastic bags in the refrigerator. You can store radish greens separately for up to three days.