The experienced designer will tell you that lighting is an essential ingredient when you're arranging a garden.
If you're spending more of your time choosing garden décor or puzzling over lawn furniture, remember that lighting can completely transform a space. Your garden lights do not just brighten dark corners, they affect your emotions, as well.
How to Light Up Your Garden
The right lighting lifts the mood and inspires and motivates us. In the garden, after sunset, light enlivens the all-important little details – flowerbeds, colors, garden decorations, or the moments we spend with friends and family.
Most designers agree that you need more than one source of light in your garden. Your garden should have a mix of lighting. Think layered illumination.
Here are some guidelines for creating a well-lighted garden.
1. Choose appropriate colors and tones.
You have a choice between two light tones: cold and warm. Halogen lamps and incandescent bulbs produce warm white light but have higher consumption.
Of course, there are good alternatives available these days. Energy-saving lamps, gas discharge, and LEDs are available in warm and cold light colors. These options allow you to create the best and most energy-efficient results.
2. Go for flexibility.
The key to successful garden lighting is flexibility. Directional LED lights are ideal. They can be easily moved. You can adjust them to suit the changing seasons and plant growth.
What's more, directional spotlights and floodlights allow you to illuminate your garden without feeling guilty about energy consumption. For larger gardens, they are an excellent solution.
3. Light your steps and footpaths.
Lighting the steps in your garden is not only a matter of aesthetics – it's a necessity for safety reasons. Angled step lights recessed into a wall would be a good solution.
You can also use night lights in small glass holders – or low lamp posts – to emphasize and illuminate paths.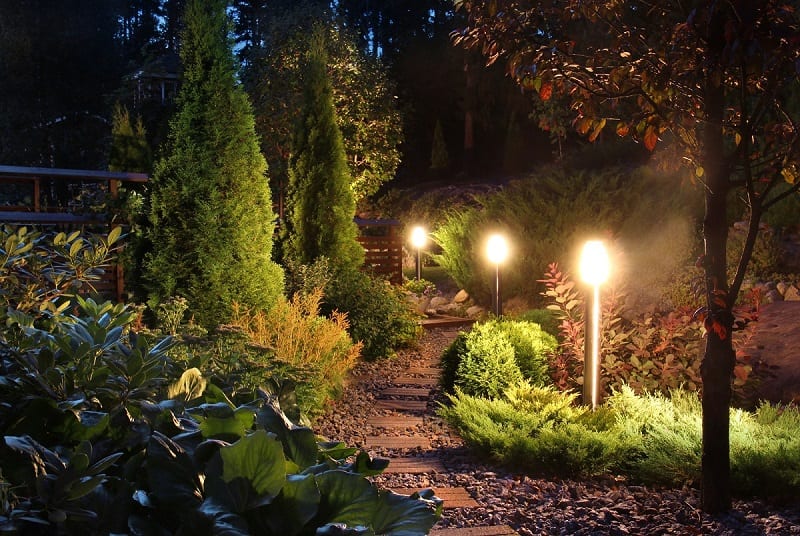 4. Highlight your water features.
Water features are a wonderful medium to highlight. The flow of water and refraction of light create patterns that reflect on the surrounding areas.
Use an underwater spotlight under water flow. Consider using fiber optics within water jets to create a magical effect.
Add lights set into the base of a pool at random – appearing almost like stars, suggest the experts at John Cullen Lighting.
5. Select appropriate fittings.
Most garden light fittings are black, but the ones that usually blend into gardens best come in shades of olive green. Copper fittings can also be good.
6. Accentuate key features.
Similar to indoor lighting, your garden lights can draw your eye beyond merely expanding your vista.
Accentuating key features such as statues, arbors, entryways, or large trees with light ensures the focus is still on them at night.
Make or Break
Lighting can make or break a space and in and getting it right is crucial for creating a sense of comfort and safety, especially in an outdoor setting.
Installing lights in your garden will not only help create a wonderful, cozy ambiance, but it will also make entertaining all the more enjoyable.
What's more, garden lighting technology has come a long way over the years. Today there are almost as many options for outdoor lighting as there are for lighting your home's interior.
The mood or look that can be achieved with lights in your garden is every bit as impressive as that which you can attain indoors.
So, are you ready to light up your garden?