In today's world, chain saws have become an essential tool for various industries. From forestry to construction, homeowners to landscapers, chain saws provide efficient and quick-cutting solutions for a ]wide range of applications.
With advances in technology, chain saws have evolved from bulky and heavy machinery to lightweight and easy-to-use power tools. Cutting-edge chain saws have hit the stage in 2023, displaying top-of-the-line versions outfitted with new features and inventive technologies.
The Comprehensive Guide to the Top 7 Chain Saws of 2023
Prepare to be amazed as this review post unveils the latest advances in chain saw technology, revolutionizing the way you tackle cutting chores. Explore the top seven chain saws of 2023, each boasting unique features and benefits. Delve into a comprehensive analysis of these state-of-the-art tools, from battery-operated to corded electric, covering their performance, durability, and overall value.
Get ready to make an informed choice and elevate your cutting game with the best chain saws of the year.
Our Top Pick
The DEWALT DCCS620B Cordless Chain Saw emerges as a guiding light of innovation within the realm of chainsaws. Its comprehensively well-rounded attributes, spanning from its meticulously considered design to its robust and consistent performance, indisputably establish it as the premier choice for discerning individuals seeking a chainsaw experience that transcends conventional expectations.
At the heart of its remarkable performance lies the high-efficiency brushless motor, a pivotal element within this battery-powered chainsaw. Enhanced further by a 20V MAX* 5Ah battery, this chainsaw boasts an awe-inspiring cutting capacity. It accomplishes an astounding count of up to 90 cuts on 4×4 pressure-treated wood, further solidifying its status as an unparalleled workhorse in its field.
What to Keep In Mind
When searching for the perfect chain saw, several essential factors should be considered to ensure you make the right choice. Here are the key elements to look for:
1. Power Source: Determine whether you prefer an electric, gas-powered, or battery-operated chain saw, each offering distinct advantages and suitability for different applications.
2. Performance and Longevity: Evaluate the chain saw's horsepower or voltage (for electric models) to assess its cutting capacity and overall performance. Additionally, prioritize a chain saw crafted from premium materials, guaranteeing durability and long-lasting reliability even during intensive use.
3. Bar Length: Consider the bar length, as it dictates the size of branches or logs you can cut. Opt for a longer bar for larger tasks and a shorter bar for more maneuverability.
4. Ease of Use: Look for user-friendly controls, easy-start mechanisms, and comfortable grips to ensure a smooth and enjoyable cutting experience.
5. Safety Features: Prioritize models with built-in safety features like chain brakes and low-kickback chains to ensure safe operation.
6. Weight: Opt for a chain saw with a weight that you can handle comfortably, as heavy saws may cause fatigue during extended use.
By carefully evaluating these factors, you can confidently select the chain saw that aligns with your specific needs, ensuring efficient and satisfying cutting performance for a variety of tasks.
1. Best Overall: DEWALT DCCS620B 20V MAX* XR Chain Saw 12-Inch Bar
The DEWALT DCCS620B Cordless Chain Saw is a true game-changer, delivering an impressive blend of features, performance, and convenience that easily justifies its price tag.
Features: Equipped with a 12-inch low kickback bar and chain, the cordless chain saw is designed for various construction and outdoor cutting tasks. Weighing in at just 9 lbs. (including the battery), it also boasts a compact and lightweight design, ensuring maximum user control and comfort.
While adjusting the chain tension and tightening the bar is a breeze with the convenient tool-free chain tensioning and bar tightening knob, ensuring proper bar clamping force for efficient operation.
Performance: The high-efficiency brushless motor in the battery-powered chain saw optimizes both runtime and motor longevity. With a 20V MAX* 5Ah battery, this chain saw can achieve up to 90 cuts on 4×4 pressure-treated wood, showcasing its impressive cutting capacity.
According to one user: "Really like this saw. I was surprised and pleased with how long the battery lasts and how much wood I can cut with it! I bought it for trimming limbs and clearing brush but I have used it to cut small trees down and it does great."
One noteworthy drawback, however, is associated with the chain saw's bar oil system. The leakage issue may be an aspect that potential buyers should take into consideration, particularly those who prioritize maintaining a clean and hassle-free workspace.
"I filled it up with bar oil and came back a couple of days later to use it," says one user. "I found it had leaked about a 1/3 of the respiratory out from the bar area all over my bench.
Power Source: The absence of cords and the need for gasoline provides a liberating experience, granting unrestricted mobility and making it perfect for remote outdoor projects. Additionally, the 20V MAX battery system's compatibility with other DEWALT tools offers a cost-effective and versatile solution for a wide range of power tools.
Price: Considering the top-notch build quality, performance, and versatility of the DCCS620B, its price is more than justified. Though it can be somewhat costly, the long-term savings from not needing gasoline or oil, as well as the great performance, make it well worth the investment.
Warranty: DEWALT's reputation for reliability holds true with the DCCS620B as well. The product is backed by a warranty, assuring you that your investment is protected by a reputable brand, and you can have peace of mind knowing it is a durable and dependable product.
Final Verdict: The DEWALT DCCS620B Compact Cordless Chain Saw is a superb addition to any DIYer or outdoor enthusiast's arsenal. The DCCS620B comes loaded with a remarkable set of features that make it stand out in the crowded chain saw market. If you're looking for a chain saw that delivers power and performance in equal measure, this is the one for you.
2. Best Technology: Greenworks 40V 16″ Brushless Cordless Chain Saw 4.0Ah Battery and Charger Included
The Greenworks 40V 16″ Brushless Cordless Chain Saw is an impressive tool that brings together outstanding features, exceptional performance, and environmentally-friendly operation, making it an excellent choice for both occasional users and experienced professionals alike.
Specifications: The 40V 16" Chain Saw is an excellent choice for homeowners dealing with yard projects or storm clean-up. Thanks to TRUBRUSHLESSTM motor technology, it offers 2x more torque, resulting in enhanced power, longer runtimes, quiet operation, and extended motor life. With a chain brake feature, this chain saw prioritizes safety, reducing the risk of injury during operation.
The automatic oiler ensures proper chain lubrication, increasing productivity and efficiency. The pro-style tensioning system simplifies bar and chain maintenance, making it hassle-free for users. Its user-friendly design includes a push-button start, eliminating the need for gas, fumes, carburetor, spark plug, or starter rope.
Functionality: Its innovative technology provides a remarkable 2x increase in torque compared to conventional motors. As a result, the chain saw delivers enhanced cutting power, effortlessly handling even the toughest tasks with ease.
"I've used this saw for over five years without any problems," says one user "I like the fact that it's always ready to go, no gas oil mix to stale, just add bar oil and insert a charged battery it always starts and works as it should."
Just one potential concern to be aware of is the possibility of encountering difficulties while operating the chain saw in low-to-the-ground areas surrounded by grass, a common situation in prairie regions. In such cases, the chainsaw may have a tendency to pull the grass into its mechanism, leading to it becoming stuck. This could prove frustrating and inconvenient, necessitating extra caution and attention to avoid entanglement.
"The biggest issue is that when you're low to the ground and grass is around (it happens here in the prairie!)," explains one user. "It tends to pull the grass through and then it gets stuck causing the saw to bind up."
Energy Source: Greenworks' dedication to eco-friendly solutions is evident in the cordless design of this chain saw. The 40V G-MAX Lithium-Ion battery provides enough power to rival gas-powered alternatives while eliminating the hassle of dealing with cords or harmful emissions. It's a win-win for both performance and the environment.
Cost: Considering the exceptional performance and eco-friendly design, the Greenworks 20312 comes at a competitive price point. While it may seem slightly higher than traditional corded options, the long-term savings on gasoline and maintenance expenses make it a reasonable investment.
Protection: Greenworks firmly backs its products, and the 20312 chain saw is no different. It is supported by a comprehensive 4-year tool warranty, a 2-year battery lifetime warranty, and a lifetime warranty for the motor. This reliable and generous warranty coverage provides users with peace of mind, assuring them that they can confidently depend on the tool for years to come.
Final Verdict: The Greenworks Cordless Chain Saw undeniably revolutionizes the realm of outdoor tools. With its exceptional features, top-tier performance, eco-friendly power source, and comprehensive warranty, it leaves a lasting impression, delivering the performance and reliability needed for any outdoor project with remarkable ease and efficiency.
3. Best Speed: EGO Power+ CS1610 16-Inch 56V Lithium-ion Cordless Chain Saw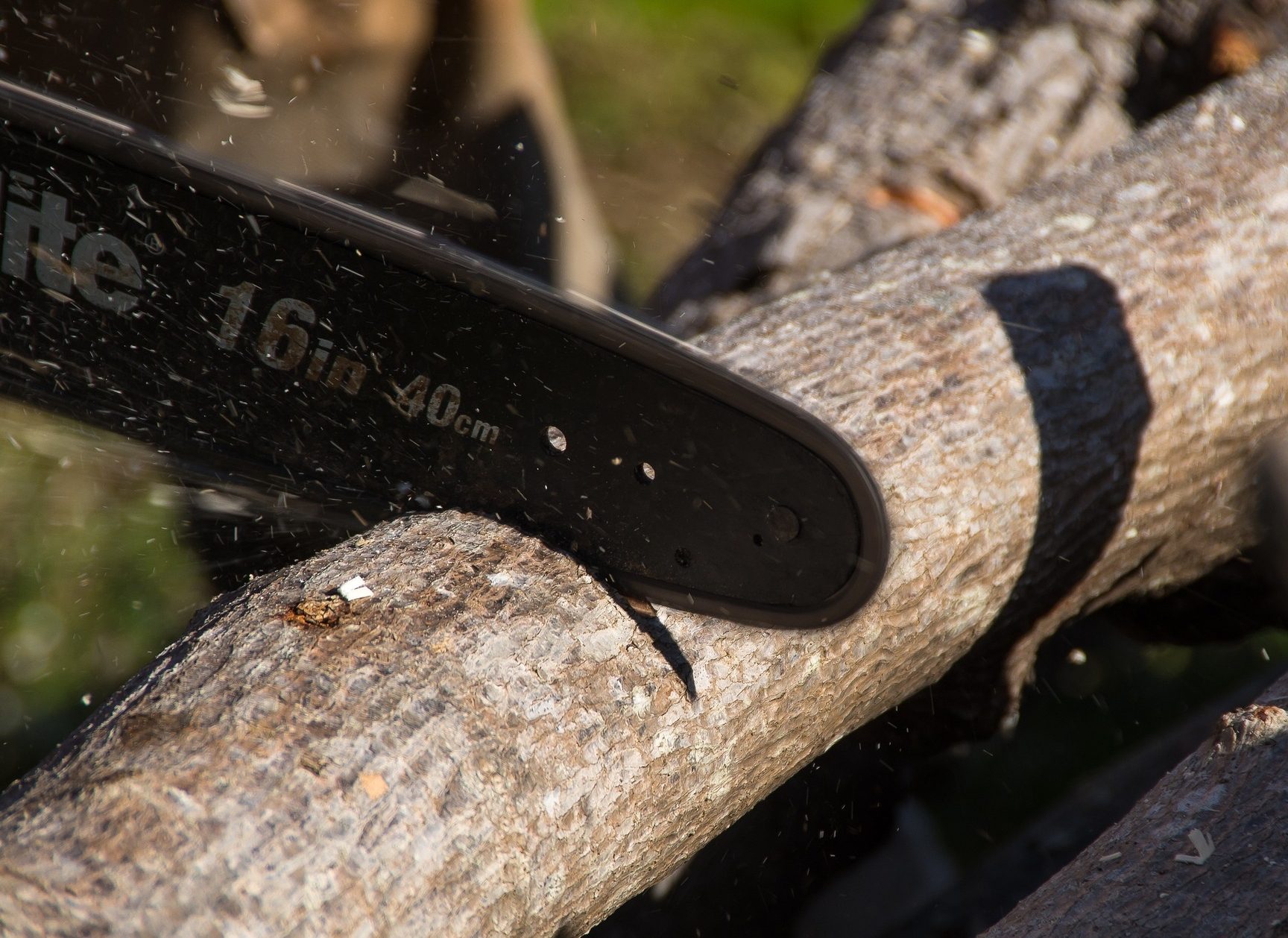 The EGO Power+ CS1610 Cordless Chain Saw impresses with its remarkable features, outstanding performance, and smooth operation. This chain saw is an essential piece of equipment for performing a variety of cutting operations.
Design: The EGO Power+ CS1610 Cordless Chain Saw comes with a 16-inch bar and chain, offering a chain speed of 20m/s. Its construction is weather-resistant, with an IPX4 rating, ensuring durability even in challenging conditions. The tool-free chain tensioning system allows for effortless and rapid adjustments to the bar and chain.
Safety is prioritized with the low kickback chain design, complemented by a brake indicator. The chain saw also features automatic oiling, maintaining the chain's lubrication for smooth operation.
"Works like a champ," says one user. "I like that the blade stops immediately after releasing the trigger. Very safe and easy to use."
Additionally, the oil reservoir is spill-free, minimizing mess and hassle during refills. The chain specifications include a 3/8-inch pitch, .043-inch gauge, and 52 drive links, contributing to the chain saw's overall efficiency and cutting performance.
One aspect worth mentioning, however, is the leakage of bar and chain oil in the saw. If you forget to drain the oil after each use, the saw may tend to leak the bar and chain oil. This issue significantly diminishes the convenience of using this saw.
"The less good: As the manual states, the saw will leak bar/chain oil if you don't drain it after each use…which absolutely ruins the convenience of this saw," explains one user.
Output: When it comes to performance, the EGO Power+ CS1610 does not disappoint. It boasts a 20m/s chain speed demonstrating a remarkable capability to achieve swift and efficient motion. This indicates that mechanical components are at an impressive velocity of 20 meters per second. Such high-speed operation is particularly advantageous in scenarios where rapid transmission of power or movement of objects is essential.
Power Supply: The EGO Power+ CS1610 comes with a ground-breaking cordless design that is really transformational. It offers remarkable power equivalent to gas-powered versions with the incorporation of a 56V ARC Lithium battery, all while removing the nuisance of cables and hazardous emissions. The unsurpassed convenience of a cordless chain saw cannot be overstated, especially for people who value mobility and ease of use.
Market Value: Considering the exceptional performance and the convenience of a cordless design, the EGO Power+ CS1610 is competitively priced. While its initial cost may appear slightly higher compared to some alternatives, the long-term benefits far outweigh the difference.
Brand Guarantee: EGO Power+ stands behind its products, and the CS1610 is no exception. It comes with a warranty, confirming its quality and durability.
Final Verdict: The EGO Power+ CS1610 Cordless Chain Saw proves to be a dependable and adaptable tool that goes beyond expectations. With its impressive cutting speed and performance, it has rightfully earned a prominent place in the must-have collection of outdoor tools.
4. Best Corded Electric: Oregon CS1500 18-inch 15 Amp Self-Sharpening (PowerSharp) Corded Electric Chain Saw
The Oregon CS1500 18-inch 15 Amp Self-Sharpening (PowerSharp) Corded Electric Chain Saw is a cutting-edge tool that redefines the way you approach cutting tasks. With its integrated self-sharpening system (PowerSharp), chain brake for safety, and reliable 120V power, experience efficiency, precision, and ease like never before.
Features: Experience powerful performance with the Oregon CS1500. This chain saw is perfect for homeowners and DIY enthusiasts, boasting a long-lasting 18-inch guide bar for versatile cutting.
Say goodbye to downtime with the innovative PowerSharp self-sharpening system that can sharpen your chain in just 3 to 5 seconds. This remarkable feature ensures you spend more time cutting and less time maintaining your chain saw. For added safety, the chain saw incorporates an ergonomic design with a chain brake.
Adjusting your chain tension is also a breeze with the tool-less tensioning system. Easily maintain the perfect tension for precise cuts, requiring minimal maintenance and enhancing your cutting experience. Best of all, it comes pre-assembled, saving you time and effort. It is also UL Certified, ensuring top-notch safety and quality.
Additionally, it features an automatic oiling system that continuously lubricates the bar and chain from the oil tank. This smart feature reduces friction, extending the life of your chain even in challenging environments. It also produces significantly less noise compared to gasoline chain saws, creating a quieter cutting environment.
According to one user: "It cuts as fast as my Homelite 45cc 18-inch gas saw. It didn't feel any slower. It wasn't bogging any more or less than my gas saw either. It's also very quiet. I didn't need hearing protection."
One notable drawback worth mentioning is that the chainsaw tends to consume oil at a slightly faster rate than what is typically expected.
"It does use oil a bit faster than normal," says one user. "It's still faster than filling gas AND oil…"
Performance: The powerful 15-amp motor effortlessly slices through various wood types, making it perfect for both light pruning and heavy-duty tasks. Get ready for seamless cutting efficiency with the EGO Power+ CS1610 by your side.
Power Source: The chain saw's electric power source is a major advantage. As a corded tool, it provides uninterrupted power for extended work sessions without the need to recharge batteries. This feature is particularly useful when taking on more time-consuming projects.
Price: The Oregon Electric Chain Saw falls within the mid-range price category. Considering its exceptional performance and the unique self-sharpening system it offers, the chain saw is reasonably priced, providing excellent value for your investment.
Warranty: Oregon stands behind its product, and the Electric Chain Saw comes with a reliable warranty. It is backed by a two-year warranty, providing peace of mind and ensuring that your investment is protected for years.
Final Verdict: The Oregon Self-Sharpening Electric Chain Saw stands as the ultimate corded cutting-edge solution. With its top-tier performance, it undoubtedly ranks as an exceptional cutting tool. This chain saw is certain to elevate your cutting experience to new heights, ensuring precision and efficiency in every task you undertake.
5. Best Handle Design: Makita XCU06Z 18V LXT® Lithium-Ion Brushless Cordless 10″ Top Handle Chain Saw
The Makita XCU06Z 18V LXT® Lithium-Ion Brushless Cordless 10″ Top Handle Chain Saw is an innovative tool that redefines the way you approach cutting tasks with its powerful brushless motor, cordless convenience, and compact top handle design. Get ready to unleash power and precision with the Makita XCU06Z Chain Saw, the great companion for all your outdoor projects.
Specifications: The Makita XCU06Z Chain Saw features a compact top handle design, making it perfect for precise tasks such as pruning, trimming, and limbing. Equipped with the Makita-built Outer Rotor BL Brushless Motor direct-drive system, this chain saw delivers power equivalent to that of a 22cc gas chain saw. With an 18V LXT 5.0Ah battery, it can make up to 175 cuts in 2×2 cedar.
It also offers a torque boost mode for cutting through dense materials with ease. For added convenience, the captured bar nut and lateral chain tensioning system simplify operation and maintenance, ensuring smooth and efficient performance throughout your cutting tasks.
Functionality: The brushless motor optimizes efficiency, leading to extended battery life and overall longevity of the chain saw. With impressive cutting precision, it proves to be a dependable choice for various cutting tasks, including pruning and felling small trees.
"This saw is very light and very easy to haul up and down a ladder," says one user. "Easy to put on the branch and quick to cut through."
But, one notable downside to be aware of is that due to the chain's shorter length, there is a possibility of overtightening the chain during adjustments.
"Because the chain is short, it's easy to overtighten the chain when adjusting – just a slight turn is the difference between a loose chain and an overtightened chain," says one user.
Energy Supply: The cordless design powered by an 18V Lithium-Ion battery provides unrestricted mobility, making it an ideal tool for remote outdoor projects. The battery technology ensures a reliable power supply, allowing for continuous operation without the hassle of dealing with cords or gasoline.
Cost: With its advanced features, superb performance, and cordless convenience, the Makita XCU06Z unquestionably represents good value for money. This chain saw, which is priced in the mid-range and provides an appealing mix of power and adaptability, is a great purchase for both DIY enthusiasts and professionals.
Protection: Makita stands behind its goods, including the XCU06Z. It comes with a solid guarantee, giving you confidence in the product's longevity. The manufacturer's dedication to quality assures that you will be able to rely on it for many years.
Final Verdict: The Makita XCU06Z 18V Lithium-Ion Brushless Cordless Chain Saw is a powerful and precise cutting tool. With its remarkable compact design, cordless convenience, and excellent performance, it is a great chain saw pick.
6. Best Go-To: WEN 4017 Electric 16″ Bar Chain Saw
Prepare to be amazed by the sheer cutting power and accuracy of the WEN 4017 Electric 16″ Bar Chain Saw as it transforms your outdoor projects. This multipurpose tool can handle everything from pruning to limbing. With the WEN 4017 at your disposal, you can say goodbye to hassles and welcome efficiency.
Design: The WEN 4017 integrates a 12A motor that drives the chain at an impressive speed of up to 44 feet per second. Its lightweight design ensures minimal fatigue for the user during prolonged use.
The built-in auto-oiling system keeps the chain saw lubricated, contributing to its longevity. Additionally, the tool-free chain changes allow for quick and hassle-free chain replacement, making maintenance simple and easy. With its emission-free operation, it requires no gasoline, offering a cleaner and more eco-friendly cutting experience.
Output: The combination of power and comfort makes the WEN 4017 Electric Chain Saw a formidable tool that can handle a wide range of cutting projects with ease and precision. It ensures swift and efficient cutting, making quick work of various wood types and sizes.
"Yep it did the job huge 45-foot tree fell gas chain saw busted in 3 min bought this on a whim!" says one user. "Wow!"
One notable downside worth mentioning, however, is that some users have given it a lower rating of 3 stars due to the challenge of maintaining proper chain tension. It's essential to be mindful of this aspect and ensure that the chain tension is carefully managed to ensure smooth operation.
"Only 3 stars because the chain is hard to keep tensioned," says one user.
Power Supply: The electric power source eliminates the need for gasoline and ensures continuous operation without any harmful emissions. The corded design provides consistent power, allowing for uninterrupted work sessions without worrying about recharging batteries.
Market Value: Considering its exceptional performance and the convenience of a corded design, the WEN 4017 Electric Chain Saw is reasonably priced. It offers excellent value for money, making it an accessible and cost-effective option for all cutting needs.
Brand Guarantee: WEN demonstrates its confidence in the product by offering a solid backing for the 4017 Electric Chain Saw with a two-year warranty. This warranty provides peace of mind and serves as a testament to the chain saw's quality.
Final Verdict: The WEN 4017 Electric Chain Saw is a reliable and powerful cutting tool. Boasting top-notch features, powerful performance, corded convenience, and dependable warranty, it stands as a top-tier choice among chain saws.
7. Best Value: Sun Joe SWJ599E 14-Inch 9-Amp Tree Limb Master Electric Handheld Chain Saw With Low-Kickback
The Sun Joe SWJ599E 14-Inch 9-Amp Tree Limb Master Electric Handheld Chain Saw is your ultimate cutting companion that offers unbeatable value! With its impressive features, reliable performance, and low-kickback design, this chain saw stands as a top choice for both budget-conscious buyers and those seeking efficient cutting power.
Features: The Sun Joe SWJ599E is a reliable tool for various cutting tasks. Its built-in safety switch offers protection against accidental starts, ensuring a secure and controlled operation. And it also features an automatic oiler with a convenient window to gauge the oil level, keeping the bar and chain lubricated for continuous cutting efficiency.
Performance: With seamless ease, the chain saw glides through branches, limbs, and small logs, rendering it perfect for pruning, trimming, and various yard maintenance tasks. Its dependable cutting power and remarkable efficiency turn every cutting task into a swift and hassle-free experience.
Power Source: The corded design ensures a continuous power supply, making it an excellent choice for longer work sessions. With uninterrupted cutting power at your disposal, surely you can focus on your projects with efficiency and confidence.
Price: The Sun Joe SWJ599E Electric Chain saw offers the most affordable and cost-effective option for homeowners and DIY enthusiasts seeking a reliable cutting tool. Its affordability, coupled with its superb performance, makes it a highly sought-after choice for those seeking exceptional value without compromising on quality.
Warranty: Rest assured that Sun Joe stands firmly behind its products, exemplified by the SWJ599E Chain saw's two-year warranty. With this assurance in place, you can confidently depend on the SWJ599E Chain saw for many years of reliable and efficient cutting performance, making it a trustworthy and long-lasting addition to your collection of outdoor tools.
Final Verdict: The Sun Joe SWJ599E Electric Chain saw is undeniably a cutting powerhouse, offering remarkable budget-friendliness. This chain saw is sure to elevate your cutting experience, making it an indispensable addition to your tool collection.
Chain Saw Champions 2023!
Rev up your lumber-cutting game with a forest of possibilities! Discover the cutting-edge might of the year's most astounding chain saws.
From precision performance to untamed power, this ultimate guide unlocks the secrets to dominate the timber terrain. Step into the future of woodcraft and embrace the roar of innovation.
The seven best chain saws of 2023 empower you to effortlessly slice through even the toughest logs, just like a hot knife through butter.
Let the sawdust fly!