Gardening is a popular hobby for many homeowners, providing a sense of satisfaction and joy as they tend to their plants and watch them grow. However, maintaining a healthy, beautiful garden requires a significant amount of time, energy, and effort.
To make the task easier, every gardener should have a set of essential garden power tools at their disposal. Not only do they increase productivity, but they also help in achieving better results, leaving your garden looking impeccable all year round.
In this post, you will find the top 5 must-have garden power tools that every homeowner or gardener should have. These versatile garden power tools are designed to tackle different gardening tasks, from trimming and pruning to clearing debris and edging.
Not only will they save valuable time, but they'll also help in achieving more consistency, enjoying a cleaner and healthier garden without the usual back-breaking work. You'll have no trouble creating and maintaining a lovely garden with the right garden power tools.
1. Sun Joe TJ604E 16-Inch 13.5 AMP Electric Garden Tiller/Cultivator
One garden power tool you absolutely can't go without is the Sun Joe TJ604E 16-Inch 13.5 AMP Electric Garden Tiller/Cultivator. This beast of a machine is perfect for
breaking up tough soil and mixing in compost and fertilizer to create a thriving garden.
With a 16-inch working width, this tiller/cultivator can easily churn up soil and cut through roots with its durable steel tines.
Additionally, the tines are the blades that rotate and dig into the soil, breaking it up and aerating it. The use of durable steel tines means that the garden power tool can handle tough soil conditions, including soil with roots and other obstacles.
Best of all, it's electric, so you don't have to worry about gas, oil changes, or smelly fumes. Whether you're a seasoned gardener or just starting, the Sun Joe TJ604E Electric Garden Tiller/Cultivator is a must-have garden power tool for achieving a beautiful and productive garden.
2. Worx WG170 GT Revolution 20V 12 Inch Grass Trimmer/Edger/Mini-Mower
Looking for a versatile garden power tool that can tackle multiple tasks? Check out the Worx WG170 GT Revolution 20V 12 Inch Grass Trimmer/Edger/Mini-Mower. This cordless tool allows you to trim grass, edge your flower beds, and even mow small patches of lawn without breaking a sweat.
This type of tool can be very efficient in maintaining a tidy and manicured lawn or garden. As a string trimmer, the tool can be used to precisely trim grass and weeds in hard-to-reach areas such as around trees, fences, and garden beds. The edger function allows for straight and clean edges along sidewalks and driveways, while the mini-mower mode can be used to quickly and easily cut grass in small areas.
You can customize the tool to fit your height and comfort level through its adjustable handle and telescoping shaft. While the command feed spool system ensures a constant line supply while you work. You can simply push a button on the trimmer to release more lines as needed. This can be particularly useful when working on larger jobs, saving time as it eliminates the need for frequent stops to manually adjust the line.
If you're looking for a garden power tool that can do it all, the Worx WG170 GT Revolution is worth considering.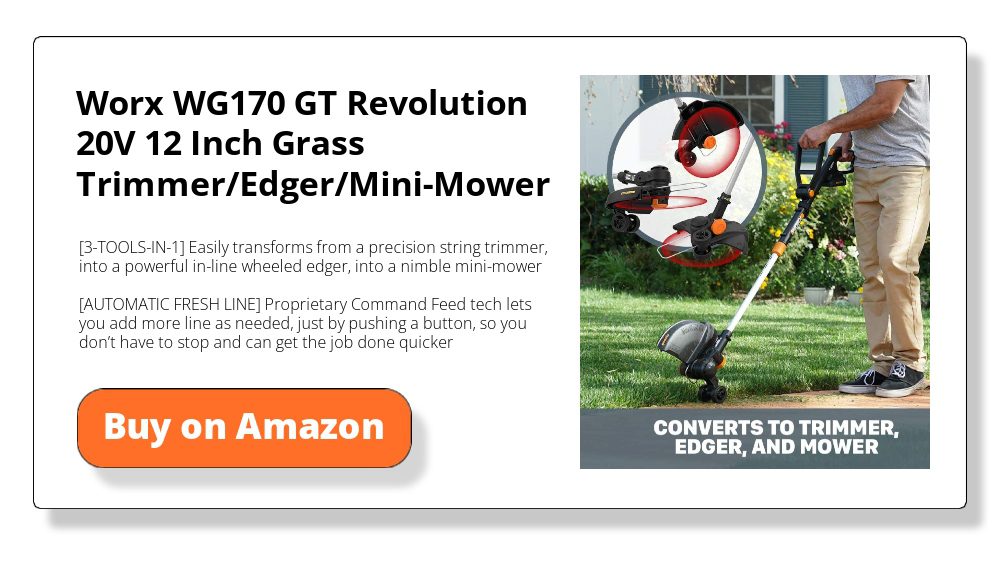 3. SEYVUM Leaf Blower Battery Operated
When it comes to garden power tools, the SEYVUM Leaf Blower is a must-have for any home gardener. With its powerful motor and lightweight design, this leaf blower makes yard cleanup a breeze. No more raking and sweeping for hours on end!
The SEYVUM Leaf Blower is so easy to use, you'll wonder how you ever got along without it. Whether you need to clear leaves, grass clippings, or other debris from your lawn or patio, this garden power tool will quickly become your go-to for all your outdoor cleanup needs.
The body of the tool weighs about 2.7 lbs, making it lightweight and simple to lift with one hand. Its 2-section tube design makes it simple to use while standing or sitting, and the grip is made of flexible rubber that is non-slip and comfortable.
It provides customers with two specific levels of adjustable speed: 150 mph and 70 mph. These specific speed levels can provide users with even more control of the airflow and speed of the blower, making it a versatile and effective tool for different cleaning tasks. Whether you need to clear debris from your yard or clean out your garage, you can adjust the speed level to match the task at hand.
It can give a refreshing experience to customers who need a reliable and efficient house-working tool. Just plug it in, turn it on, and let the SEYVUM Leaf Blower do all the hard work!
4. Mini 6-Inch Electric Power Chainsaw
If you're looking for a trusty garden power tool to help keep your foliage under control, then the mini 4.6-inch electric power chainsaw is for you! This compact chainsaw is small in size, but it's mighty in power. It's perfect for tackling small to medium-sized trees around your yard. You can easily turn a tree stump into a beautiful planter using this robust chainsaw!
And because it's an electric tool, you will not have to worry about fumes or messy fuel mixing. Trust us, your neighbors will appreciate not being disrupted by loud noises or smelly exhaust.
This chainsaw has an ergonomic design that makes it easy to handle for those detail-oriented trimming projects. A chainsaw that weighs only 1.48lb sounds incredibly lightweight for a power tool, and its ultra-thin body and small size will make it easy to handle and carry around. You will not have to worry about getting tired or sore arms after a long day of trimming because this tool will not weigh you down.
This chainsaw is great for precision work. Its design makes it easier to control, helping you to make precise cuts and get the job done more effectively.
When using a chainsaw, it's important to maintain a firm grip on the tool and use it with care to prevent accidents or injury. Proper training and experience in chainsaw use can help you achieve the best results and maintain safety while using the tool.
Whether you're trimming branches, cutting firewood, or working on other projects, this chainsaw will make your life a lot easier. You can keep your lawns and gardens looking their best with this efficient chainsaw!
So, get your hands on this garden power tool and start shaping up your outdoor space today!
5. Sun Joe SPX3000 2030 Max PSI 1.76 GPM 14.5-Amp Electric High-Pressure Washer
If you're tired of scrubbing your driveway or patio with a brush and a bucket of soapy water, it's time to invest in a garden power tool that can do the job quickly and efficiently.
The Sun Joe SPX3000 is a high-pressure washer that packs a punch with a 2030 max PSI and a flow rate of 1.76 GPM. It can deliver a stream of water at high pressure that is effective at cleaning a variety of surfaces, including concrete, wood, and metal. The water is delivered quickly and effectively thanks to the high flow rate, hastening, and improving the cleaning process.
Also, it's electric, so you don't need to care about gas, oil, or fumes. Featuring a 14.5-amp motor, it can handle tough dirt and grime, leaving your outdoor surfaces sparkly clean.
SEYVUM's product also comes with two 0.9 L onboard detergent tanks. These removable tanks allow users to carry and store different types of detergent, enabling them to tackle multiple cleaning projects simultaneously. With the onboard detergent tanks, users can switch between detergents quickly and easily, saving time and effort.
The Sun Joe SPX3000 Electric High-Pressure Washer is a must-have garden power tool for anyone who wants to be efficient on outdoor cleaning tasks.
Summary
To sum it up, garden power tools can make a huge difference in maintaining a beautiful and thriving garden with ease. From a garden tiller/ cultivator to a high-pressure washer, the tools mentioned in this blog post are all must-haves for any home gardener. While these tools can be an investment at first, they can save you time and effort in the long run.
When choosing garden power tools, it's important to take time to consider your specific needs, as well as factors like ease of use and safety features. With the right garden power tools in hand, you can make gardening a fun, safe and stress-free experience.
Make a worthwhile investment in high-quality tools today!