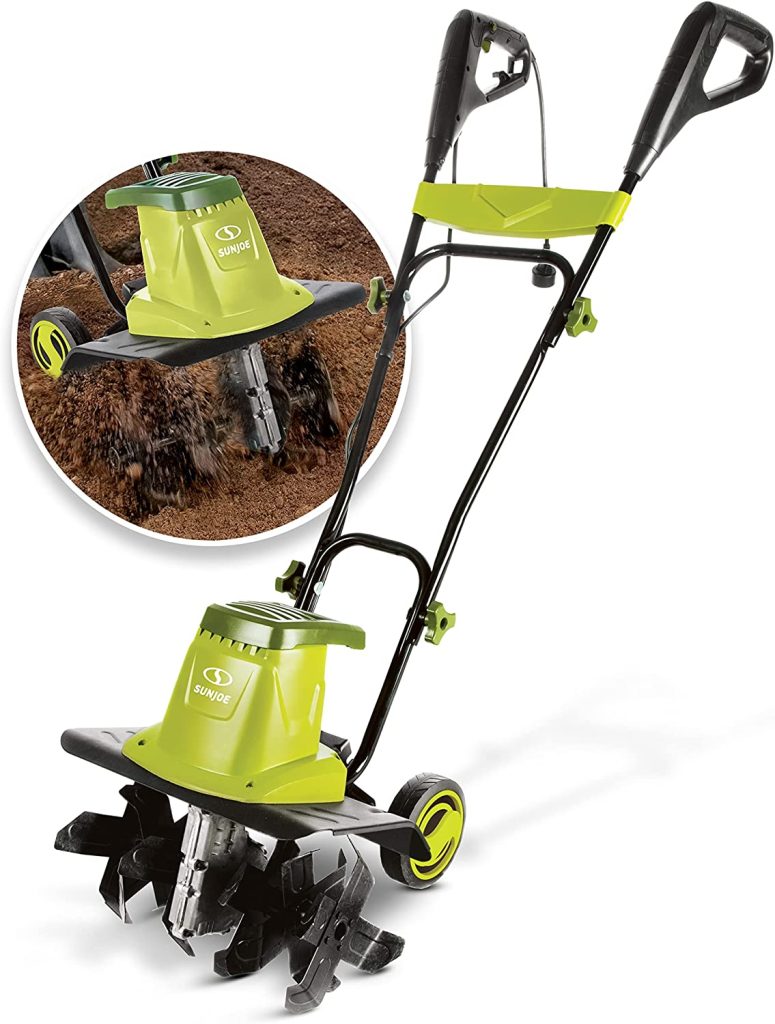 Gardening enthusiasts and professionals alike know there's nothing like freshly tilled soil to kickstart a thriving garden. However, traditional methods of tilling often require backbreaking labor or expensive machinery.
This is where the Sun Joe TJ604E 16-Inch 13.5 AMP electric garden tiller cultivator comes in. This powerful and efficient tool takes the grunt work out of gardening, allowing you to easily till and cultivate your soil with the push of a button.
Featuring a 13.5 AMP motor and 6 durable steel tines, the Sun Joe TJ604E can effortlessly break through tough soil, aerate it, and help mix in nutrient-rich compost or fertilizers. With an adjustable depth of up to 8 inches and a 16-inch tilling width, this machine can handle small gardens or larger plots with ease. Additionally, because it's electrically powered, there's no need to worry about gas, oil, or emissions.
Get ready to be wowed by the epic capabilities of the Sun Joe TJ604E electric garden tiller cultivator! Continue with the nitty-gritty details, and soon find yourself gardening with this machine like a pro!
Sun Joe TJ604E 16-Inch 13.5 AMP Electric Garden Tiller Cultivator Key Features
When it comes to electric garden tillers and cultivators, the Sun Joe TJ604E 16-Inch 13.5 AMP electric garden tiller cultivator is a true standout. Don't let its sleek and stylish design fool you; it has some serious features that set it apart from the competition.
1. Powerful motor. The 13.5-Amp motor cultivates up to 16 in. wide x 8 in. deep. It makes quick work of even the toughest soil and ensures that you'll be able to cover plenty of ground in no time.
2. Multiple angle stines. There are 6 steel angled tines for maximum performance and durability. The angled design is intended to make the tool more effective at penetrating and loosening soil, removing weeds, and even aeration of the soil. While the steel material can withstand heavy use without breaking or becoming damaged.
3. Easy storage and transport: Foldable handle provide the benefits of convenient storage and easy transport. It allows the user to collapse the handle down onto the body of the tiller cultivator, reducing its overall size and making it easier to store in a shed or garage.
When the handle is folded, it becomes more compact and easier to fit into the trunk of a car or the back of a pickup truck. This can be especially helpful for gardeners who need to transport their equipment to a community garden or other location.
4. Adjustable 3-wheel positions. The electric garden tiller cultivator can be used for a wider range of gardening tasks and can be adjusted to suit the needs of the user. This makes gardening easier and more efficient.
It can be used to till and cultivate soil at a depth that is appropriate for most types of plants. It can also be set to be closer to the ground to be used for more heavy-duty gardening tasks like deep tilling or breaking up hard-packed soil.
This powerhouse machine will have you plowing through the soil like a pro! Is it time to start your vegetable patch? The Sun Joe TJ604E 16-Inch 13.5 AMP electric garden tiller cultivator will be your green thumb's best bud!
Pros and Cons
The Sun Joe TJ604E 16-Inch 13.5 AMP electric garden tiller cultivator is an excellent cultivating tool. However, you should take a moment to take a look at the pros and cons of any electric garden tiller cultivator, before you make any investment.
Pros
With a 13.5 AMP motor, it's a powerful machine despite being electric.
It has a durable steel blade and can till up to 16 inches wide and 8 inches deep, making it perfect for most gardens.
It is an electric motor that requires little maintenance and is much quieter than its gas-powered counterparts.
Cons
It's probably not ideal for larger gardens or tougher soil.
It's best for those with smaller or medium-sized gardens who likely don't have much experience with gas-powered tools.
Its cord can limit your mobility. It requires you to have a nearby outlet.
Verdict: The Sun Joe TJ604E is a great investment for those with smaller gardens who want a powerful and easy-to-use electric garden tiller cultivator that can save time and effort in their gardening tasks. Its compact size, powerful motor, and ease of use make it a versatile and convenient tool for any gardener.
Care and Maintenance
There's nothing to worry about, as the care and maintenance of your electric garden tiller cultivator are easy as pie. Here are the simple things to do to ensure you'll be able to enjoy a well-functioning electric garden tiller cultivator for a long time.
Always unplug the device before performing any maintenance.
Clean it after each use, especially the blades and tines.
Inspect the machine for any damage before each use. Store it in a dry place away from the elements.
Warranty
Sun Joe brand stands behind its own products and their quality, and the TJ604E 16-Inch 13.5 AMP electric garden tiller cultivator is no exception. That's why the brand offers a two-year warranty on this machine, so you can garden with peace of mind.
In the unlikely event that something goes wrong, Sun Joe's customer service team will be there to assist you and help get your tiller cultivator back up and running as quickly as possible. So, get your hands dirty with the TJ604E knowing that your purchase is protected by a comprehensive warranty.
Summary
To sum up, the Sun Joe TJ604E 16-Inch 13.5 AMP electric garden tiller cultivator is a powerful, efficient, and durable garden tool that can make gardening tasks easier and more enjoyable. With its sturdy construction, easy-to-use features, and affordable price, this tiller cultivator is a great investment for gardeners of all levels.
Whether you're a backyard warrior or a pro landscaper, the Sun Joe TJ604E is your green secret weapon for crafting lush and lovely gardens. Don't settle for flimsy tools that fizzle out, invest in the mighty power of Sun Joe and watch your garden dreams come to life. This baby is worth every penny!