Keeping your outdoor space pristine and well-maintained has never been easier with a cutting-edge wood chipper at your disposal. From small branches to leafy debris, these powerful machines are designed to effortlessly transform yard waste into valuable mulch or compost, all while saving you time and energy.
Within a thoughtfully compiled selection below, you'll uncover the finest wood chippers renowned for their exceptional performance, user-friendly attributes, and unwavering safety standards. Whether you possess a green thumb and revel in gardening or simply desire a hassle-free approach to sprucing up your backyard, these top-notch choices will provide the knowledge you need to make an informed decision, elevating your yard care to unprecedented heights.
Ready to discover the perfect wood chipper to cater to your residential needs?
The Ultimate Guide to the 5 Best Home Wood Chippers in 2023
Discover the perfect wood chipper that effortlessly transforms branches and debris into valuable mulch, enabling you to craft a stunning, well-maintained landscape with absolute ease. Embark on this journey towards efficient and eco-friendly yard care, as this guide empowers you to make the best choice.
Key Considerations
There are some things to consider in order to ensure you choose the best fit for your yard care needs. Pay attention to the following key points:
1. Power and Capacity: Wood chippers with powerful motors and ample capacity can handle the size and type of branches and debris you typically deal with in your yard. Consider the reduction ratio and mulching capabilities of the wood chipper, as higher ratios and efficient mulching help minimize yard waste and create nutrient-rich mulch.
2. Safety Features: Models with safety measures such as locking knobs or automatic shut-off systems can ensure safe operation and prevent accidents. Feel more confident in your product selection, knowing that precautions have been put in place to safeguard against accidents and ensure a safer overall user experience.
3. Portability and Maneuverability: Certain features can enhance the convenience and maneuverability of the equipment in your yard. One such feature to look for is the presence of wheels or handles, as they significantly ease the process of moving the wood chipper from one location to another with minimal effort and hassle.
4. Noise Levels: The wood chipper generates a notable amount of noise during its operation. If the machine produces loud or potentially harmful levels of noise, it is necessary to take precautions to protect your hearing. To protect your ears from extended exposure to loud noises, it is advised that you use ear protection, such as earplugs or earmuffs, to safeguard your ears from prolonged exposure to loud noises, reducing the risk of hearing damage or discomfort.
5. Value: Conduct a thorough evaluation of both the cost and features. By carefully scrutinizing these aspects, you can identify a wood chipper that offers the utmost value within your allocated budget while maintaining a high standard of quality.
Taking these factors into consideration will lead you to discover the ideal wood chipper, streamlining your yard cleanup and gardening tasks, and ultimately creating a cleaner, greener, and more enjoyable outdoor space in 2023.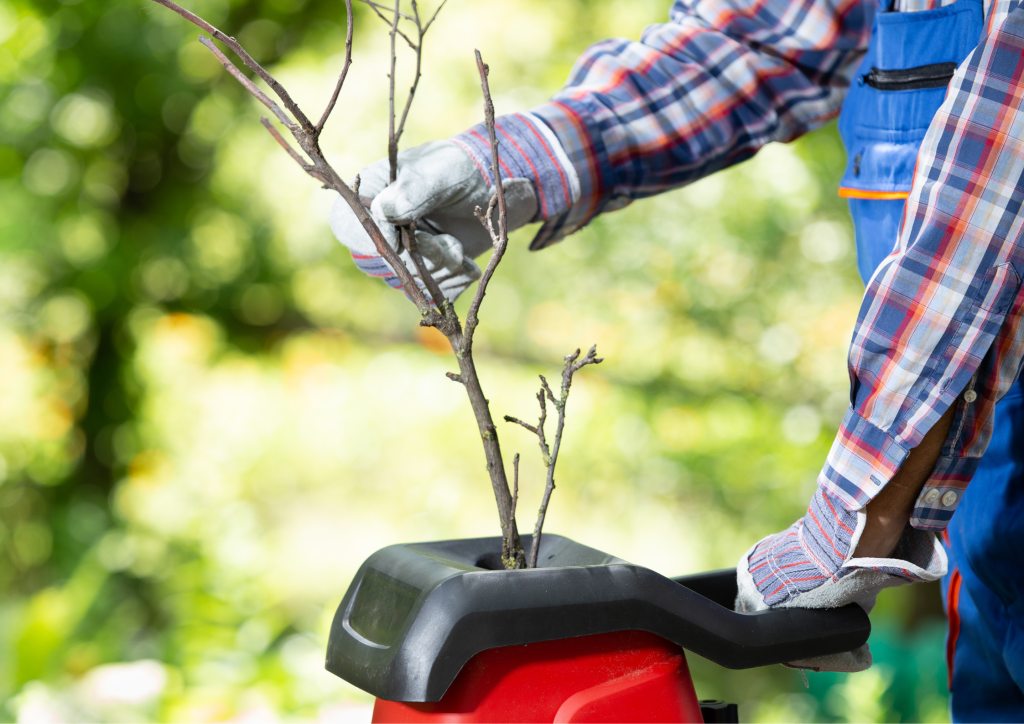 1. Best Overall: Earthwise GS70015 15-Amp Garden Corded Electric Chipper Shreds up to 1.75″ Thick
The Earthwise GS70015 Corded Electric Wood Chipper is a versatile and efficient garden tool that promises to make yard maintenance a breeze. With a host of impressive features, this wood chipper is sure to appeal to homeowners seeking the most reliable solution for shredding yard waste. 
Features and Capacity: The Earthwise GS70015 boasts a 15-amp motor, providing ample power to chip branches up to 1.75 inches thick. Specifically designed for dry or aged branches, this wood chipper ensures efficient and effective chipping to tackle your garden waste easily. It includes a 1.2-bushel collection bin, facilitating quick and convenient cleanup after each session.
According to one user: "We got this for my Mom to chip up sticks that fall in her yard since she has to use lawn bags to get rid of them. She is able to move it out in the yard to where she needs it. She says it chips well and it makes the sticks take up much less room than expected. She doesn't need to empty the bin very often."
Safety is a top priority with the Earthwise GS70015. It features a convenient safety shutoff with a quick reset button, automatically turning off the motor when overloaded to prevent any potential damage. It also comes with a chute and tamper tool, allowing you to feed branches into the chipper without putting your hands at risk.
Performance: This wood chipper showcases exceptional performance in shredding and chipping garden waste. Its sharp blades effectively convert branches and debris into valuable mulch or compost, significantly reducing the volume of yard waste.
With its impressive 16:1 mulching ratio, it efficiently reduces garden waste into valuable mulch for your landscaping needs. Its compact size and lightweight build make it easy to maneuver, enabling smooth operation throughout your garden.
One notable downside, however, as echoed by several reviewers, is that the Earthwise GS70015 Electric Wood Chipper may not perform as effectively with leaves.
"As most reviewers have said, it is NOT very good with leaves," says one user. "It actually does a fairly decent job of chopping them but the hopper opening is really small and the anti-kickback flanges prevent a good flow through the chipper."
This wood chipper may not be the best choice for handling large volumes of leaves, especially if you primarily intend to use it for this purpose.
Power Source: The Earthwise GS70015 is an electric wood chipper, eliminating the need for gasoline or oil. This electric-powered feature makes it an eco-friendly choice, reducing harmful emissions and minimizing your carbon footprint.
Price: The GS70015 wood chipper offers an excellent balance between features and price. While it may not be the cheapest option on the market, its solid performance and reliability justify the investment, making it a cost-effective choice for homeowners seeking long-term value.
Warranty: When you invest in the Earthwise product, rest assured that your purchase is backed by a solid and reliable warranty. Earthwise stands firmly behind the quality and performance of its wood chipper, you are guaranteed the product's durability and top-notch quality, allowing you to use it with confidence and trust in its long-lasting performance.
Overall Assessment: The Earthwise GS70015 Electric Wood Chipper proves to be a powerful and efficient garden companion. With its impressive capacity, exceptional performance, eco-friendly power source, reasonable price, and solid warranty, it offers an attractive package for homeowners looking to maintain a neat and sustainable garden. If you're seeking a dependable wood chipper to effortlessly handle your yard waste, the Earthwise GS70015 is undoubtedly worth considering.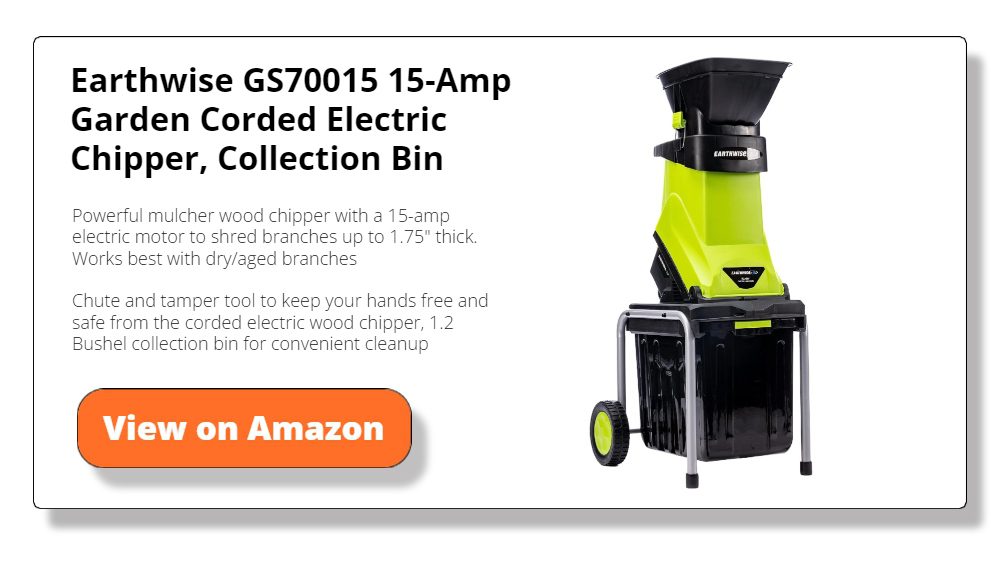 2. Best Leaf Mulcher: WORX WG430 13 Amp Electric Leaf Mulcher – Chops up to 53 Gallons of Leaves per Minute!
The WORX WG430 Electric Leaf Mulcher is a leaf-munching powerhouse that promises to transform your yard maintenance experience. Packed with impressive features and cutting-edge technology, it offers an efficient solution for disposing of leaves with ease and keeping your yard clean and tidy.
Technology and Usage: Powered by a robust 13.0 Amp motor, this mulcher can devour an astonishing 53 gallons of leaves per minute, streamlining your leaf cleanup like never before. It efficiently disposes of leaves and debris right into a bag you can easily attach beneath the mulcher (bag not included), ensuring a hassle-free cleanup process.
Witness 11 bags of leaves reduced to a single bag of nutrient-rich mulch, transforming your yard waste into valuable garden nourishment. Weighing a manageable 20 lbs., this tool strikes the perfect balance between sturdiness and portability. It stays firmly in place during use, while its manageable weight allows easy movement around your yard.
Handling and Operation: This electric leaf mulcher excels in performance, effortlessly converting heaps of leaves into fine mulch in a remarkably short span of time. Its efficient cutting system minimizes the need for manual adjustments, saving you time and effort during operation.
"It works well for the job it was designed to do, that is, a yard with several very leafy (Pin Oak) trees," says one user.
On the other hand, one drawback to be aware of is that the WORX WG430 Electric Leaf Mulcher may not effectively handle sticks.
"It will handle leaves but not sticks," explains one user. "If sticks are mixed with your leaves, plan on replacing the trimmer string often."
Energy Source: The WG430 is powered by electricity, eliminating the hassle of dealing with gasoline or batteries. Simply plug it in, and you're ready to tackle your leaf cleanup with convenience and ease.
Cost: With its impressive performance and functionality, the WORX WG430 Electric Leaf Mulcher offers excellent value for its price point. It is a worthwhile investment for homeowners seeking a reliable and efficient leaf disposal solution.
Protection: Worx provides a guarantee for their product, assuring that your purchase is safeguarded, and instilling confidence in the quality and durability of your leaf mulcher.
Overall Assessment: The WORX WG430 Electric Leaf Mulcher is a game-changer in leaf disposal. Its powerful performance, electric power source, and affordable price make it an attractive option for homeowners looking to maintain a pristine yard without the hassle of manual leaf raking.
With its efficient leaf-munching capabilities and reliable warranty, the WORX WG430 is undoubtedly a worthy addition to your gardening arsenal. Embrace its efficiency and bid farewell to tiresome leaf cleanup, leaving you with more time to enjoy your beautiful garden!
3. Top Multifunctional: SuperHandy Wood Chipper Shredder Mulcher Vacuum Heavy Duty 7HP 15:1 Reduction Ratio
The SuperHandy Wood Shredder Chipper is a versatile and powerful garden tool designed to revolutionize your yard cleanup experience. With an array of impressive features, this multi-functional chipper promises exceptional performance and ease of use.
Multipurpose Capability: This multi-function wood chipper shredder mulcher boasts a 3-in-1 design, offering versatile capabilities for your yard cleanup needs. With a Reduction Ratio of 15:1, it efficiently handles different tasks using the top hopper for chipping/shredding of up to 1/2″ MAX volume, the side chute for branches/limbs up to 3″ MAX diameter, or the attachable leaf vacuum for easy mulching.
The slanted housing design sets this chipper apart, reducing the likelihood of jams compared to other models. Ideal for forestry, gardens, landscaping, or green waste recycling, this wood chipper effectively chips tree branches/limbs, shreds brush, and mulches the leaves and corn stalks.
Functionality: This chipper is equipped with a powerful 7HP horizontal 4-stroke single-cylinder OHV gas-powered engine, delivering outstanding performance. It effortlessly converts yard waste into fine mulch with its sharp and durable blades. Its multi-functionality allows you to tackle various tasks, from chipping branches to shredding leaves and other organic material, making it an all-in-one garden warrior.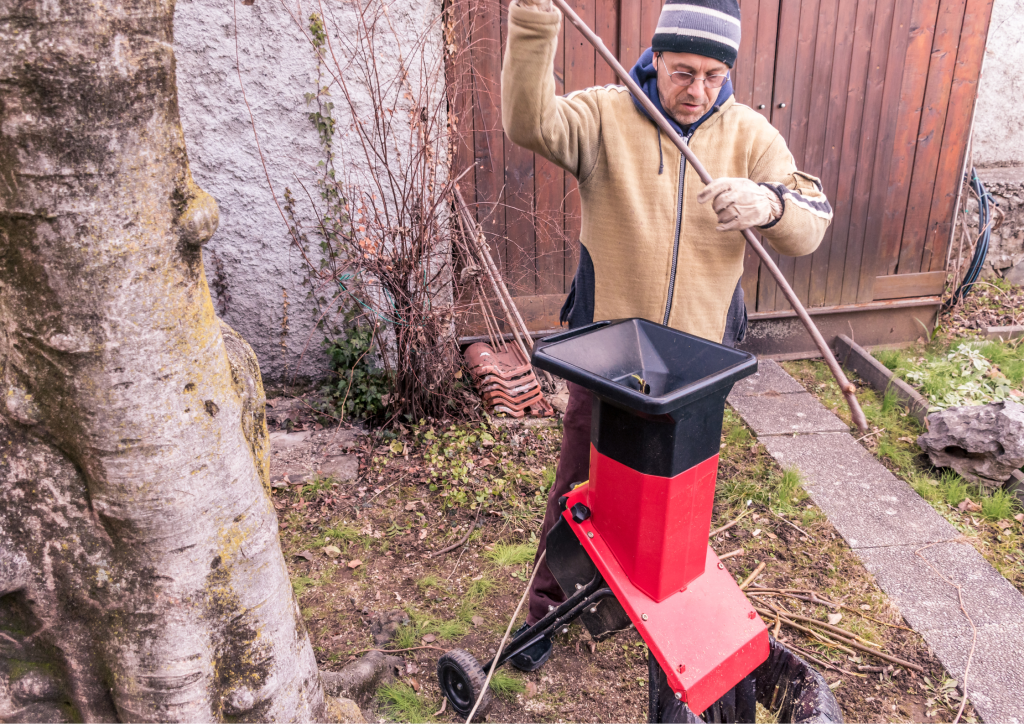 "I have had this chipper/shredder for over a year, 2 springs, a summer, and 1 fall," says one user. "Starts up first pull every time. I can feed it up to 3" volunteer trees that are green, dry branches 2 1/2" with no jams or stops. Very very happy with it."
One drawback to consider though, is that the hopper requires a continuous stream of leaves and debris to be fed, rather than throwing them in as a pile.
"Few notes: hopper needs to be fed as a continuing stream of leaves and debris but not thrown in as a pile," explains one user. "A pile clogs the hopper shoot to shredder blades but continuing stream sliding down the hopper chute works much better."
Power Supply: Powered by a reliable gas-powered engine, this chipper ensures continuous and consistent performance without the need for electricity, providing freedom of movement and flexibility during yard cleanup.
Price Tag: While the SuperHandy Wood Chipper may be a higher-priced option, its powerful performance and multi-functional design offer excellent value for money, making it a worthwhile investment for homeowners seeking a comprehensive solution for yard maintenance.
Brand Guarantee: With a solid guarantee, SuperHandy ensures the protection of your purchase, providing assurance and confidence in the wood chipper's top-notch quality and long-lasting durability.
Overall Assessment: The SuperHandy Wood Chipper stands as a versatile and efficient garden tool, addressing all your yard cleanup needs with ease. Its impressive capacity, gas-powered performance, and multi-functionality make it a reliable and time-saving choice for homeowners.
While it may be a higher-priced option, the SuperHandy Wood Chipper's exceptional features and warranty ensure a durable and long-lasting investment. Embrace the power of this machine and transform your yard maintenance into a swift and gratifying experience!
4. Tip-Top Craftsmanship: GreatCircleUSA Wood Chipper Shredder Mulcher Heavy Duty Gas Powered 3" Inch Max Wood Diameter Capacity
The GreatCircleUSA Wood Chipper Shredder Mulcher truly revolutionizes the process of yard cleanup and effectively manages garden waste. With its excellent performance and versatile functionality, this machine emerges as a game-changer, streamlining the arduous task of maintaining a tidy and well-kept outdoor space.
Specifications: The GreatCircleUSA Wood Chipper Shredder Mulcher boasts remarkable multi-function capability. Its 3-in-1 design offers a reduction ratio of 15:1 with CR12MoV cutting blades, ensuring precise and effective shredding.
From branches and leaves to other garden debris, this wood chipper shredder mulcher handles it all with remarkable efficiency, saving both time and effort for homeowners and landscaping enthusiasts alike.
Operation: Equipped with a robust 7HP Horizontal 4-stroke Single Cylinder OHV Gas Powered Engine, this wood chipper delivers impressive power and performance. It effortlessly handles wood pieces up to 3 inches in diameter, making light work of even the toughest garden debris.
The chipper runs on 87+ unleaded gasoline (ETHANOL-free recommended) with a maximum fuel capacity of 0.7 gallons. Its max speed reaches an impressive 3600RPM, ensuring fast and efficient chipping and shredding operations.
Additionally, the machine's solid construction ensures stability during operation, minimizing vibrations and enhancing safety.
"This is a well-built, solid machine with a strong engine, good design for chipping and mulching, and it does handle up to 3 inches as advertised," says one user.
Some users, however, point out one drawback: the collection bag provided is relatively small.
"Have used it for about 2 hours so far and would have given 5 stars, but the collection bag it comes with is so small as to be useless," says one user. "It fills up very fast and the zipper doesn't even run the full width of the bag so it is very hard to empty when full."
Energy Source: Being a gas-powered wood chipper, it provides the benefit of mobility and freedom to operate without being tethered to an electrical outlet. The 4-stroke engine delivers consistent power, ensuring consistent performance and reliability for extended periods of use.
Cost: It falls within a reasonable price range for a machine of this caliber, making it a worthwhile investment for homeowners and landscaping professionals. Considering its remarkable capabilities and impressive build quality, the GreatCircleUSA Wood Chipper offers great value for your money.
Warranty: GreatCircleUSA confidently backs the quality of its wood chipper with a robust warranty, ensuring your peace of mind. Their customer service is exceptional, promptly addressing any inquiries or concerns with attentiveness and responsiveness.
Overall Assessment: The GreatCircleUSA Wood Chipper is a true multi-function workhorse that brings unmatched efficiency and convenience to yard cleanup. Its powerful performance, versatile features, and reliable gas-powered operation make it an indispensable tool for anyone dealing with garden waste.
With a reasonable price and an excellent warranty, this wood chipper is undoubtedly a smart investment that will serve you well for years to come. Highly recommended!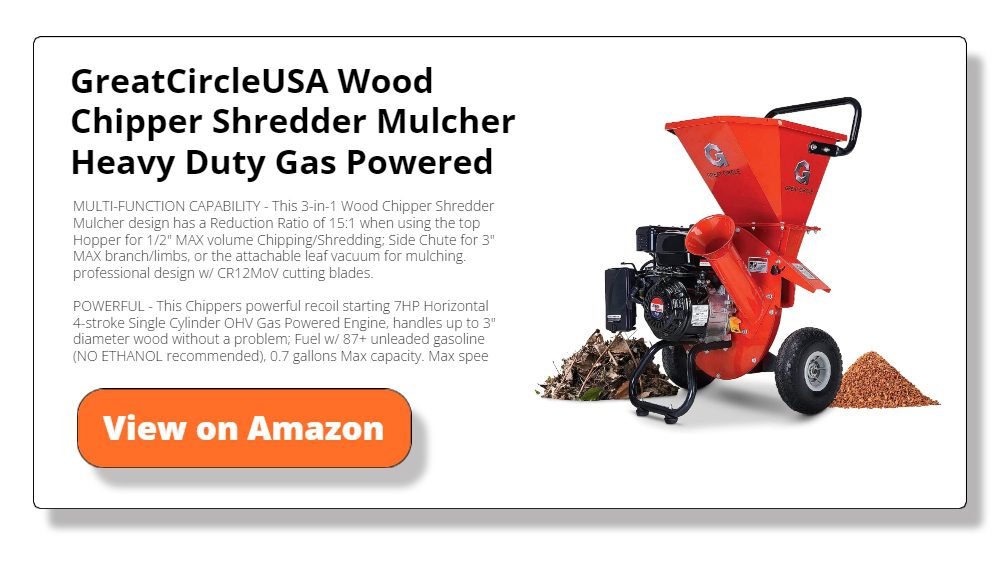 5. Best Budget: Sun Joe CJ601E 14-Amp 16:1 Reduction Ratio Electric Wood Chipper/Shredder up to 1.5″ Thick
The Sun Joe CJ601E 14-Amp Electric Wood Chipper/Shredder is the ultimate budget-friendly solution for efficient yard cleanup and garden waste management. This comes at an affordable price while being a compact powerhouse that offers impressive performance, turning branches and twigs into nutrient-rich mulch with ease. It is a top contender for those seeking a cost-effective and eco-friendly wood chipper shredder!
Features and Capacity: The wood chipper/shredder comes with a robust 14 amp motor that effortlessly chips and shreds branches up to 1.5 inches thick, making light work of garden debris. With a no-load speed of 4300 RPM, it delivers swift and efficient performance, saving you valuable time and effort.
Transform branches and twigs into garden mulch, significantly reducing their original size up to 1/16th. Also, equipped with 6-inch wheels, this wood chipper/shredder can be easily transported to any desired location, ensuring seamless operation throughout your outdoor space.
Additionally, Sun Joe prioritizes safety with the inclusion of a well-designed safety hopper. A locking knob prevents the motor from operating when the hopper is opened, ensuring secure and worry-free operation. Focus on your yard work with confidence, knowing that your safety is safeguarded at all times.
Performance: When it comes to performance, this electric wood chipper shredder shines brightly. Its sharp and durable steel blades also efficiently shred branches and leaves, creating nutrient-rich mulch that can be used to nourish your garden.
The reduction ratio of 16:1 means less frequent bag emptying and more productive cleanup sessions. Also, the unit's lightweight design and wheels make it easy to maneuver, allowing me to take it wherever needed around the yard.
"I've always wanted a wood chipper and I was very happy to find this one," explains one user. "It's such a low price. It operates very well on probably 1-inch and smaller diameter branches."
One downside that some users have noticed, however, is that the Sun Joe wood chipper/shredder can be a little noisy during operation.
"Yes, Sun Joe is a little noisy," says one user. "I always wear earplugs because I like my hearing and want to keep it."
By taking a precaution, you can comfortably continue your yard cleanup tasks without any worries about noise levels.
Energy Source: The Sun Joe CJ601E runs on electricity, eliminating the need for gas or oil, making it eco-friendly and low-maintenance. The electric power source ensures consistent and reliable performance without the hassle of dealing with fuel or fumes.
Price: Considering its compact design and reliable performance, the Sun Joe CJ601E Electric Wood Chipper Shredder offers excellent value for its price. It falls within an affordable range, making it a cost-effective solution for homeowners.
Protection: Sun Joe stands behind the quality of their product, providing a standard 2-year warranty, which is a reassuring commitment to customer satisfaction and peace of mind.
Overall Assessment: The Sun Joe CJ601E Electric Wood Chipper Shredder proves to be an excellent choice for those seeking a compact, electric-powered yard cleanup solution but affordable. Its impressive capacity, efficient performance, and user-friendly features make it a reliable tool for managing garden waste.
Streamlining Yard Cleanup and Garden Waste Management
In 2023, the top 5 wood chippers for residential use offer homeowners exceptional choices for efficient yard cleanup and garden waste management. These versatile machines come equipped with powerful motors, capable of handling various branch sizes and reducing them to nutrient-rich mulch.
Equipped with user-friendly features, safety precautions, and convenient portability, these wood chippers offer a diverse array of choices to accommodate various needs and budgets. Now, homeowners can effortlessly manage yard work, ensuring a tidy and well-maintained outdoor space.