Leaf mulchers are an indispensable tool, especially if you live in gentler climates. Of the four seasons in the world's temperate regions, few will disagree that fall is the most spectacular. But it is also the season that brings the most monotonous and exhausting yard work.
As trees shed their gorgeous foliage, homeowners must confront the tedious task of clearing their yards of seemingly endless debris.
That is why fall is the season when leaf mulchers come into their own. While they can be useful throughout the year, these tools offer functions that make them indispensable for keeping your yard clean and tidy in the fall.
Leaf mulchers reduce the volume of leaves and other yard debris you collect from your yard. Instead of struggling with huge piles of leaves, a leaf mulcher will shred them into fine particles.
Mulched leaves are a valuable organic garden input. When applied to your flower beds or vegetable patches, the finely shredded leaves break down and return nutrients to the soil. This improves soil health and promotes better plant growth.
Choosing the right leaf mulcher can be both time-consuming and exasperating. There are so many manufacturers and models to choose from, it can be difficult to remember which unit offers what special function.
The Top 5 Best Handheld Leaf Mulchers You'll Find on the Market Right Now
We've made the process of selection easier for you by testing more than a dozen leaf mulchers on the market this year. To narrow your options to a more manageable range, we have selected five of the best in the list below.
1. WORX WG509 12 Amp TRIVAC 3-in-1 Electric Leaf Mulcher
The WORX WG509 12 Amp TRIVAC 3-in-1 Electric Leaf Blower with All Metal Mulching System is a versatile, thoroughly useful, and efficient tool for dealing with leaf cleanup. With its powerful 12 Amp motor, the WORX WG509 not only blows away leaves and debris with ease, but it is also excellent for garden vacuuming and – of course – mulching. That makes this piece of outdoor equipment a convenient all-in-one solution for your fall maintenance tasks.
Of course, we think the most outstanding feature of this tool is the all-metal leaf mulcher system. The metal impeller shreds leave in two stages, grinding them down to an 18:1 mulch ratio – that's 18 bags of leaves reduced into 1 bag of mulch.
Easy to Use, Excellent Mulching System
In short, this machine will practically pulverize whatever you vacuum up. It will shoot out the debris in tiny fragments. The quality of the resulting mulch is perfect for putting beds to sleep for the winter or layering into your compost bin.
This not only saves you time and effort but also provides you with nutrient-rich mulch for your garden. The leaf mulcher system's metal construction ensures durability and long-lasting performance.
In terms of usability, we found the 8.6-lb WG509 so lightweight and easy to maneuver that this writer used just one hand during testing. The ergonomic design and adjustable handle make it comfortable to use for extended periods.
If you have ever lugged a vacuum, a blower, and a mulcher around your yard, then you would appreciate versatility that gives you all three functions in one machine. The WG509 provides you with all that – and it does so with lightweight ease.
One switch changes it from blower to vacuum, and another switch controls the blower or vacuum power. And this one tool is very reasonably priced.
The transition between blowing, vacuuming, and leaf mulcher modes was seamless, thanks to the quick-release latch on the WG509. The collection bag was spacious and easy to empty.
All in The Bag
But then if you have a few trees on your yard, you may need to get a bigger bad. Not a problem, users with who need to wrangle more leaves than usual can also purchase a WORX leaf collection system.
This adjunct collection system attaches a hose to the WORX 509. The hose connects on one end and empties into any outdoor trash bin at the other. You can also purchase additional or replacement bags from WORX, if you need them.
Overall, the WORX WG509 is a fabulous and affordable tool for keeping your yard clean and ship-shape. Its powerful performance, versatile functionality, and durable construction make it a worthwhile investment for any homeowner. So much so that we think it deserves the top spot on our list.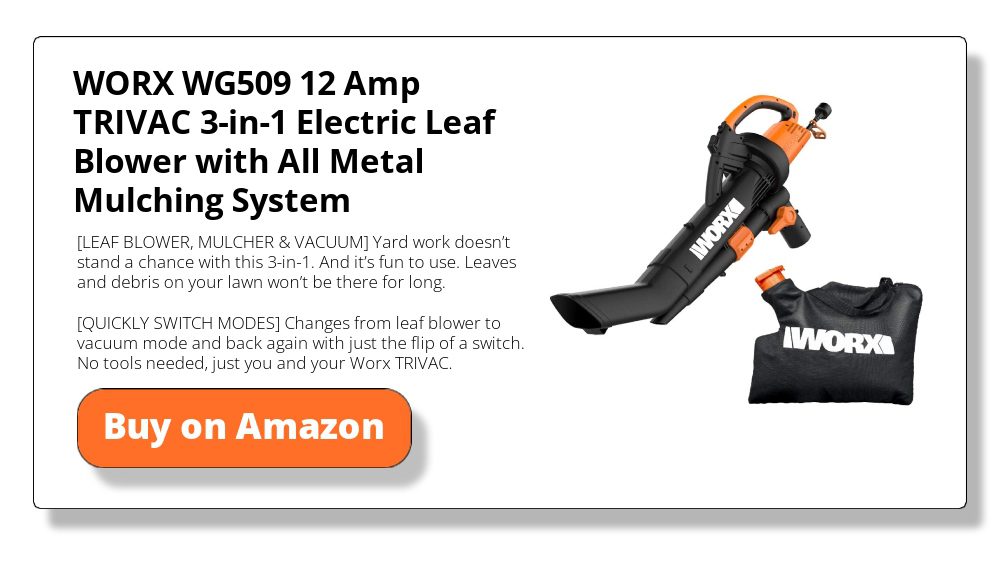 2. BLACK+DECKER BV6600 3-in-1 Electric Blower, Vacuum, and Leaf Mulcher
The 12-amp BLACK+DECKER BV6600 3-in-1 Electric Blower, Vacuum, and Leaf Mulcher is yet another versatile machine to make your fall cleanup routine less tedious. With its 12-Amp motor, this Black & Decker product will cut hours away from your fall yard clearing tasks.
That said, what we liked best about the 3-in-1 BV6600 is its powerful blowing capability, which generates a high-speed air velocity of up to 250 mph.
This is enough to clear leaves from your yard quickly and fuss-free. The machine's variable speed control permits adjustable blowing power based on the task at hand.
Seamless Switching from One Mode to Another
Switching to vacuum mode is also seamless. The high-impact metal fan prevents clogging, ensuring continuous and efficient performance. The BV6600 will easily retrieve leaves from your lawn and convert them into mulch with its metal mulching impeller.
When it comes to mulching, the BV6600 leaf mulcher impresses with a ratio of 16:1. We are thoroughly convinced that the engineers at Black & Decker designed this machine with convenience in mind.
With its ergonomic handle and comfortable shoulder strap, handling is at par with that of the WORX WG509. The collection bag is large and – again, like that of the WORX WG509 — easy to empty.
A built in cord retainer can keep the extension wire in place when the machine is plugged. Now, we did tear a hole into the bag when the vacuum sucked up a fairly large branch while mulching.
The bag thus became unusable and we had to order another one. We didn't have much of a problem with that, but we did have to halt our testing while we waited for the replacement.
Rarely Clogs, Convenient Choice
That said, the BV600 never got clogged during our tests. Clogging is one of the most common problems of a vacuum and mulcher. The Black and Decker BV6600 solves that problem.
The mulcher is quite efficient. The obstruction free metallic fan reduced the debris and leaves into pieces. It even crushed pine needles and small twigs without so much as a hiccup in its performance.
If you like the convenience of using a battery, we would not recommend this product for use large, sprawling properties. But the dry weight of the BV6600 is 8.1 pounds, which makes it lighter than others in its class. It is comfortable to use, which make it suitable even for long working hours.
Our final verdict? The Black & Decker BV6600's impressive capabilities make it a valuable addition to any homeowner's toolshed – and we think it fully deserves a second place in our list of the year's best.
3. Sun Joe SBJ605E 3-In-1 Electric Blower, Vacuum, and Mulcher
The Sun Joe SBJ605E 3-In-1 Electric Blower, Vacuum, and Mulcher quite exceeded our expectations. With its 14-amp motor, it delivered an impressive maximum airspeed of 250 mph during testing, making it perfect for yard debris.
We switched between blowing leaves, vacuuming debris, and mulching them into a fine powder without any difficulties. As with the other multi-purpose yard equipment we feature in this line-up, the Sun Joe SBJ605E will save you time and effort by combining three functions into a single tool.
While the SBJ605E comported itself well during our tests, it did not defeat the competition. We'd say its performance was comparable to others in its class across the board.
The suction nozzle wheels and onboard leaf collection bag is likely to reduce user fatigue for average-sized users, but taller folks – like this reviewer – may encounter difficulties in adjust the strap height properly.
On par with its performance, this tool could be the excellent for yards with an average annual leaf drop. The noise level is slightly higher than others on this list, but not by much.
The power-to-weight ratio on the SBJ605E is favorable. We think it would this feature would delight users who can take advantage of its weight-reducing design features.
Best for Medium to Large Outdoor Areas
Right off, we say this this product would work best on medium to large-sized porches, lawns, driveways, patios, and yards. Given that parameter, we can say the SBJ605E showed no shortcomings during our testing. We are pretty sure you are not going to be disappointed on that front.
The air stream produced from the Sun Joe 3-in-1 blower is relatively narrow. You can can provide focused power to a small section, which we liked.
The air stream can be compared to a wide-mouthed blower that provides slower speeds, but over a much wider area. The fast, powerful blast of the SBJ605E will blow away debris like wet grass and leaves off your patio, which is exactly among the first things we accomplished with it.
Heavier, Yes, But a Good and Comfortable Choice
While it was a little heavier than WORX 509 at 9.1 lbs., we had no trouble maneuvering the Sun Joe SBJ605E around our leaf-strewn test yard. The handle provides a comfortable grip that helped to ensure smooth operation.
We were quite satisfied with the mulching capability of this tool. The SBJ605 E did not grind leaves to a fine powder as much as the WORX 509. But we say it does a fairly satisfactory job as a mulcher, reducing the volume of the debris we collected to a exactly at the stated ratio of 16:1.
Overall, we say the Sun Joe SBJ605E 3-In-1 Electric Blower, Vacuum, and Mulcher is an excellent piece of yard maintenance equipment that is sure to help you keep your yard tidy throughout the fall. We think its power, versatility, and ergonomic design provide top-rate value for your money.
4. CRAFTSMAN CMEBL7000 3-in-1 Blower, Vacuum, and Leaf Mulcher
We were quite pleased with the CRAFTSMAN CMEBL7000 3-in-1 Blower, Vacuum, and Leaf Mulcher. This corded electric tool delivers up to 260 MPH airspeed, which helped us clear our rather large test yard in less than 30 minutes.
This CRAFTSMAN product's design allowed easy mobility, but it was among the heaviest handheld unit we tested at over 11 lbs. The unit is nevertheless compact enough so that it was easy to store and took up minimal space in our test home's garage.
Converting the CMEBL7000 from one function to another is achieved with a simple switch. During testing, it converted from a blower to a vacuum, and then a leaf mulcher without any hitches.
The vacuum feature efficiently draws leaves. The CMEBL7000 leaf mulcher then transformed the leaves into nutrient-rich powder with equal speed and efficiency at a ratio of 12:1.
Impressive Airflow
This 3-in-1 machine jets air volume at a rate of 450 CFM with an airflow speed of 260 MPH. That is impressive. Which would sum up that, for this matter of an airflow, we give the CMEBL7000 a good rating because the airflow ensures that you can blow and vacuum your yard with minimal effort.
The dynamic dual speed control allows you to conveniently change the speed and output of the machine. You can adjust the speed according to the job at hand.
You can turn it up to high speed to clear large open areas of leaves or slow it down when trying to remove debris from tight corners. You can switch speeds with an easy-to-use and convenient thumb dial.
Now, one of the design features we liked about CMEBL7000 is the backpack leaf collector. For many of the other similar tools, the bag hangs below the blower and sags. This causes those units to be heavy. They also often gets in the way while you work. The Craftsman has a well-designed backpack strap that allow you to carry the leaf collector around without tripping.
Good Warranty, Good Choice
Most Craftsman products come with a 2 to 3 year general warranty. That warranty extends from the day of purchase covers all non-expendable parts. The CMEBL7000, in particular, comes with a three-year limited warranty. This is, on average, slightly longer than the usual.
There are those would argue that, for a Craftsman electric leaf blower, vacuum, and mulcher, some may the longer warranty may be necessary. We say this will vary according to users and how they use it. We've never experienced any real problems with Craftsman outdoor equipment.
We like the CRAFTSMAN 3-in-1 Leaf Blower, Leaf Vacuum, and Leaf Mulcher. While a tad on the heavy side for a tool of its class, its power, adaptability, and price point have allowed it to earn the fourth position on our list of the year's best handheld leaf mulchers.
The only cordless leaf mulcher on our list is also the most expensive. The Worx WG583 40V 4.0Ah Cordless Leaf Blower, Vacuum, and Leaf Mulcher Power Share is a three-in-one powerhouse equipped with a 40V 4.0Ah battery.
This piece of lawn equipment delivers a strong airflow of up to 430 cubic feet per minute and 90 miles per hour at top speed, which is quite impressive for a battery-powered unit.
What we liked about its portable design is that, while it's strong enough to remove damp leaves or dry debris in a hurry, the WG583 is still lightweight and doesn't produce fumes or involve cumbersome extension cords.
This cordless leaf mulcher and blower offers impressive power. With a mulching ratio of 16:1 and variable speed control, the WG583 will clear your yard with a gentle breeze or a powerful gust, then provide you with mulch for your garden.
The Worx Powershare function allows you to use the battery on your other Worx tools, too, which is great for fans of the brand. We did have some difficulty finding a comfortable way to arrange the strap when using certain functions of this tool, though, but we chalk that down to a matter of preference and personal comfort.
Out of the box, some assembly is required. But the process was fairly simple, and should be well within the average adult's capabilities.
You attach the upper blower tube to the handle and turbine housing, then you attach the lower blower tube to the upper tube. That's it. The parts click securely together with fasteners on either side of the tube.
Battery-Powered Maneuverability
The Worx WG584's lithium ion batteries have 2.5 amp hours each. The two batteries combined can last for 40 minutes at the blower's highest speed of 90 miles per hour. The charge lasts for up to an hour at lower levels.
Unless you purchase the tool only, the two 20V batteries included with this model must both be attached for the blower to operate. Tracking battery usage is simple as an indicator shows you what percentage of the charge is left in the batteries.
This model was easy to move around the yard, even to remote corner where debris needs removal. The WG583 measures 37.87 inches long by 11.38 inches high. It is 8.5 inches wide and weighs just over seven pounds.
One caveat here is that you may have to think twice about mulching a very large pile of leaves in one go – as we did during our tests. With the larger pile, the battery ran out of juice in 30 minutes. So that, apart from its price, is the only insurmountable downside to it.
Nonetheless, with its cordless convenience, efficient mulching capability, and variable speed control, the Worx WG583 offers exceptional performance.
Choosing the Right Leaf Mulcher for Your Yard
Show me a homeowner who is not tired of spending hours raking and bagging leaves in the yard and I will show you a homeowner who pays someone else to do it year in and year out. If you would rather save your money, then a leaf mulcher can be the perfect solution to simplify your fall cleanup.
Consider the size of your yard and the number of leaves you typically confront in the fall. Electric handheld mulchers are ideal for smaller yards. If you have a larger property with dense foliage, a battery-powered handheld leaf mulcher would be more efficient, but consider the limitations of the battery pack.
We suggest that you look for a mulcher with a high mulching ratio, ideally 16:1 or higher. Don't forget to read reviews from other users, too. Their experiences can provide valuable insights into the mulcher's durability, performance, and ease of maintenance.
By considering your yard size, the leaf mulcher's capacity, ease of use, and customer reviews, you can find the perfect leaf mulcher that suits your specific needs. The list above is a solid starting point.
---