If your home has a yard, chances are, you need a leaf blower. Leaf blowers are essential home tools that make a significant difference in the maintenance of a tidy and well-kept outdoor space.
That's why you always have a range of options when you need one. Whether you're looking for something portable to wrangle leaves off an acre of land, the power to dislodge wet debris piles, or just a breeze to clear off the patio every now and then, you are sure should find an option for your needs.
A good leaf blower will save you valuable time and effort, offering more than just autumn leaf cleanup, too. These versatile tools can be used year-round for tasks such as clearing grass clippings after mowing, removing debris from flower beds, and even clearing light snowfall during winter.
The Top 5 Leaf Blowers of 2023
The wide variety of leaf blowers available on the market can make picking the right leaf blower can be a daunting task. There are different types of leaf blowers. You can go for a corded electric model, cordless, or gas-powered model, provided gas-powered models are not banned in your area.
Each brand and model of leaf blower out there has its own advantages and limitations, of course. That adds another layer of options to consider if you are in the market for one.
As always, we are here to help you out. Below are our picks for the five best leaf blowers on the market in 2023. We're giving you corded, cordless, and gas-powered options; and then we'll tell you the pros and cons of each type of power source.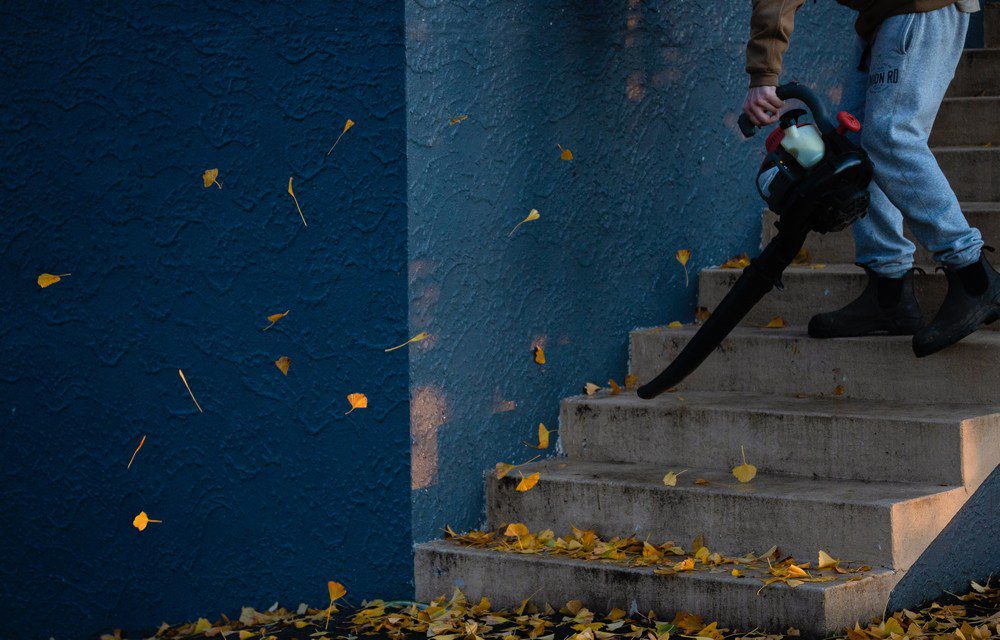 1. BLACK+DECKER 20V MAX Cordless Leaf Blower and Lawn Sweeper
Given its rank on our line-up, we were obviously quite pleased with the performance of the BLACK+DECKER 20V MAX Cordless Leaf Blower and Lawn Sweeper. That's because this versatile tool "breezed" through our chosen test home with flying colors – and leaves.
The 20V MAX battery provided ample power to tackle the thick layer of leaves and debris in our test area with ease. The 130-mph airspeed did impressive work and allowed efficient and quick clearing of both the lawn and driveway.
Of course, we favor the cordless design. We didn't have to fret over a power cord getting tangled, nor did we waste time finding a nearby power outlet. The Black & Decker LSW221 afforded us the freedom to move around and reach every corner of our test area.
Inexpensive and Lightweight
If you need an inexpensive, lightweight cordless leaf blower to clear your front steps or a small patio, this is one is for you. We think cordless leaf blower is perfect homeowners with a small outdoor space.
That said, we had to make two or three passes with the blower to move leaves in the grass. Because there is only one power setting, we had to hold the blower low to push air under the leaves and lift them up.
The biggest plus here is that this cordless leaf blower weighs less than 4 pounds. We operated it with one hand throughout our testing.
Of course, battery-powered equipment have their drawbacks, too. This model has lower power than some of the others we tested. But overall, we recommend this cordless leaf blower for small yards and outdoor hard surfaces.
The lightweight construction makes this leaf blower comfortable to use. We liked the LSW221's ergonomic design, as we did experience less strain on the arms and back using this leaf blower compared to the other blowers on the lower wrung of this list. The soft-grip handle adds to the comfort and provides a secure grip, even during prolonged use.
User-Friendly and Reliable
This Black & Decker leaf blower features a user-friendly interface with intuitive controls. We encountered no problems adjusting the airspeed to suit an array of tasks, whether blowing leaves off the patio or sweeping debris off the driveway.
The built-in scraper helps loosen stubborn debris and leaves stuck to the ground – a capability we used with particular relish. The noise level was surprisingly low compared to other leaf blowers we tested for this article.
The battery life was impressive and allowed us to complete our test work without interruptions. We found the recharge time is relatively quick, too.
The BLACK+DECKER 20V MAX Cordless Leaf Blower and Lawn Sweeper ranks Number One on our list with its powerful performance, cordless convenience, and user-friendly design. We'd recommend it to anyone in need of a reliable and efficient leaf blower and lawn sweeper.
2. Makita DUB185Z Cordless Handheld Leaf Blower
We loved the Makita DUB185Z Cordless Handheld Leaf Blower. Powered by an 18V LXT Li-Ion Battery, this leaf blower delivered powerful and efficient blowing capability. This Makita machine's lightweight and compact design makes for maneuvering and control and allowed us to move around freely as we paced around the test yard.
Apart from its lightweight, the DUB185Z's ergonomic grip and balanced design permitted comfortable handling and operation. We appreciated the low noise level. We are certain the neighbors were equally appreciative.
The battery life is exceptional for a unit of its size, providing ample runtime to complete outdoor tasks over quite an extended period without interruptions. The quick charging feature is a fabulous convenience, of course.
Compact and Easy to Assemble
Makita's Cordless Leaf Blower doesn't require much in the way of assembly at all. You simply twist the nozzle to the main unit until it locks in. You then attach the battery.
The process was quick. We unboxed the unit and had it up and running inside of a minute since the battery came with a small charge in it already.
The variable speed control functioned without any hitches. Whether you are clearing light debris or heavy leaves, we are pretty sure the Makita DUB185Z will provide the versatility you require.
We were delighted by the compact size of this leaf blower. The unit is less than half the size of standard leaf blowers. But its unique design and the distinctive Makita "look" and quality are immediately indicative of a well-made professional tool.
This blower is equipped with a trigger that controls power. Next to the trigger sits a small switch that adjusts speed. You get three speed settings.
Versatile, to Up to a Certain Point …
We were excited to see that the blower has also a vacuum function. To switch to this function, you need to detach the nozzle and move it to the aperture on the side of the unit. You can fit in the dust bag that comes with the leaf blower into the opening from which you detached the nozzle in blower function.
Now, that sounds simple enough. But this was not the case. We spent longer trying to work out how to attach the dust bag to the main unit than we did assembling the machine out of thne box. The instructions were not much help.
As we do when in doubt about these things, we turned to the internet. We then realized that the dust bag that Makita supplies with this blower is not the correct size. We were hugely disappointed. We had to buy a separate dust bag of the correct size to use the unit's vacuum function.
The build quality on the DUB185Z is otherwise excellent, and the materials used are durable and long-lasting. We have used this leaf blower extensively, and it has proven to be a reliable and robust companion during routine lawn maintenance.
Overall, we say the Makita DUB185Z Cordless Handheld Leaf Blower is a top-notch tool. Its performance, battery life, and user-friendly features make it a worthwhile investment. We highly recommend it to anyone looking for a high-quality leaf blower that gets the job done quickly and quietly.
3. WORX WG520 Turbine 600 Electric Leaf Blower
The WORX WG520 Turbine 600 Electric Leaf Blower is a reliable and efficient corded tool for all your yard cleaning needs. With its powerful airflow, lightweight design, and easy and accessible features, it's a top choice for homeowners and professionals alike.
One of the best features of the WG520 is its turbine fan technology. This innovative design delivers a powerful airflow of up to 600 CFM so that it blows away leaves, debris, and grass clippings with impressive ease. No task is too big for this beast of a leaf blower.
Power You Can Feel
The variable speed options on the WG520 offer two settings. The first runs at 60 MPH; the second at 110 MPH. We found that the latter setting excellent for a yard full of leaves. We were moved a big pile of leaves across our test yard in just 30 minutes. The same task would have taken us an entire afternoon had we used a rake.
On low power, the lightweight construction of the WG520 makes it relatively comfortable to use for extended periods. The design minimizes fatigue and allows for easy maneuverability, even in tight spaces. You can get your light yard work done without the sore shoulders you are likely to get from other models.
But once you kick it up to 110 MPH, you will require both hands to direct the surge of air that the WG520 produces. We found that trying to work one-handed with the machine for several minutes at max speed left our arms tired and aching.
To get the most from this machine in a large yard, you will need an extension cord. We did. For distances of less than 50 feet, a light gauge cord should do the trick. If you need to move over farther distances, your best route is a heavy-duty cord.
Carefully Considered Design and Features
We were pleased to realize that the unit comes with an extension cord retainer. It's located at the back of the unit. This feature allows you to secure the cord through a loop. The retainer works to hold the cord in place even when the line hits a snag. You do not lose power.
This little retainer is a big help when you're navigating through a yard with large rocks, fixtures, and trees. You feel a gentle tug when the cord snags rather than a loss of power. That was quite convenient.
Like all the other leaf blowers featured in this lineup, the WG520 includes variable speed control, giving you the flexibility to adjust the blowing power based on the task at hand. Whether you need a gentle breeze or a strong gust, this blower has you covered.
Now, some might regard the WG520's corded electric design as a disadvantage. But that is not always the case. The power cord means you don't have to worry about running out of battery power or dealing with the hassle of fuel and oil. Simply plug it in, press the power button, and start cleaning.
The WORX WG520 Turbine 600 Electric Leaf Blower is a powerful and user-friendly tool for maintaining a clean and tidy yard. With its turbine fan technology, happily affordable price tag, and lightweight design, we say it provides exceptional performance and convenience.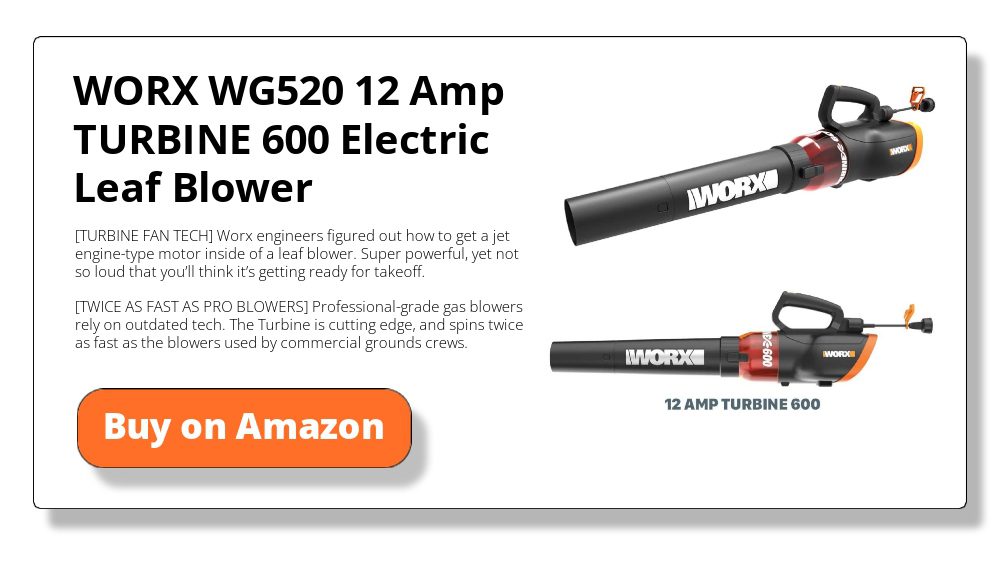 4. Ryobi P2108A ONE+ 100 mph 280 CFM 18-Volt Lithium-Ion Cordless Jet Fan Blower
The Ryobi P2108A ONE+ 100 mph 280 CFM 18-Volt Lithium-Ion Cordless Jet Fan Blower is yet another exceptional outdoor tool. With its 18-volt lithium-ion battery, this leaf blower delivers remarkable power and performance.
The Ryobi jet fan design generates an impressive 100 mph airspeed and a 280 CFM airflow, which clears leaves and debris with ease. This cordless machine grants you the freedom to move around without any restrictions and was sufficiently compact so that it allowed us to reach the narrowest nooks and crannies in our editor's yard.
This unit was also easy to assemble. You simply attach the nozzle, which comes in in two parts. You just click everything together. You then insert the battery, and you are ready. The entire process took less than a minute.
Versatile and Capable
Just like the other units we tested for this list, this leaf blower is not just for clearing leaves off your lawn. In fact, the Ryobi 2108A is mainly for sweeping hard surfaces, such as driveways, decks, and patios, according to the manufacturers.
We first tested the 2108A on dry leaves on short grass. We figure this is the easiest test that you can give a leaf blower. The unit dealt with the challenge just fine. It only took a few minutes to clear leaves from a large area of our lawn. We wrangled the leaves into a pile, scooped them into a wheelbarrow, and emptied them into our compost bin.
Now, you'll hear some folks argue that you should not use a leaf blower on wet leaves. But if, like us, you live in a part of the world where rains are part of the fall weather, then you would know what we mean that leaf blowers would be next to useless if they cannot cope with rainwet leaves.
We were pleasantly surprised to discover that the 2108A shines most when used on soggy, wet leaves. We made short work of it, clearing a very wet test yard within a few minutes. The machine made even shorter work of the task of clearing the paved driveway and garage.
Quiet and Comfortable
The lightweight design of the Ryobi 21008A made for relatively comfortable deployment, which ensures less fatigue during prolonged use. The variable speed trigger allowed us to easily control the airflow for different tasks with efficiency and accuracy.
We were pleasantly surprised by how quiet this leaf blower operates. The neighbor certainly had no complaints, and neither did we.
The battery life is remarkable, lasting for an extended period before requiring a recharge. We liked the strong, durable feel of the Ryobi P2108A ONE+. The leaf blower withstood rigorous use without any performance issues.
Final verdict? The Ryobi P2108A ONE+ 100 mph 280 CFM 18-Volt Lithium-Ion Cordless Jet Fan Leaf Blower will not disappoint. Its compact combination of power, convenience, quiet operation, and durability make it well worth a place on our list of the best.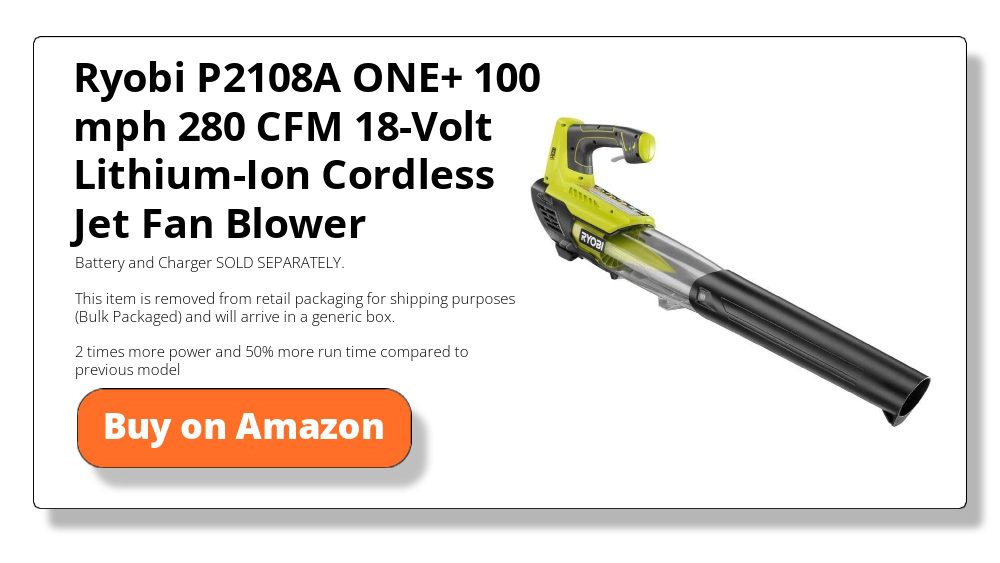 5. ECHO PB-2520 25.4cc Handheld Leaf Blower
The fifth slot in our catalog of the year's best leaf blowers goes to the only gas-powered machine in the line-up. The ECHO PB-2520 25.4cc Handheld Leaf Blower is equipped with a powerful 25.4cc engine, which allows it to deliver excellent performance.
The PB-2520's airflow is robust and consistent. This machine will clear leaves and debris from your yard without any problems.
The compact and lightweight design of this Echo leaf blower permits easy handling and maneuverability. The ergonomic handle provides a comfortable grip, ensuring a downright pleasant user experience.
The variable speed throttle allows precise control over the airflow, making it suitable for a variety of yard maintenance tasks. Just be careful you don't point the nozzle at any delicate garden fixtures as the powerful airflow is likely to cause some damage.
Spring-Assisted Easy Start System
Starting this leaf blower is a – here comes that word again – a breeze, thanks to its reliable engine. For a gas-powered unit, we were pleasantly surprised by the PB-2520's minimal noise level. As many would expect from the Echo brand, the build quality of this blower is impressive and promises both durability and longevity.
Many gas-powered leaf blowers have high tension in the cord. These cords make it difficult for users to start the engine. Such was not the case with this machine. This is a significant advantage. No homeowner likes to struggle to get any piece of equipment running.
We attribute this ease to the unit's spring-assisted starting mechanism. You just set the choke button and pull the cord with a firm but gentle upward motion. We had the unit humming after two yanks of the cord.
The professional-grade 25.4cc displacement engine on the PB2520 leaf blower runs on regular gasoline mixed in a 50:1 ratio with 2-stroke engine oil. You can buy the fuel premixed, if you are worried about getting the ratio wrong.
Key Improvements for a a Better Product
Echo has apparently heeded customer complaints about previous models of its blowers, making several improvements in design. The overall blowing capacity of this tool is one of those improvements.
So is the second layer of grill over the air intake, which prevents debris from getting drawn toward the machine and clogging it.
With top wind speeds of 170 mph and a hefty air volume of 453 cfm, this Echo handheld leaf blower that ran roughshod over the leaves on our test yard.
We noted how the curved design of of the tube reduces rotational stress. This means we did not have to exert much energy keeping the machine pointed where we wanted. This design feature makes the tool easier to hold and reduces the strain on the user.
The throttle is variable-speed, giving you control over the blower speed. Once you determine the correct speed for the job, you set the cruise-control switch. From then on, your hand is free to control the tube and blast air where you want.
The fuel efficiency of the PB-2520's engine is equally remarkable, as the machine lasted for a significant amount of time before requiring a refill.
All in all, the ECHO PB-2520 25.4cc Handheld Leaf Blower is a remarkable tool for homeowners or professionals who have to deal with a leaf-strewn yard every now and then.
We say its performance, easy handling, and durability make it a wise investment for efficient and hassle-free yard maintenance.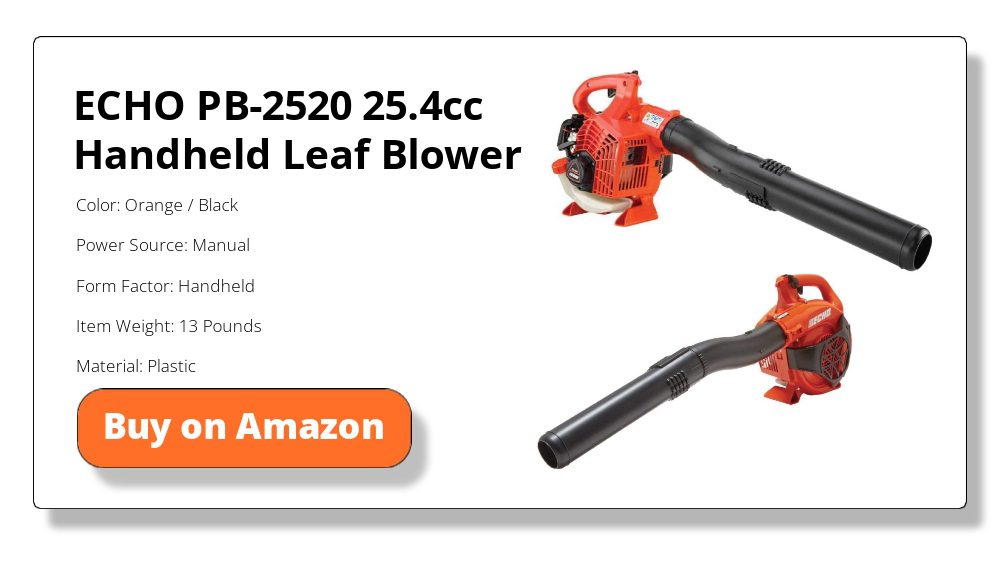 Leaf Blower Battle: Corded, Cordless, or Gas-Powered – Which One Win?
Deciding between corded, cordless, and gas-powered leaf blowers can be tricky. Understanding the differences and benefits offered by each type will help you make the right choice.
Corded leaf blowers offer unlimited runtime and consistent power as long as they are connected to a power source. They are typically lightweight and easy to handle, making them suitable for small to medium-sized yards. However, do remember that the power cord limits mobility and may require an extension cord for larger areas.
Of course, cordless leaf blowers provide excellent mobility without the hassle of a cord. They are powered by rechargeable batteries and offer you the freedom to move around, making them ideal for larger yards. But battery life can be a limiting factor, and battery-powered leaf blowers may not deliver the same power as corded or gas-powered blowers.
Gas-powered leaf blowers offer maximum power and are suitable for heavy-duty tasks. They provide excellent mobility without the restrictions of a cord or limited battery life. However, they do have their cons, too.
They tend to be heavier and louder compared to corded or cordless models and require regular maintenance. Remember, too, that several cities and states in the US have banned – or are considering banning – gas-powered leaf blowers precisely because of the associated noise and pollution.
Consider factors such as the size of your yard, desired mobility, power requirements, and maintenance preferences when choosing between corded, cordless, and gas-powered leaf blowers. Assess your needs and weigh the pros and cons of each type to find the leaf blower that suits you best.
Now that you have a list of five of the best leaf blowers on the market, that task should not be too much of a problem for you.
---