Making time to trim the lawn can be difficult, and the task itself can be tedious. This is especially true when the workweek is hectic. The weekends? After working all week, who wouldn't rather spend the weekend binging on Netflix?
Fortunately, if you're willing to spend some money, there's now a smart solution. Automatic robot lawn mowers now allow you to sit back and let a machine look after your grass.
Why Buy a Robot Lawnmower?
Robotic lawnmowers take the time and drudgery out of seasonal lawn care. Fully automatic, a good robot-mower will learn your lawn, cut quickly, quietly, on a schedule you create.
These machines are an excellent option for gardeners with mobility concerns. They are also perfect for homeowners who are away a lot or simply don't have the time.
Below is our take on three of the best-reviewed robotic lawnmowers in the market. We've tested them ourselves. We have also looked to the experts at PC Mag, Wired, Popular Mechanics, and Bob Vila for further insights.
The Best Overall for Value and Performance
The Worx WR143 Landroid M 20V PowerShare Robotic Lawn Mower with GPS has two things going for it. Both show that Worx has a strong understanding of what the average buyer needs from a reliable robot mower.
First, the average homeowner needs a reasonable price. Many people interested in robot mowers won't want to spend too much on them. This is especially the case when they don't know how it will perform.
Second, this Worx model does perform well and even demonstrates some intuitive functionality, as well. Worx designed the WR143 to follow a schedule based on the information you provide through a downloadable app.
The robot cuts grass in easily manageable layers, too. You don't need to empty a bin – or collect cut grass – as often as other robot mowers. You can also adjust the cutting height if necessary.
The manufacturers devised the "cut to edge" design to mow as close to lawn edges as possible. There won't be those annoying tufts of uncut grass by the flowerbeds. This lightens your weed whacking load.
You also get a useful alert feature that sends a notification when your mower leaves your lawn space. (This usually indicates a performance issue or that someone is tampering with the unit.) The GPS unit – which is sold separately for some kits – is there to help you find your stray mower, of course.
The WR143 is not the most powerful bot out there at 20V. But it does have features you will likely appreciate. These include automatic recharge for the battery and the ability to climb 20-degree hills.
The sensors will keep this robot from colliding with anything on your lawn. You can also surround specific areas with the magnetic strips that come with the kit. The strips will tell the robot to avoid that area.
All in all, we say the Worx WR140 is an excellent mower bot for first-time buyers. Those familiar with robot mowers would be pleased with its price and performance, too.
An Excellent Runner-Up
Of all the robot mowers on this list, the Husqvarna Automower 450X covers the most turf. This robot will keep up to 1.25 acres neat and tidy. The look of other models on this list is characterized by softer lines and warm color schemes. The Automower 450X has a glossy, menacing build, like a small version of the Batmobile in your front yard.
Like other models, you'll need to define the perimeter of your lawn with an included fence for this robot.
You can adjust the map of your yard using the downloadable app to mark additional zones to avoid. This is necessary for ditches or rugged terrain where the mower might get into a scrap.
You can make other adjustments using the app: scheduling, cutting height, the angles of its path. You can also specify how close to the boundary wire the robot can cut.
You can schedule mowing over the course of a given month. You can have this robot trim as regularly or as minimally as you want. You can also integrate the 450X with your Alexa or Google Home network. This would allow you to use voice commands to stop and start the robot.
We liked the Automower 450x's quiet operation, too. Graded at just 58 decibels, this robot is about as loud as an air conditioning unit.
"If you really wanted to, you probably could get away with mowing in the middle of the night without waking the neighbors," says one reviewer.
Overall, we were quite impressed. With a razor cut, a good app, and a first-rate lawn finish, the Automower 450X is an outstanding product.
You might have to think twice about the cost. This is not an inexpensive machine. But for those with larger lawns and those who prefer more tweakable settings, the 450X is an excellent choice.
Also Quite Good
The Robomow RS630 Battery Powered Robotic Lawn Mower works within an electronic fence created by a boundary wire. You can manage this mower using an app you can download to your smartphone.
Robomow designed this machine especially for maintaining lawns of up to 0.75 acres. That's around 3,043 square meters. The company claims this bot will handle inclines of about 35 degrees.
The Robomow RS630 features a dual blade system with a cutting width of 22 inches. That's much wider than what you get from most other robot lawnmowers. It's even wider than the machine's wheelbase, although the wheels are safely covered.
You'll notice that this robot moves randomly while cutting and will initially miss some places. But it will eventually circle back to cut those areas.
You'll need to enter information about your lawn on the downloadable app. Then the onboard efficiency calculator will measure and estimate the time it will need to complete a mowing cycle. It will take about one hour to mow 0.75 acres.
The RS630 can be programmed to mow different zones within your lawn. The machine will mulch the grass into very tiny clippings and scatter them over the area.
This robotic mower uses sensors to detect impediments along its path. When the RS630 comes into contact with an obstacle, it shuts down its motor and stops the blades. Then it moves away and continues in a different direction.
This Robomow model is also weather-proof with rain sensors to detect rain and humidity levels in the atmosphere. It has premium safety features, making it child and pet-friendly. The motor is powerful but quiet, too.
The 600-pound gorilla in the room here is the price. You'll need to take a deep breath and think about it. Perhaps you'll find some consolation in the fact that the unit comes with a full three-year warranty. It's also built to last.
A Good Option for New Robot Users
You'll have no trouble pulling the Gardena 4069Li out of the top shelf in the garage. Weighing only 16.5 pounds, this the lightest robotic mower on this list. The blade height is adjustable from .7 to 2 inches, too. You can easily raise or lower its cut with the top-mounted knob.
The machine is capable of mowing up to 88 square meters. It's also smart enough to return to its docking station when the battery is low. That said, you can expect about an hour of mow-time for each charging from this model. That's not the best in this roundup. But we figure an hour is enough time to cut grass on smaller yards.
Gardena joined the Husqvarna Group in 2007. The Gardena 4069 demonstrates the benefits of that corporate deal. You can expect to see many of the impressive hi-tech features of a Husqvarna machine in this robot.
For instance, this robotic lawn mower comes with SensorControl (SILENO+). This piece of tech permits the lawnmower to detect how quickly your grass is growing. If you let the technology do its work, the 4069 will only cut when the grass requires it.
This robot tends to cut in random patterns for a reason, too. By cutting in seemingly haphazard directions, it reduces the appearance of wrinkles and lines on the lawn.
The mower turns without backing up when it reaches a boundary line. This means it never cuts the same patch of grass too many times consecutively.
We liked the rain hood that comes with the Gardena, too. With the hood attached, your mower can operate during a downpour – although we wouldn't recommend that.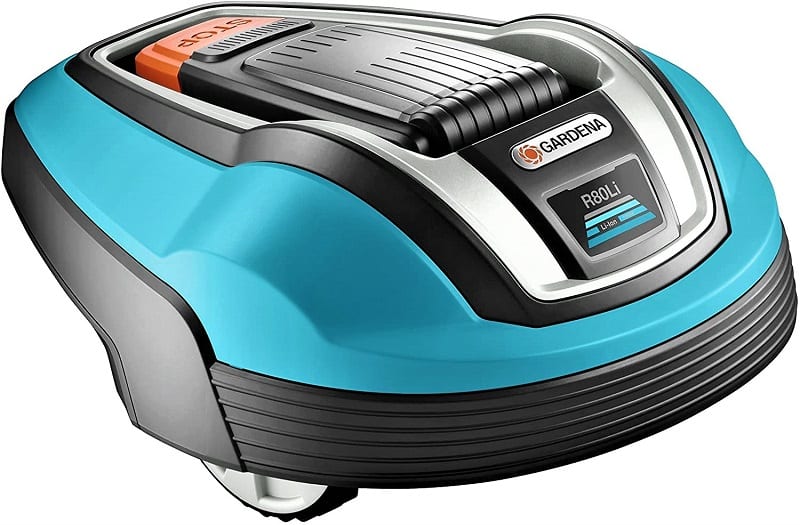 This robot mower doesn't come with an app, though. But that wasn't much of a problem for us. We did fence off the perimeter of our test lawn with the included wire.
The machine provides easy programming with an onboard LCD, as well. That makes the Gardena 4069Li a good option for new users who are unfamiliar with robotic devices.
---