The future of gardening isn't just bright – it's smart, too. In fact, smart lighting products can even now transform your garden and other outdoor spaces. Outdoor lighting isn't just a luxury, after all. Good lighting can make your garden and backyard safer, more comfortable, and more useful.
Unlike conventional illumination systems, smart lighting may offer dimming and color-changing capabilities. They have the ability to follow schedules. They can also be triggered automatically by motion or other smart devices.
Smart Ways to Light Your Garden
That said, you have more outdoor smart lighting systems now than ever before. Whether it's motion-activated lights to augment your security system or color-changing lights to decorate your garden, your options abound.
Sometimes, however, the range of possibilities can be intimidating. When confronted by such a wide array of options, the simple act of choosing can become complicated and confusing.
Below is a rundown of your options for bringing smart lighting to your garden and outdoor spaces. To help you decide, we have included tips on the products we prefer. We also turned to trusted sources like Wirecutter, PC Mag, Tom's Guide, and others for further insight.
1. Replace conventional bulbs with smart bulbs.
The easiest way to introduce smart lighting to your garden is to swap old bulbs with smart bulbs. The latter are cloud-connected light bulbs with built-in radios you can pair with your home network or your phone.
This smart lighting system offers the widest range of good options. Here we prefer the Sengled Smart WiFi LED Multicolor light bulb.
The Sengled Smart WiFi LED has a 16-million color bulb with a white temperature range of 2000K to 6500K. This is a dimmable A19 bulb with an E26 base that can be used with any standard lamp socket. Its rated lifespan is 25,000 hours.
The bulb measures 2.3 inches in diameter, 4.2 inches long, and has a maximum output of 800 lumens. This is about the equivalent to a 60-watt bulb.
Installing this smart bulb is as easy as it gets. Screw the bulb into a socket, turn it on, and download the mobile app. From there, just follow the onscreen instructions to pair the bulb to your Wi-Fi network. Once that's done, the app will ask you to name the bulb and assign it to a room. That's it.
You can also configure Alexa and Google Assistant voice support. You can turn the bulb on and off, change colors, and set brightness levels using voice commands.
There's also an IFTTT setting. This allows you to link your Sengled account to your IFTTT account. From there you can have the bulb interact with other IFTTT devices such as smart plugs and security cameras.
We've been using this bulb in our test garden for quite a while now. The product has performed flawlessly throughout. The color quality is excellent, and the bulb responds instantly to voice commands and the app. We like that it doesn't require a hub, too.
2. Use smart switches for your garden lights.
Of course, you can always ignore the bulbs and head straight for the switch. Here, too, you'll have a variety of options. These include smart switches with full dimming capabilities and support for a variety of smart platforms.
Smart light switches require a bit more work to install than smart bulbs. Since they need to be hardwired, many will have to rely on professionals for installation. That's why you should make sure that you get the right one for your needs the first time around.
TP-Link's Kasa HS220 smart dimmer is a top pick for many reviewers and consumers. That's mainly due to its combination of simplicity and affordability. This makes it a particularly good option if you're looking to install a few throughout your home.
That's not to say that the Kasa HS220 falls short on features and functionality. The light switch features built-in 2.4 GHz Wi-Fi connectivity. This allows you to use TP-Link's Kasa mobile app to access your lights remotely.
You'll be able to control the brightness and schedule of your lights from anywhere with an internet connection.
For convenience and functionality, this smart light switch will work with both Amazon Alexa and Google Assistant. It is compatible with IFTTT and Nest, too. This means you can link your garden lights to voice commands and other devices around the house.
In terms of appearance, the switch looks streamlined, sleek, and clean. A large rocker switch occupies the bulk of the wall plate. A quick tap turns the light on or off, gradually brightening or dimming the connected bulbs.
Tap-and-hold immediately takes the bulb to your preset maximum brightness or quickly shuts it off.
The switch itself will fit into any standard wall plate. Some reviewers have noted that the wall plate that comes with it is somewhat larger than the standard. Some users have likewise complained that this plate is difficult to remove and align properly.
The Kasa HS220 is strictly for single-pole setups, too. One of the features its competitors offer is the ability to work on three-way circuits. That's something worth noting.
That said, we say the Kasa HS220 is an excellent option for smartening your outdoor lights. It's affordable, functional, and easy to use and operate. We like it.
3. Install smart lighting fixtures.
If you're willing to spend a little more, consider replacing the lighting fixtures in your garden with smart fixtures. For this, we like the Philips Hue White and Color Ambiance Lily Outdoor Spot Light Kit. Philips designed this kit specifically for the garden and patio areas of your home.
This WiFi-enabled lighting kit connects to a Philips Hue bridge. The bridge is not included in the kit. You'll need to purchase it separately to control the lights with the Hue Android and iOS mobile apps.
The Hue mobile app is well-designed and easy to use. It opens to a screen that displays all of your rooms by name. If the lights are on, it shows the color of each one.
You can use the intuitive mobile app to control the color, dim the lights, and set scenes for ambiance.
The app comes with eleven preset scenes. You can also create your own scenes using the color temperature and color palette tools.
The experienced DIYer should encounter no problems installing the lights. Everything you need is in the box. The Lily Spot Light Kit comes with three lights, a power supply, and three 23-foot power extension cords.
The extension cords are equipped with male and female quick-connect plugs. You'll also find two Y-shaped quick connect power adapters and a user manual in the box.
The lights are encased in sturdy black aluminum cylindrical enclosures with an IP65 weatherproof rating. Each enclosure is attached to an L-shaped black metal mounting bracket using a thumbscrew.
The bracket allows you to pivot the light up or down. The bracket itself has a threaded mounting post. You can attach the light to a wall mounting plate or a garden spike.
Inside each enclosure is a sealed 640-lumen LED bulb. The bulbs have a white light temperature range of 2,000K to 6,500K and a 16-million-color palette. The lights are dimmable and have an expected lifespan of up to 25,000 hours.
The lights are compatible with an extensive range of smart platforms, too. You can control the Lily Spot Light Kit using Alexa, Google Assistant, Apple Siri, and Microsoft Cortana voice commands.
The app's Explore section also shows you how to integrate the lights with Nest, Vivint Smart Home, and SmartThings. That's not all. The kit will also work with Comcast Infinity, Logitech Harmony, and IFTTT home automation platforms.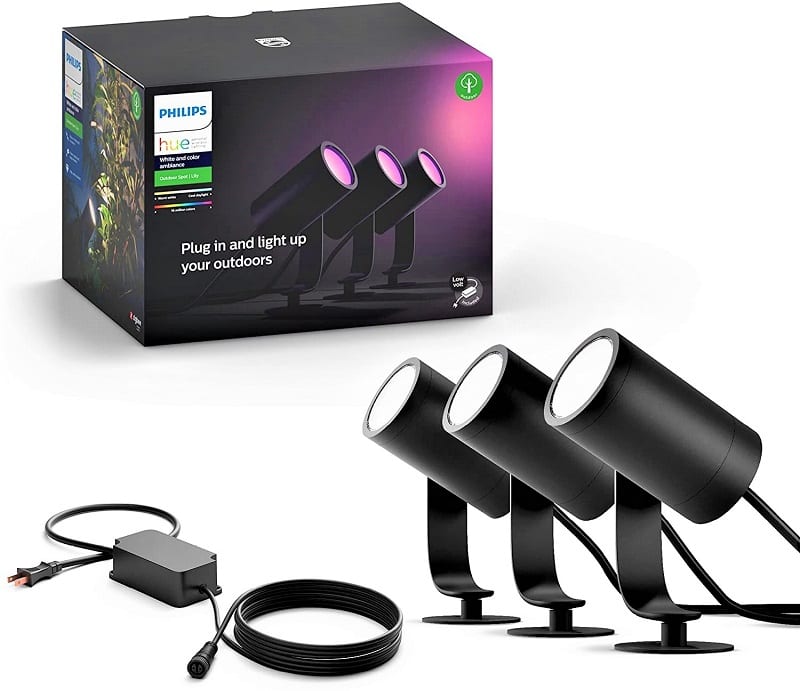 It's important to remember that these are feature lights. Some folks have mistaken the term spotlight for floodlight. The lights in the Lily Spot Light Kit don't shine bright enough to function as floodlights.
But if you're looking to illuminate a trellis, water feature, or something similar, the kit will work exceedingly well. You can run up to five lights off one 24V power supply.
All in all, the Philips Hue Lily Spot Light Kit is an excellent outdoor smart lighting option. You'll pay top dollar for the kit, for sure. But in return you get three-easy-to-install, versatile smart lights that are built to withstand the elements.
---