In all but the smallest garden beds, you need a machine for creating new beds, weeding, and aerating soil. A power tiller does that job for you.
A power tiller is a set of blades – called tines – mounted within a wheeled housing. Modern power tillers run on either a gasoline engine or an electric motor.
So, which is better gas or electric? People have been arguing about this question for as long as gas and electric rototillers have been around. We're not going to spend too much time on it here.
Suffice it to say that if convenience, quiet operation, ease-of-use, and easy maintenance are important to you, go electric.
Choosing the Right Electric Power Tiller
Electric power tillers are invaluable garden tools. After all, if you're planting new seeds or laying new turf, it's good practice to first till the soil.
There are many good electric power tillers out there. Below are three of the highest-rated machines on the market. Choosing which is best for you means matching its capabilities to the work you'll be tackling.
1. Sun Joe TJ604E 13.5-amp Electric Tiller
The Sun Joe TJ604E 13.5-amp Electric Tiller is the best-selling power tiller on Amazon right now. From what we've seen of this machine, we say its sales ranking is well-deserved.
The TJ604E impressed even as it came out of the box. Setting up this corded, compact rototiller is a simple matter of attaching a few knobs and bolts by hand. The entire process should take you no more than 10 minutes.
Once assembled, the tiller weighs about 27 pounds. This is about average for the garden tillers in this lineup. The 13.5-amp motor and rear wheels allow you to operate it the way you would an electric lawnmower.
The Sun Joe TJ604E is excellent for cultivating new garden beds. It works soil a good 8 inches deep and 16 inches wide, the six tines working at 370 RPM. The 3-position height-adjustable rear wheels make it easy to maneuver wherever it's needed.
There's no such thing as a perfect product, though. Everything comes with some downsides. With the TJ604E, it's about making a few passes over the same ground. This is despite this rototiller's remarkable power.
If you're cutting up a lawn to replace a garden, you'll likely make two passes. You'll need one pass to get through the grass. Mulching that grass into the soil might require two more.
If there are sizeable rocks in the soil, they will get caught between the blades and the deck. Since the tines are geared for torque, you won't be able to spin them out by hand.
When this happens, you will either have to remove the blade with a ½ socket or a wrench. If you are feeling particularly savage, you can pound any rock out with a hammer.
But the TJ 604E more than makes up for any failings with its superb build quality. This compact machine requires little in the way of maintenance and is quite easy to store.
Cleaning it is a cinch, too, and its 13.5-amp motor held reliable and sturdy despite many hours of use and abuse. The TJ604E comes with a nice a two-year warranty, too.
So, how do we rate this product? We liked it because there isn't much not to like. If you're looking for a no-nonsense tiller for a small-to-medium-sized yard, you'll do well with a Sun Joe TJ604E.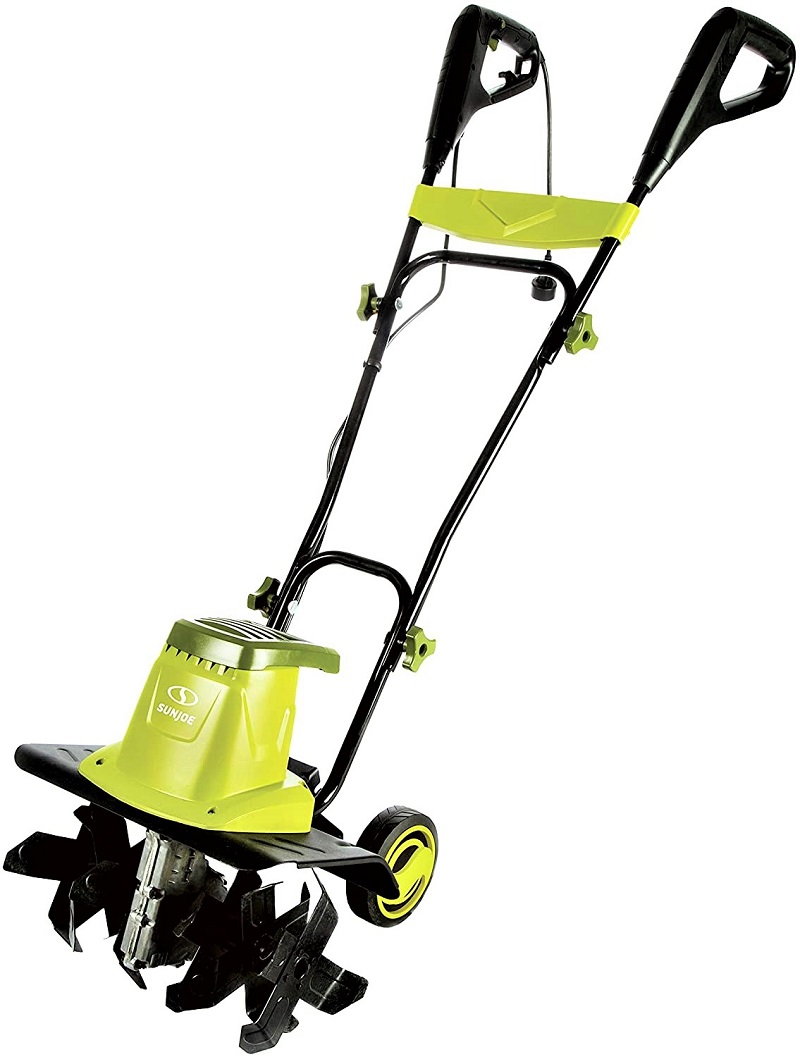 2. Sun Joe TJ603E 16-inch Electric Tiller
It's a testament to the quality of the company's products that our runner up is also from Sun Joe. In fact, in many ways, the Sun Joe TJ603E 16-inch Electric Tiller is just a slightly less powerful TJ604E.
The 603E is equipped with a 12-amp motor. The 604E is equipped with a 13.5-amp motor. While this isn't a huge difference, there is some noticeable variation in performance. That is, the 604E tears through soil faster than the 603E.
The 603E nevertheless has all the build excellence and quality of its more powerful sibling. Which means that, compared to most other tillers on the market, this rototiller features terrific construction and design quality.
Like the TJ604E, it's equipped with 6 steel tines that dig into the soil at different angles. The tines cover an area 16 inches wide and 8 inches deep.
The machine has two foldable steel handles and is compact enough so that it's easy to maneuver. Weighing in at around 27 pounds, it's a bit heavy considering it isn't as powerful as the TJ604E.
This means you'll notice that the 603E requires a bit of guidance as you work a new plot. The TJ604E leads you, digging into the soil as if on its own volition.
Of course, the 603E also has all the drawbacks you expect of corded electric tillers, including the 604E. By that we mean you'll have to be mindful of the cord at all times.
Yes, that cord might look like it's three inches away, but it's going to get sucked into the tines, anyway. Often, it'll get wound around the axle, too!
Again, because it's a corded electric tiller, it is restricted by a cable. This works against portability and limits you to a small area. But if you've got electrical outlets in close proximity, that shouldn't be a problem.
All in all, we liked the Sun Joe TJ603E almost just as much as the slightly more powerful 604E. This product offers great value for your money and much in the way of construction and functionality.
3. Tacklife Advanced 18-inch Electric Tiller
Third, on this countdown is the Tacklife Advanced 18-inch Electric Tiller – a tilling beast with a well-engineered 13.5-amp motor. This is quite an impressive product coming from a company that started with only 10 employees six years ago.
Right out of the box, you'll know that the Tacklife Advanced Electric Tiller is all about versatility and power. This corded rototiller features adjustable tines, wheels, and width. You can have either 4 or 6 tines at 12.5" or 18".
This versatility matters. The greater tilling width reduces the number of passes you'll need to take to work your yard. The narrower 12.5" tilling width allows you to weed between rows and around borders.
You won't have to do much by way of setting up this machine. You can snap and tighten the wheels, tines, and handle bars into place by hand.
You'll need a Philips screwdriver to attach the throttle control, though. You'll find two clips for convenient cable management in the box.
Starting this tiller was easy. Double safety buttons and brake switches help ensure quick and trouble-free ignition even as they prevent accidental starting. The ergonomic folding handlebar has an anti-vibration system to reduce arm fatigue, as well.
But, in our opinion, the most impressive feature of this rototiller is its power. The Tacklife Advanced Electric Tiller will rip into hard-packed soil to a depth of 8 inches.
It will chop through most garden weeds, roots, and packed soil without a problem. That's because the 13.5-amp pure copper motor spins 6 tines at 400 rpm!
With that much power, you can expect this machine to throw some debris into the air. So, it's a good thing it comes with a steel shield. The shield prevents small stones from splashing and hurting you or others nearby.
We also noted the tiller's easy maneuverability, which we quickly attributed to its weight. For all the power of this rototiller, it weighs a full 5 pounds lighter than the Sun Joe TJ604E at 22 lbs.
Be that as it may, it does have its cons. For instance, it can get loud – 93 decibels loud, to be exact. It's also a bit more expensive than the Sun Joe 604E.
Still, there's no doubt that the Tacklife Advanced Electric Tiller is among the best rototillers your money can buy. It's a hardworking, efficient machine and is an excellent investment if you have a small-to-medium-sized yard.
A Gardener's Delight
That's it. The rototillers above are the three best-selling corded electric tillers on the market right now. If you've ever spent back-aching hours preparing a new plot, you'll appreciate the performance of any of these three.
Good electric tillers are powerful, quiet, simple, and trouble-free. Sure, they might have their limitations. But they are a gardener's delight, given the tough, back-breaking work of turning earth with a shovel.
---