Nature-loving homeowners like to put out feeders and plant certain flowers and shrubs, to lure birds into their backyards. That's because birds not only lend more vigor and melody to the life of a garden, but they are also responsible for pollination and pest control.
Indeed, birds-caping – or designing your garden to entice local birds – has become increasingly popular among home gardeners these days.
But not every gardener wants birds sauntering onto their garden plots. Pigeons will devour entire heads of cabbage in the afternoon. Crows destroy corn crops by the acre in the countryside, and bluejays will loot your berry bushes almost completely bare of fruit.
The Right Way to Keep Birds Out of Your Vegetable Garden
Still, the wise gardener understands that birds perform an important function in the ecosystem. We recognize why we should ensure that avian populations don't dwindle any faster than they are dwindling now.
So, below are seven ways to protect your backyard harvests without harming unwanted birds.
1. Scarecrows
Scarecrows, of course, are an obvious solution against birds. But if your makeshift sentry has been posted in the same spot for an extended period now, then birds will have already concluded that he's harmless.
You need to move your scarecrow's post a few times around each week. You have to change his clothes, too, to convince the birds that he's not just a stationary defense tactic, but an actual, mobile threat.
Some gardeners use reflective objects such as old compact discs to keep local birds away. You should also move and rearrange those frequently. Birds catch on surprisingly quickly despite the connotations of the term "bird-brained."
2. Butterfly Netting
Barriers are among the most effective ways to deter birds from your garden. Butterfly netting protects crops from birds while allowing smaller beneficial insects access to your crops to ensure pollination.
Experts suggest that you keep your netting pulled taught, and use netting with holes smaller than one centimeter to avoid injuring birds.
Be sure you invest in high-quality, UV-resistant netting materials. They may be a bit more expensive, but higher-quality netting will last a lifetime. Cheaper netting tends to fray and deteriorate, becoming a potentially dangerous snag for birds.
3. Chicken Wire
Charles Barnard, an English ironmonger, invented chicken wire in 1844 as a cheap and easy way to keep small animals and poultry penned in one area. You can use the same principle and material to keep birds out of your vegetable plots.
Pin chicken wire to the ground to protect newly-planted seeds or freshly-sown tubers from birds or even chickens scratching and pecking at the soil. As your seedlings start to grow, you can lift the wire off the ground on stakes for additional protection.
4. Garden Fleece
Gardeners often install garden fleece to protect crops from frost in cold weather months, but you can also use it year-round to shield your crops from birds. Drape the fine, white material over your vegetable patch to keep the birds in your neighborhood from harvesting your greens.
Weigh the sides down with rocks or pegs. You can always roll back the fleece when harvest season comes around.
5. Protective Plants
Pigeons, be they wood or rock doves, are rapacious devourers of vegetables in the cabbage family. They are quite persistent and will return to your patch every day until your entire crop is gone. If you don't have a devoted terrier to shoo them away, you need another plan.
If you are simply not a fan of netting and cages, you can try confusing pigeons by surrounding your cabbage patch with annuals. Plant a dense barrier of calendulas, nemophila, cornflowers, field poppies, and other shorter-growing wildflowers around your plot.
The look is pleasing, inconspicuous and, as a deterrent against pigeons, the strategy does work. Pigeons do not like to wade through lush flowers. They are naturally wary of what may lurk underneath.
6. Toy Predators
Decoy predators – such as toy owls, falcons, or other birds of prey – can help deter birds from ravaging your garden's harvests. However, like the scarecrow, if these stationary decoys are not relocated often, birds will soon learn that they are harmless.
Moving your toy owls and decoy predators around in the garden will keep neighborhood birds from swooping in to consume your harvest. Decoys that move or make a sound are even better at deterring birds.
7. Stick Barriers
Push sticks and small twigs into the ground around your vegetable patch to create a small forest of sticks. Birds will likely notice the menacing sticks barring their way instead of the vegetables you want to protect.
There is a downside to this defense strategy, though. While making a barricade of small sticks may keep the birds out, it also makes harvesting your crops quite difficult. That's why we recommend this method only for protecting seedlings and young, developing plants.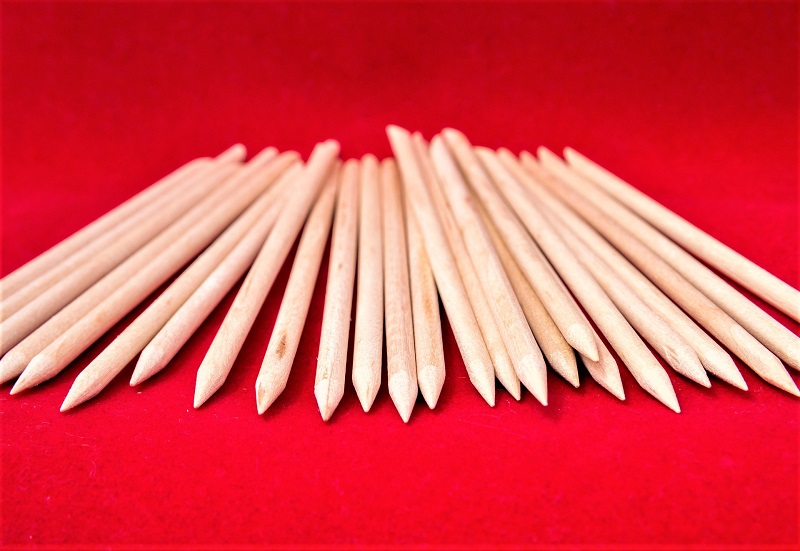 Making a Difference
A new study, which analyzed decades of data on North American birds alone, estimates that the continent's bird populations have fallen by 29 percent since 1970. That's almost three billion fewer individuals than there were five decades ago.
Each of us can make a difference with everyday actions that together can save millions of birds. The non-lethal and essentially harmless methods we've outlined above will help protect your crops even as they keep avian populations from further plummeting.
---