In the old days, every village had its pond. Farmers without a river to call on dug field ponds. Their drainage and irrigation ditches crisscrossed the countryside, joining rivers and canals in a free-flowing network that covered thousands of acres. Wildlife thrived and roamed freely within that network.
Sadly, these days, water authorities have drained rivers, water tables are on the decline, and farmers use piped water for convenience. The ditches and canals have dried, causing wildlife populations to dwindle for lack of water and habitats. This early, scientists are already predicting catastrophic outcomes for countless species of birds and small mammals.
Building a Wildlife Pond
Wildlife gardening is partly a response to that ecological decline. The practice is all about snubbing toxic pesticides or sterile patio decks to create gardens that allow native wildlife to flourish. It is a fast-growing trend in Europe, Australia, Asia, and the Americas. Ponds are an important part of the trend.
With a little thought about its design and construction, a pond can be a haven for native flora and fauna. You can create a watery sanctuary in your own garden using nothing more than butyl rubber pond liner, gravel, sub-soil, and a selection of native plants.
Follow the simple guide below to build your own wildlife pond this weekend.
Preparing the Site
Choose a sunlit area of the garden for your pond. Bear in mind, however, that some shade is necessary. Ponds exposed to excessive amounts of the sun's ultraviolet rays are prone to algae bloom and decreased oxygen levels. Remember, too, that you want to be able to see the pond from the house to watch the wildlife it is bound to attract.
Once you have decided on a location, decide on a shape. Incorporate your garden's natural features and slopes. The best wildlife ponds are rounded, irregular, or kidney shaped to mimic shapes that occur in nature. Mark an outline of your pond using string and some stakes, then start digging.
Make sure the deepest part of the pond is at least 2ft deep. This will give over wintering wildlife a chance at survival in a frost-free environment even in the coldest winters. Include a long, shallow slope on at least one side of the pond. The gentle incline will allow wildlife easy access to the water. The slope will likewise create a damp habitat for beetles, bugs, and flies when water levels fluctuate.
Layering Your Pond
When you are done digging, remove sharp stones from the hole and create a protective underlay using old carpets or towels. Make sure the patchwork blanket covers the entire site and overlaps the edges. Then, add a generous layer of sand over the blanket and rake it smooth until you end with a more or less even surface.
The next layer is the most important – the waterproof liner. This is your pond's main protective layer against leaks. Cut the butyl rubber liner to size, allowing plenty of room for depth. Roll it out over the pond, permitting a one-foot overlap around the edges. Cover the rubber liner with turf, clean sand, and some stones. This final blanket is where plants will take root.
When all the layers are in place, weigh down the edges with large rocks or brick. Make sure the layers are secure then slide your garden hose to the bottom of the pond. Turn the tap on and let the water trickle gently in. You can also use rainwater from a water butt.
Introducing Wildlife into Your Pond
Once the pond is full, you will need to wait at least a week for it to settle. The interval will allow the water to lose its chlorine content. You do not have to plant anything in your pond at all. Plants and wildlife will quickly colonize a pond on their own, depending on its location in relation to other ponds.
Frogs, toads, and newts will use even small bodies of water to breed, so will caddis flies, dragonflies, mayflies, pond skaters, snails, and water beetles. Larger ponds will support waterfowl, including mallard ducks, moorhens, and coots. Swallows and house martins will pick off insects from the surface of the water. If you are lucky, perhaps the grey heron will become a regular visitor, as well.
If you do want to spur an initial wildlife population, simply add a bucketful of water collected from any clean pond in your neighborhood. This will bring all manner of invertebrates to your garden's new ecosystem.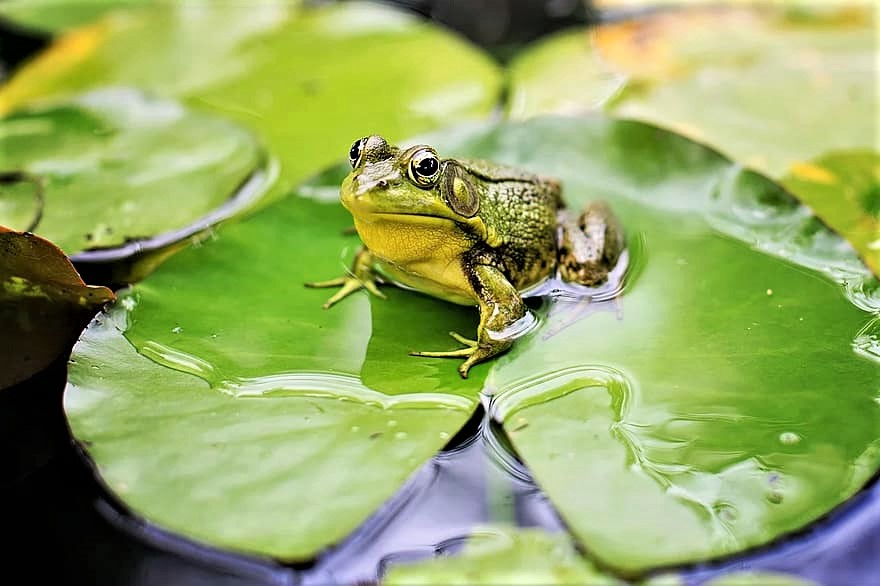 Planting Your Wildlife Pond
Of course, planting will permit you more control over your pond's appearance. Native plants provide good habitats, but some will overrun a pond. You can plant exotic ornamentals in and around your pond, too.
Dense vegetation on one side of the pond gives cover for wildlife entering – or living in – the water. Grow a stand of native plants around the pond. These will as act as habitats, cover, and breeding sites for various species of wildlife. Consult your local extension service for information as to what varieties you can plant in your pond.
If you happen to be dealing with a particularly vigorous water plant species, create a separate area for them. This will minimize unwanted competition among your water plants.
Are you ready to build a wildlife pond in your backyard?