There are few things in this world sweeter than fruit you've grown in your own backyard. That's probably among the reasons why an increasing number of homeowners have turned their backyards into mini-orchards, planting dwarf and semi-dwarf fruit trees.
The backyard orchard makes sense, given the popularity of the local-food movement and recent anxieties over access to fresh food. Nothing is more local and accessible than food grown in your own backyard, after all.
Unlike a trip to the supermarket, a backyard orchard guarantees freshness and slashes energy costs for transportation to zero.
Here is how you can go about growing a mini-orchard in your backyard.
Choosing Trees for Your Orchard
The first step in starting an orchard is to determine the type of fruit, or fruits, you'd like to grow, as well as the specific variety.
When gardening in small spaces, most people tend to choose dwarf or mini-dwarf varietals. But you don't need to limit your backyard orchard to these varieties.
You can choose any heirloom variety you like since you can train your trees to a small stature by pruning.
You do, however, need to ensure rootstocks that will produce top quality fruit and the best foundations possible for your trees.
The different characteristics of rootstock are varied and subtle, but again, you don't have to invest too much time on studying all of them. Simply consult a good nursery catalog or nursery worker to get the rundown on the basic differences.
Selecting a Site
The next consideration is a suitable site for your mini-orchard. Choose an area with deep, well-draining soil and easy access to water. You should avoid areas exposed to frost pockets and high winds. The site should receive at least six hours of sun every day.
Experienced backyard orchard growers recommend a site that is close to the kitchen. If you have to trudge to the edge of your property to get to your orchard, be sure you have the discipline to do so frequently.
Remember, you will have to check on your trees often while they are young.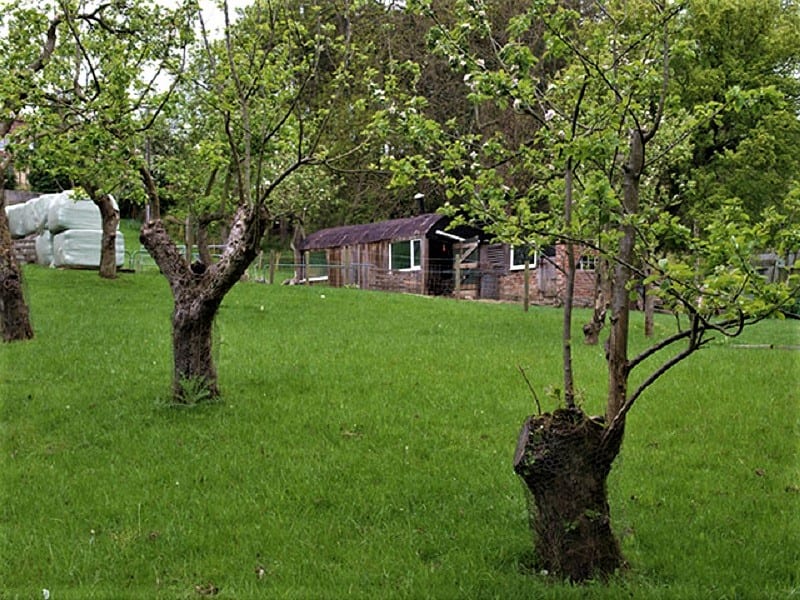 Configuration and Spacing
When you are ready to plant, you will need to consider appropriate spacing for the trees. Much of that will depend on the configuration of your mini-orchard.
You can sequester a simple, squared-off area in a corner of your yard for your orchard. Or you may have to arrange the trees to form a kind of hedgerow along the edge of your property.
Because you will be training your trees to a small size, you will need not need 30 feet between each tree. You can actually allow as little as three feet between your trees if you are willing to prune diligently.
Again, you will be pruning the trees for a small size. This means you can work on them in tandems – as though they were one, says orchard grower Amanda Olsen in article for Mother Earth Living.
Planting Your Fruit Trees
Once you've made your decisions about spacing and configuration, you can start planting your trees. Your first planting task is to remove any grass or weeds growing in the area where you want to plant your orchard.
Pick the first tree you want to plant. Dig a hole that is double the size of the tree's root ball. Then dig into the base of the hole to aerate and loosen the soil. This will allow your fruit tree to grow new roots fast.
Stand the tree in the hole, making sure that the surface of the root ball is at the soil level. Be careful not to bury the tree too deep as it will struggle to survive.
Backfill the hole with the soil you excavated. If you are working with nutrient-poor soil, make sure to work some compost in before you fill back the hole. Use your heel to tamp the soil down.
You will need to stake the tree to prevent damage from strong winds. Drive a wooden stake into the ground at an angle just outside the root ball. This will ensure that the stake does not damage the tree's roots.
Using a tree tie, fasten the tree to the stake. You can also use an old pair of tights. These are soft. They will not cut into the tree as it grows. Finally, water the tree well and put down a mulch of bark chippings in the bare soil around it.
Repeat this entire planting process for all the trees in your orchard.
Pruning for Small Size
Pruning a tree for small size can be tricky, especially if you are dealing with a bare-root whip that is already 4 to 5 feet tall.
You should make the first, most drastic cut in late spring, right after the trees are planted. Make a "heading cut," reducing the main trunk down to about 2 feet.
Make the cut above branches if there are any – or above buds if branches are not yet fully formed. Do not worry, the tree will grow back in time.
This cut will eventually form a scaffold – the main branches that make up the tree – at a low height. A low scaffold will limit the vertical growth of the tree.
Caring for Your Orchard
Caring for the trees in your orchard should be a fairly straightforward routine. You need to prune your trees regularly, removing dead branches in the summer after the initial cuttings.
Consult your local extension office for pruning advice for your selected fruit tree. Make sure you mulch your orchard to help maintain adequate moisture in the soil.
You will not need to routinely water the trees once they are well-established unless your orchard is growing under extremely dry conditions. You shouldn't need to fertilize your orchard, either, unless you're amending poor soil.
One of the best things about growing a mini-orchard of small trees is that you are likely to start harvesting fruit within three years of planting. Enjoy!