When the novice gardener drops zucchini seeds into the soil, he usually gets more than he expects at harvest time. Zucchinis tend to grow faster than they can be harvested. When left unpicked, they can double in size almost overnight. Leave them alone for several weeks and they grow to the size of baseball bats.
Plant zucchini in your garden after your spring crops, a week after the last spring frost through midsummer when the days are warm and long. If you wish to start seeds indoors, plant them in pea pots 2 to 4 weeks before the last spring frost.
Growing Zucchini from Seed
Experts generally recommend sowing zucchini seeds directly outdoors because they do not transplant well. Where should you plant them? Select a sunny planting site with free-draining soil for your summer zucchini crop. The soil needs to be at least 16°C at a depth of two inches. Work compost and organic matter into the ground before planting for a rich base.
Here's how to grow zucchini in your backyard.
Direct-Seeding Zucchini in Your Garden
Create a mound of soil about 6 to 12 inches high and 12 to 24 inches wide. On the top of the hill, plant four or five zucchini seeds in a little circle. Water deeply and regularly, making sure the seeds receive an inch of water a week. Zucchinis are easy to grow. You can expect 80 percent of the seeds to germinate under optimal growing conditions.
You'll need to water a little more once the seedlings emerge. Gradually allow 2 inches of water for your crop each week at this point. Use a soaker hose or other method to water the plants below their leaves. Using a sprinkler to water the plants from above can cause them to develop powdery mildew. Thin the seedlings down to two or three on each hill once the seedlings grow their first set of true leaves.
Caring for Zucchini Plants
Mulch around the young plants to protect their shallow roots, discourage weeds, and help the soil retain moisture. Side-dress the mounds with organic fertilizer once the first blooms appear. Frequent and consistent watering is important for good fruit development.
Water diligently when fruits form and throughout their growing period when the plants need water the most. By then, the soil needs to be consistently moist 4 inches down.
Incomplete pollination may result in mishappen or withered fruit. Make sure to remove these from the plants as you see them, before they begin to rot. Simply pick the mishappen fruits off the plants and put them in the compost bin.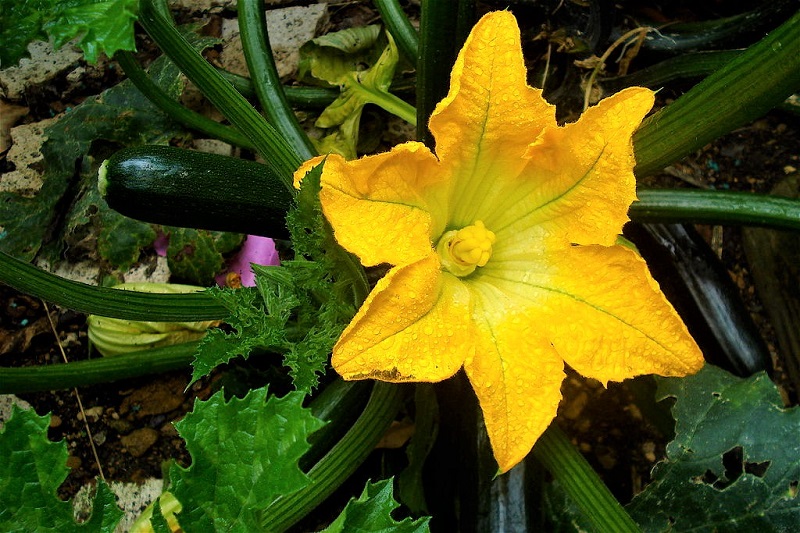 Harvesting Zucchini
For a tender, more flavorful harvest, you can begin picking zucchini while the fruits are small. Most varieties average 60 days to maturity and are ready for harvesting as soon as a week after flowering. Cut the fruit off the vine with a sharp knife rather than breaking them off. Leave at least an inch of stem on the fruit.
Should you miss a picking or two, remove the overripe squash as soon as possible to reduce demands on the plants for moisture and nutrients. Check your plants every day for new produce. Once zucchini starts producing, you'll be picking daily.
Because they are such prolific fruiting vegetables, you usually only need one or two zucchini plants for an entire family. Even then, you may still find yourself giving zucchini away to neighbors.