No, it's not a fancy type of German yogurt. Hügelkultur is actually a centuries-old method of building a drought-resistant raised bed with rotten wood and plant debris. In German, the word hügelkultur means "hill culture."
Hügelkultur beds allow home gardeners a number of advantages. The most apparent is that the beds require no tilling. This means less work for you and more beneficial organisms for the soil in your garden.
The rotting logs likewise release organic nutrients into the bed, making the system ideal for gardening in poor soils. Moreover, because rotting logs hold water, hügelkultur beds require less watering than conventional raised beds and are unlikely to become water-logged.
Building a Hügelkultur Bed
Building a hügelkultur bed involves a fairly uncomplicated process of piling layers of organic material from the ground up. The resulting "hill" forms a raised bed built entirely on the decayed, nutrient-rich, carbon-based matter.
Small farmers and homesteaders all over the world have used hügelkultur to grow food and increase yields. Many have used it with surprising success in desert farms.
Here is how to build a hügelkultur bed in your home garden.
Preparing the Base
The first step to building a hügelkultur bed is to lay some cardboard where you want the raised bed to be. The cardboard will help to stifle weeds as it smothers anything beneath. Once you have the cardboard layer laid out, you can start piling wood over it.
You can use whole logs, branches, and twigs. Experts recommend using a mix of hard and soft wood. The older the wood, the better.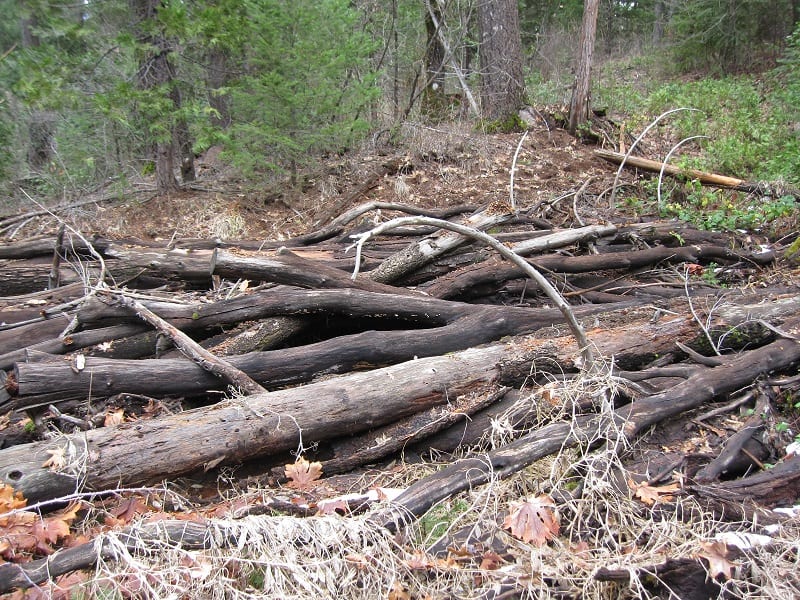 Start with the largest pieces at the base, building the pile with smaller pieces as you go along. Be sure to pack the pile tightly to ensure stability.
The initial pile can be as long and as high as you like. Some build hügelkultur beds that are 5 to 6 feet high. Obviously, however, lower beds allow you easier access to your plants.
Once you are done with this step, water this initial layer thoroughly.
Avoiding Certain Types of Wood
Not all wood is welcome in a hügelkultur bed. Because hügelkultur relies on decomposing wood to release nutrients into the soil, you should avoid using wood that is slow to rot. This includes wood from species of trees from which you'd typically collect lumber for fence posts like locust, pine, cedar, or redwood.
You should also avoid using wood from species like black walnut, which gives off a chemical intended to ward off other plants. For obvious reasons, do not use wood that is painted or treated with chemicals.
A Layer of Nitrogen-Rich Material
The next step involves adding a thick layer of nitrogen-rich material to the pile. This is necessary to help the wood decay and provide your plants with nitrogen. Cover the woodpile with materials you would normally include in your compost heap.
You can use leaves, straw, and spoiled hay. You can also add grass clippings, sod, aged manure, and wood chips to the bed. Make sure to fill out any spaces between the pieces of wood with the compost material. Once again, you'll need to water this second layer thoroughly when you are done.
Soil and Mulch
The third step in the process calls for a layer of soil and mulch. You can use whatever soil you have on hand as the wood and other materials should produce sufficient nutrients for your hügelkultur bed. Remember to thoroughly water this layer, as well.
The last layer on your hügelkultur bed consists of mulch. Experienced hügelkultur farmers often use hay, straw, or dried leaves to mulch their beds. The mulch will prevent erosion, discourage weeds, help the bed retain moisture, and provide a habitat for beneficial organisms.
The First Crop
The bed will need watering as the wood breaks down over the first year. The rotting wood will also exhaust some of the nitrogen that should otherwise go to your plants. That's why experts recommend that you plant legumes in the first year of your hügelkultur bed.
Legumes produce their own nitrogen and will release this for other plants later on. You can plant anything in your hügelkultur bed after your first crop of legumes.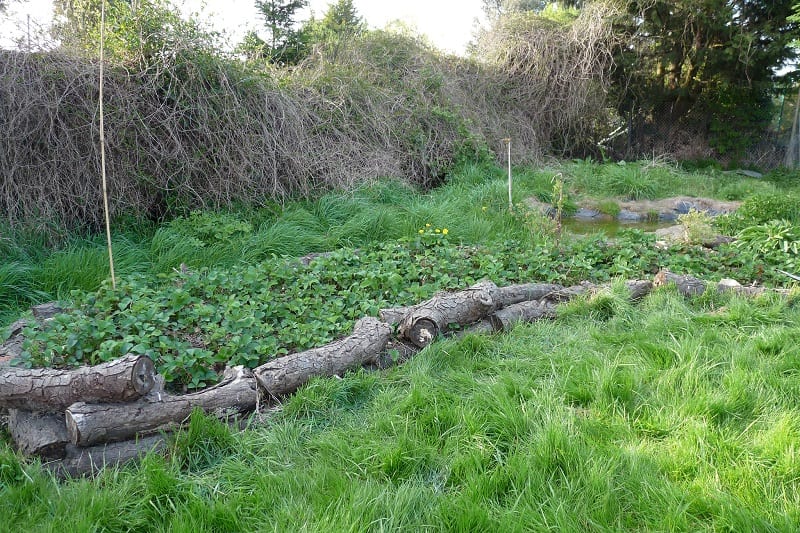 Over time, the bed will become more fertile and easier to work. Eventually the rotting wood will hold water like a sponge, making the bed drought resistant. The top of the bed will be drier than the base.
You can plant crops that need more water nearer the bottom. Plant crops that require less water near the top. You can plant along the sides of the hill, as well. This will allow increased yields from a small garden.
Are you ready to start a hügelkultur bed in your backyard?