Reel lawnmowers have been around for almost as long as people have enjoyed their lawns and gardens. However, like many people these days, this writer grew up around gas-powered mowers. The latter machine was an essential part of my daily summer routine while growing up. So much so that the sound of its two-stroke engine firing up is a feature of just about every memory I have of my childhood home.
Still, I always held a fascination for old-fashioned, reel lawnmowers. I could not understand how some of our neighbors preferred the clunky contraptions when they obviously required more work and muscle than gas-powered mowers. That is until I tried using one and discovered how refreshingly quiet and efficient reel lawnmowers are.
The 8 Best Manual Reel Lawnmowers of 2023
The ordinary power rotary mower has a spinning blade that chops grass as it rotates. Often, the result is a torn and ripped lawn. A manual reel lawnmower cuts your grass just like a pair of scissors, which means you do not tear your lawn apart. For many, that makes for a convincing argument.
If you are in the market for a reel lawnmower, you are in luck. We do our research on some of the best reel lawnmowers out there. We then tested a few. The result of all that work is a list of the eight best reel lawnmowers you can right now. Read on to find out more about them.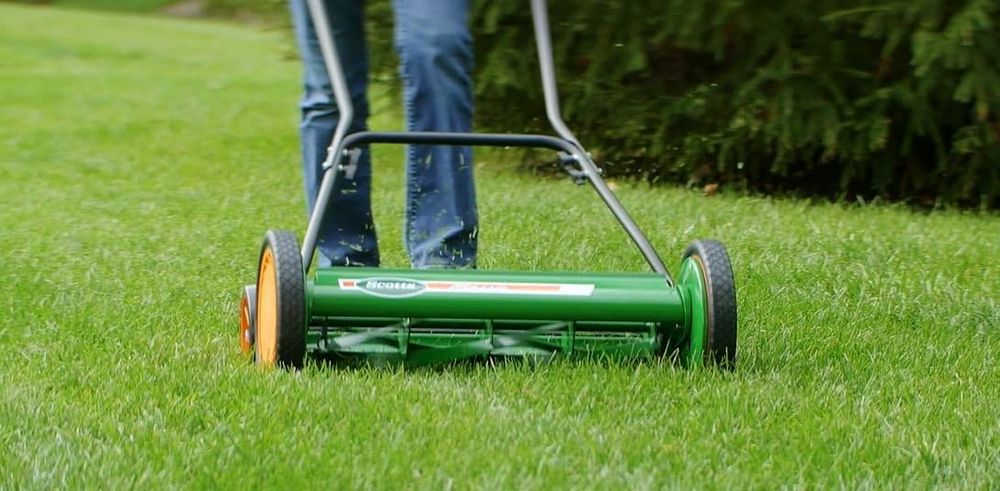 1. Great States 415-16 Push Reel Lawnmower
The first spot on our list goes to the Great States 415-16 push reel manual lawn mower. This lawn mower is known for its outstanding cutting power. The mower has an adjustable blade height of 0.5 to 2.5 inches and does an excellent job of manicuring your lawn.
This is a classic as far as manual lawnmowers are concerned. In the 415-16, Great States gives you an upgraded, environmentally conscious reel lawnmower design that has been around for over 120 years.
The mower – which has a 16-inch cutting swath – requires some assembly out of the box, but the process is simple, and the provided instructions are self-explanatory.
What impressed us the most about this reel lawn mower was the superb quality of its blades. Constructed with heat-treated alloy steel, the blades retain their sharpness for a long time. That makes this reel mower a quality long-term investment.
The sharpness of the blades permits you to create neat borders along your lawn. This reel lawnmower will also cut with ease and efficiency. The Great States 415-16 reel lawnmower is quite maneuverable, too, at 23.1″D x 10.6″W x 13.8″H. It is also lightweight at just over two pounds.
The mower comes with a cushioned and comfortable grip that makes the mower easy to push, even on the most overgrown lawn. All it needs is one push to get it started, making it a no-fuss, no-hassle manual lawn mower.
The reels snip the grass off without any ripping or tearing. We obviously favored this model, given its spot on our list. That's because the results of our tests were consistently well-trimmed, smooth lawns – which we achieved without worrying about the noise or whether the machine had sufficient oil or fuel.
And, as if this wasn't enough, this lightweight, relatively compact manual reel lawnmower is also easy to store. You can hang it on a wall or simply tuck it in the corner of your garage or tool shed.
This rotary push lawnmower is resistant to various environmental factors, so you can expect a long service life, as well. "Pretty thankful to have had this option," says one 5-star review on Amazon. "I don't have to deal with gas or much maintenance on it."
2. Great States 18-inch Five-Blade Mower
If you need a manual reel lawnmower with a wider swath than the Great States 415-16, then the Great States 18-inch Five-Blade Mower is definitely worth a look. This mower cuts a wider swath than the 415-16 at 18 inches, thus reducing mowing time.
Like its smaller cousin, this model is also simple in design and permits you to adjust its mowing height from as low as half an inch to as high as 2.75 inches. It comes with 10-inch composite wheels and back stability rollers.
The blades on this mower are made from heat-treated alloy, which helps them retain sharpness a little longer. The handles on this reel lawnmower come with nonslip cushioning to reduce blisters and improve your grip.
The mower weighs around 27 pounds. That makes it a bit heavier than the 415-16, and perhaps too heavy to be hung from a wall. But the loop-style handle on this mower folds down for easy storage.
This mower worked efficiently, quickly, and quietly in our tests. We had no difficulties pushing it around our test lawn in all but the thickest grass. However, like the rest of the mowers on this list, it will not cut through twigs or heftier debris.
We liked the padded wide-loop handle that gave it the familiar feel of a conventional gas mower. Sharpening the blades—a task that most users would require once or twice a season—requires the disassembly of one wheel to access the blade drive mechanism. The process is typical of these mowers and was only slightly complicated.
3. Scotts 2000-20 Reel Lawnmower
Of all the manual lawnmowers we tested, we think the Scotts 2000-20 Reel Lawnmower offers the best value for your money. Two manufacturers build most of Scotts lawnmowers: the American Lawn Mower Company and John Deere. The latter makes the company's gas-powered lawnmowers.
The American Lawn Mower Company, on the other hand, produces Scotts' reel lawnmowers, and we'll tell you right at the outset that the company has set a high bar with 2000-20.
The mower features ergonomic, cushioned handles that encourage correct posture as you mow your lawn. Assembly is easy and quick, and you won't need tools for it.
The Scotts 2000-20 Reel Lawnmower does its job exceptionally well. With a 20-inch cutting swath, the 2000-20 mower will snip off grass in one pass without any tears or rips.
The excellent blades on this piece of lawn equipment ensure that you won't need to run it over your yard multiple times. Scotts manufactures the blades with heat-treated alloy steel, which means they stay sharper for longer and cut the grass with uniquely satisfying precision. They can be adjusted from 1 to 3 inches, too.
This precision blade technology on this reel lawnmower guarantees accurate, quick, and clean cuts on your lawn. It is coupled with smooth ball bearings, so the blades spin efficiently as you push the mower across your lawn.
This mower also has dual-tracking wheels to ensure the easy maneuverability you need to keep your turf trimmed, manicured, and healthy no matter how complex the contours of your landscaping.
This reel lawnmower is one of the best manual lawnmowers on the list at its price point. It is tough and sturdy, and it is also easy to operate, store, and use.
"This is the Porsche of reel mowers: easy to push, lightweight, easy to sharpen … well-engineered and nicely painted," says one reviewer on Amazon. "Out of the box, it comes adjusted to the highest range, but this can be changed to one of the two lower ranges fairly easily by removing the wheels."
4. Fiskars 17-Inch Reel Lawn Mower
The basic design of most reel lawnmowers has not changed for over a hundred years. But the Fiskars 17-Inch Reel Lawnmower is an exception. Fiskars developed the StaySharp cutting system for contactless cutting, which increases the blades' life and the time between sharpening them.
The company has improved the reel itself, as well. The Fiskars StaySharp Max Reel Lawnmower provides 50 percent more cutting power, making it easier for you to cut grass.
This technology offers a large-diameter cutting reel and thicker blades, resulting in double the cutting power. This added strength allows you to easily cut through weeds and tougher spots on your lawn. The reel allows easy cutting through tough spots and makes for less work for you.
Both technologies are well-suited to cut all types of grass, including denser grass blades like those of Bermuda. This Fiskars mower features a 17-inch cutting width.
The reel lawnmower's dimensions are 23.5 inches by 18 inches by 13.8 inches and it weighs in at a hefty 40 lbs. The adjustable cutting height ranges from 1.5 inches to 3.5 inches, which is among the more extensive ranges on our list.
If you still are a bit skeptical, Fiskars offers a lifetime warranty on this mower. Now that is quite rare. The additional technology behind this mower does come with a heftier price tag, though.
"We used the reel mower for the first time today and we were pleased with the results," says one five-star review. "It might be more expensive than other brands, but it does feel like this will last for a while."
5. American Lawn Mower Company 1815-18 Reel Lawn Mower
If your turf is situated on the sloped ground of up to a one-half acre, you would do well to consider the American Lawn Mower Company 1815-18 Reel Lawnmower. It has five heat-treated alloy steel blades that will cut through grass with impressive efficiency.
This mower also comes with heavy-duty 10-inch polymer wheels. Homeowners with small to medium yards can manicure their lawns fast and with precision with this mower.
The 1815-18 features a cutting swath that measures exactly 18 inches. The mower weighs around 27 lbs., which might sound a little heavy on an upslope, but this piece of lawn care equipment is actually compact and easy to push, so you can get the job done quickly.
The durable cushioned handle is comfortable and gives users a perfect grip when in motion. The blades and adjustable cutting height make this reel lawn mower suitable for a variety of grasses. We tried this mower on a small patch of buffalo grass and were completely satisfied.
The blades on this reel mower can be adjusted from 1 to 2.75 inches. This mower will cut low if that is what you prefer, and it will cut well without tearing.
That said, cutting grass 4 inches or higher will require multiple passes. That can be a bit draining when you are dealing with a sloped lawn.
We liked how maneuverable this mower was, despite its wide-cutting swath. The 10-inch polymer wheels were surprisingly flexible. We just wished that the handles were adjustable. That would have been especially helpful on steeper slopes. It also does not cut as high as other models on this list.
However, overall, we liked this mower's performance and simple design. "After a friend bought one of these, I was intrigued so I asked to use it to mow both my front and rear lawn," recounts one satisfied user. "It was a bit of a workout – that's a good thing – and I was so impressed that I bought one for myself to replace my standard gas mower." Good decision.
6. Earthwise Reel Lawn Mower
The Earthwise Reel Lawnmower comes with seven blades. That is two more blades than most reel mowers, which gives this model an extra edge when you need to cut through dense grass. This Earthwise mower cuts a 16-inch swath with its steel alloy blades.
The adjustable grass-cutting height on this model ranges from 0.5 to 2.5 inches, which makes it suitable for a variety of grasses, including buffalo and Bermuda. This Earthwise reel lawn mower would also be ideal for Kentucky bluegrass, St Augustine, and Zoysia grass, all of which can be maintained at a shorter height.
Out of the box, this reel lawn mower weighs around 26 pounds and comes with a T-handle that makes it easier to maneuver around corners.
Like most reel lawnmowers, the Earthwise Reel Lawn Mower will only cut when pushed from behind. But if you flip the handle over, you can push from the front without engaging the reel, which, makes it easier to move around the garden when you are done.
The sturdy, high-quality steel frame speaks to the mower's durability and toughness. The handgrips are equipped with non-slip cushioning to reduce hand fatigue and blistering.
This seven-blade mower gave the tidiest, most reliable cut in our tests. It left our test lawn with a smooth, even finish. However, we did notice that the additional blades offered more resistance, making this Earthwise mower a little harder to push than the five-blade models.
Not that we saw that as too big of a problem. In fact, after a few minutes of using this reel lawn mower, we quite forgot all about the extra drag. We simply went on cutting.
Because it has height adjustments ranging from 0.5 to 2.5 inches, experts suggest that you mow regularly at 1 or 1.5 inches and leave some room to move higher if the grass gets ahead of you.
"Mowing my lawn with this is an absolute joy," one satisfied customer says. "No more loud, stinky, and dusty rotary mows … because the peaceful whir of this reel mower is downright addicting."
7. 14-inch American Reel Lawn Mower
The 14-inch American Reel Lawnmower is among the lightest reel mowers in this lineup at just 20 lbs. It features four cutting blades constructed from a steel alloy that has been heat-treated to reduce dulling.
The mower will require some minor assembly out of the box. You will also need a wrench for height adjustments.
The blades on this reel mower can be adjusted from 0.5 to 1.75 inches, depending on your preference. The mower has a pair of 8.5-inch polymer wheels with rear rollers to increase stability, as well.
We liked this mower's performance. It cut our test lawn without tearing and did it uniformly. But note that cutting grass 4 inches or taller will require multiple passes.
This smaller American Lawn Mower is suited to mowing a small lawn. This could be a good pick for people who maintain a small patch of grass around a townhouse or condominium.
Its light weight makes it perfect for petite users and it comes with a T-handle and cushioned nonslip grips that prevent blistering. The handle on this lightweight, low-maintenance reel mower also folds down for storage. It is likewise light enough to be hung on wall hooks in the garage or tool shed.
With only four 14-inch blades, this mower offered the smallest amount of resistance of all the mowers we tested, making it the easiest mower to push around our test lawn.
That said, we noticed the 8.5-inch wheels do not roll as well over rough ground. We did not think that was too much of a big problem, but some out there may find this inconvenient.
Overall, the ALMC 14-inch four-blade reel mower felt strong and tough and was easy to use. We'd say this would be a good choice for maintaining pathways in your garden or other secondary grassy areas.
"I haven't seen a reel mower used for the last 20 years and was skeptical to make this purchase," says one satisfied Amazon reviewer. "I'm very surprised how well this machine works."
8. Sun Joe MJ502M Reel Lawnmower
The eighth spot on our list goes to the Sun Joe MJ502M Reel Lawnmower, which has a 20-inch cutting width and a dual-wheel design with 6-inch rear wheels. The five steel blades on this reel lawn mower will cut through flat terrain with precise cutting power, making it great for lawns up to about half an acre.
The model even includes a grass catcher, which makes lawn cleanup simple. You also have the option to use the cuttings as mulch.
This mower will require some assembly out of the box, but because it does not have a motor, the process is straightforward and quick. We were done setting up the mower within 20 minutes.
The MJ502M is a little on the heavy side at 30 pounds. It is large and rather hefty as far as reel lawnmowers go, too, but it isn't unwieldy. Prospective buyers should note, though, that the handles on this mower are not adjustable.
Nevertheless, MJ502M's design makes it easy to maneuver through flat yards, even with obstacles such as debris or landscaping.
Like all the other reel lawnmowers on this list, the blades on this mower are made from heat-treated alloy steel, which allows them to retain their sharpness longer. The deck's cutting height is adjustable and ranges from 1.2 to 2.4 inches.
We were a tad disappointed that we could not get any lower than 1.2 inches. The rather high minimum adjustment means more frequent mowing, of course.
Now, some have complained that this particular Sun Joe model will jam and will refuse to move when the ground is not completely level. We never experienced problems of this sort during our tests.
Our test lawn had a few rises, too, which leads us to believe that the problems that some have mentioned must involve steeper slopes than those on which we tested this mower.
"Love my new reel mower," says one review. "All I had to assemble was putting the handle on. It was ready to go. Works very well."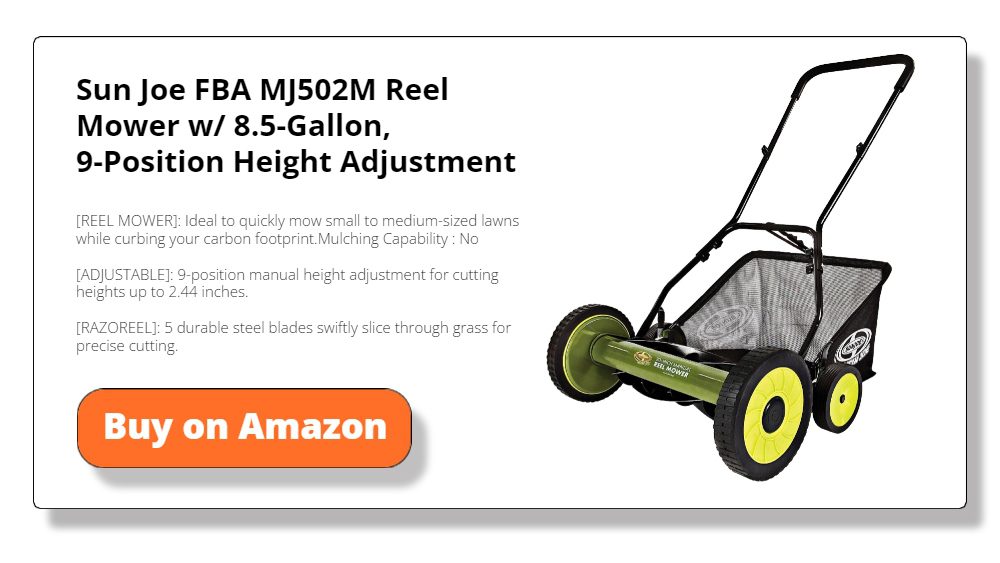 The Right Way to Mow Your Lawn
So now you have your new reel lawn mower and are just itching to use it for the first time. Be sure to prepare your lawn before you start mowing. Clear any debris, such as rocks, sticks, and toys, from the area you intend to mow.
These objects can get caught in the mower's blades. This can cause damage or create safety hazards. Inspect the grass for large weeds or overgrown areas that may need trimming before mowing. Taking these initial steps will make the mowing process smoother and help maintain the longevity of your reel lawn mower.
Next, adjust the cutting height of the reel mower to an appropriate level. Experts generally recommend a height of about 2 to 3 inches, depending on the grass type. Taller grass promotes stronger root growth and helps prevent weed invasion. Be sure to consult the user manual of your specific reel lawn mower model for guidance on adjusting the cutting height.
Once you've prepared the lawn and set the cutting height on your mower, it's time to start mowing. Begin by pushing the reel lawn mower in a straight line across the lawn. Keep a steady and even pace to ensure a consistent cut.
Unlike gas-powered or electric mowers, reel mowers require manual effort to spin the blades. Maintain a comfortable stride and avoid rushing to maintain control over the mower and achieve a clean cut.
While mowing, it's important to overlap each pass slightly to avoid leaving uncut strips of grass. Aim for a 1-to-2-inch overlap with each subsequent pass to ensure complete coverage. By overlapping, you can avoid uneven patches and accomplish a more uniform appearance on your lawn.
When encountering tougher or denser grass areas, slow down your pace slightly. Reel mowers are generally best suited for well-maintained lawns with regular mowing.
If your grass has become too tall or thick, consider trimming it first with a string trimmer or another suitable tool before using the reel mower. This will help you prevent excessive strain on the reel mower and provide a cleaner cut.
When you are done, clean your reel lawn mower to maintain its functionality and longevity. Remove any grass clippings that may have accumulated around the blades and under the mower. Wipe down the mower with a damp cloth to remove any dirt or debris. Regular maintenance and cleaning will keep your reel mower in optimal condition and ready for future mowing sessions.
Now that you've got the basics down, it's time to head out to your lawn and enjoy the satisfaction of maintaining a beautifully manicured outdoor space.
---