Whether you're looking to start seedlings in the spring or grow tropical plants that are not well suited to your area's climate, a greenhouse is a perfect solution. Greenhouses provide an optimal environment for plant growth, giving you the ability to control temperature, humidity, and ventilation. This means that you can garden year-round, regardless of the weather outside.
If you're a gardener, you know that a greenhouse can be a great asset. But what type of greenhouse is right for you? There are many factors to consider, including your budget, the size of your garden, and your climate.
In this guide, we'll go over the various types of greenhouses available, the benefits and drawbacks of each, and how to choose the best greenhouse for your needs. By the end, you'll be ready to pick the perfect one for your home.
Whatever your needs, there's a greenhouse out there for you, and we'll help you find it.
Types of Greenhouses
When it comes to greenhouse structures, there are two main types: attached or lean-to and freestanding. Attached structures are typically built onto the side of a home or another building, while freestanding types are self-contained structures. Each type has its own advantages and disadvantages that should be considered before making a purchase.
Attached or Lean-to Greenhouses
The growing space and light available in the lean-to greenhouse are somewhat limited. However, they have several advantages for the hobby gardener:
They are attached to the exterior wall of an existing structure, like a house, shed, or even another greenhouse and are close to the house, and are easy to access
They are typically cheaper and easier to build since they don't require a foundation
They also tend to be better insulated, since they share a wall with the house
They also offer the added benefit of being able to tap into your home's existing power and water supply
On the other hand, attached or lean-to greenhouses have the following drawbacks:
They are typically smaller in size
They can be more difficult to heat and cool
They can be susceptible to the same pests and diseases that affect your home
Freestanding Greenhouses
Freestanding greenhouses aren't attached to anything else and can be placed anywhere on your property. Here are the added benefits of putting up a freestanding structure:
They are typically larger than attached ones and provide more growing space
They can get enough sunlight
They offer more flexibility in terms of placement and ventilation
While the potential drawbacks of constructing a freestanding greenhouse:
They require a foundation and sometimes special permits in order to be constructed
They can be more expensive and longer to build
5 Factors to Consider When Choosing a Greenhouse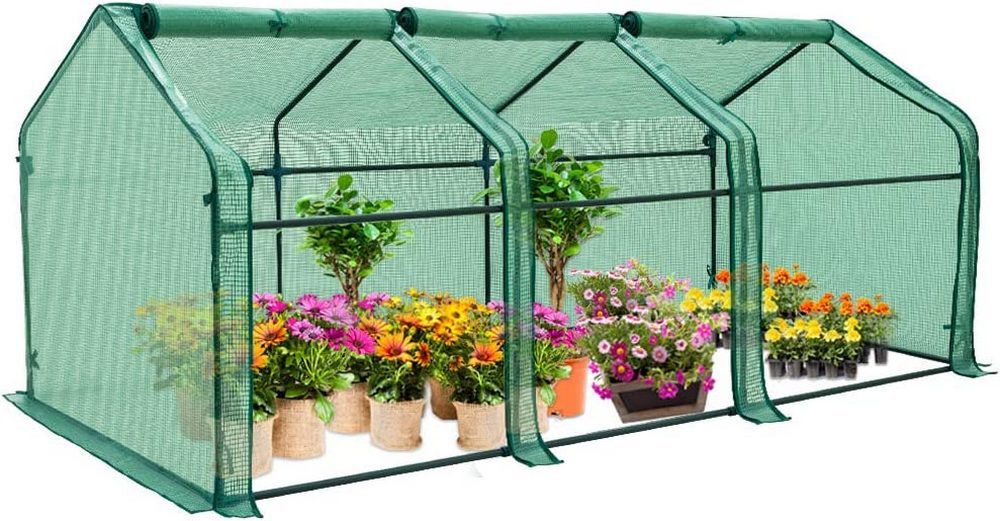 With different greenhouse types and designs, how do you choose the best one for your needs? Consider these things to help you make the right decision.
1. Plant Species
What type of plants do you want to grow? Make sure to take note of your gardening goals and the types of plants you want to grow before choosing. If you're planning on growing delicate plants or flowers, you will need a shelter that can provide the appropriate level of humidity and temperature control. You'll need one that can grow nearly any type of plant all year.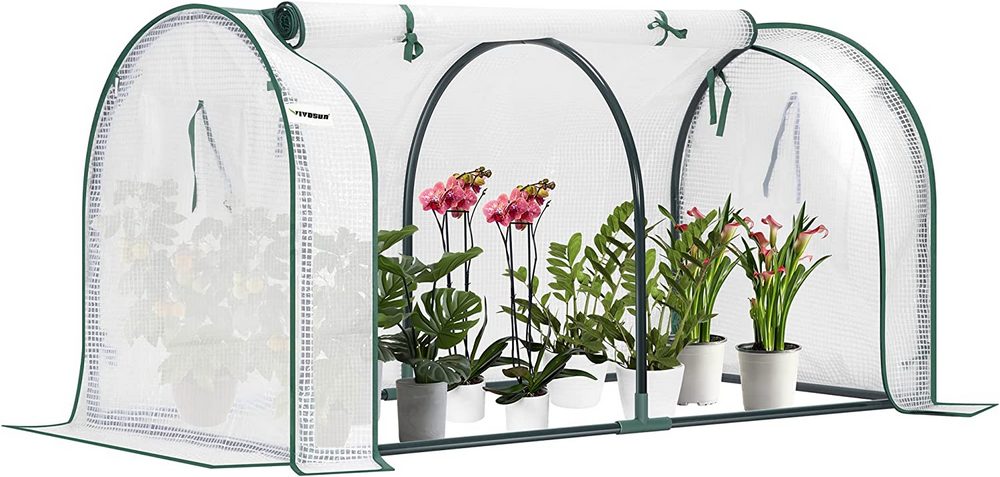 2. Space Requirements
Space requirements will vary depending on the type you choose. For example, a small lean-to or window-mounted unit can only require a few square feet, while a larger freestanding shelter can take up hundreds of square feet.
Think about how you will use the space and what type of plants you want to grow when deciding on the size. Larger structures will provide more space for plants, storage, and equipment, but they will require more maintenance.
But investing in a freestanding type is advisable if you have some extra land. You will be thankful for the extra space when your plants are thriving, and it is a long-term investment. Plus, it can be a great addition to your property value.
3. Climate
If you live in an area with hot, dry weather conditions, you'll need to look for something that comes equipped with features that help to keep the inside temperature cool. On the other hand, if you're dealing with cold winters, you'll need a shelter that can provide adequate warmth.
4. Budget
Those on a tight budget will most likely have to reconcile on size or materials. For example, those made from glass tend to be more expensive, but they're also more durable. Polycarbonate or polyethylene coverings can be cheaper upfront, but they will not last as long. In the end, it's important to weigh all your options and choose the greenhouse that fits your needs and budget.
If you live in a cold climate, you must choose the well-insulated type. A cheap kit can save you money at first, but it is rarely worth it because it lacks good insulation and falls apart quickly. Remember that any supplemental heating you must provide will increase your long-term costs. It is worthwhile to start with a high-quality greenhouse.
5. Aesthetics
Aesthetics is an important consideration when choosing. How much importance you place on the look will depend on your personal preferences. Some people prefer a more traditional look, while others prefer a more modern look. There are also a variety of colors and materials to choose from. Ultimately, the structure you choose should be one that you are happy with in terms of both function and aesthetics.
Top 5 Greenhouses of 2022: Finding the Best Greenhouse for a Variety of Needs
We've rounded up the best greenhouses on the market so that you can choose the perfect one for your home.
This greenhouse can regulate the temperature and humidity inside the greenhouse, creating the perfect environment for your plants, no matter what the weather is like outside.
This greenhouse has three tiers of shelves on both sides, each 12″ wide and 17″ high, allowing for plenty of room to pot plants and plant growth.
PROS:
A portable rust-resistant steel-pipe greenhouse that is long-lasting and durable
It can withstand strong winds
It includes a PE cover that is odorless and non-toxic and is completely safe to use
CON:
It's a great option for anyone looking for an easy-to-set-up and sturdy greenhouse. "It's easy to set up, the day of set up was windy, so I secured it with three cinder blocks since it's on cement," explains a buyer. "It's sturdy enough to withstand the 25mph wind."
Some users believe that the shelves in this unit seem to be flimsy and not very well constructed. They likely work best for lighter items. "The shelves are not strong enough to hold anything heavy," says a buyer. "But, as a place to keep my outdoor summer plants in pots, it is OK."
This versatile greenhouse can be used indoors and outdoors. Install it in your deck, garage, or anywhere ideal in your backyard to get the most out of your gardening. This greenhouse is a great addition to any home garden. Perfect for plants, seeds, herbs, vegetables, or flowers, this greenhouse can also be used to hold gardening supplies. Made from durable materials, this greenhouse will provide years of use, making it a great investment for any gardener.
PROS:
It provides optimal sunlight and ventilation while protecting seedlings from the elements with its PVC cover
You don't need any tools to assemble it
CON:
Shelves can only support certain plant weights
This greenhouse can be used in all seasons, making it a great investment for gardeners. "It was easy to assemble, held my plants, and kept them alive during the winter,' explains a buyer.
In contrast, it is best to distribute the weight evenly when you have heavier plants. "The frame itself is pretty sturdy except for the 1 snapped piece," writes a buyer. "But that snapped piece could have also been because I had a very heavy plant sitting on that back corner shelf and it was holding a lot of weight."
This roomy greenhouse is the perfect accessory for any avid gardener or nature lover. It has three sections that provide ample space for growing all your flowers, plants, and vegetables. This greenhouse has 3 zippered roll-up doors for easy access to your plants.
PROS:
Its quality PE cover helps to regulate plant temperature and protect them from harsh weather conditions
No tools are required for assembly and all parts are detachable
It has a 1-year limited warranty
CON:
It catches the wind easily when it is open
The extra space it provides allows you to move around comfortably and tend to your plants without feeling cramped. "I am happy with the size of this greenhouse, a bit bigger than what I thought it would be and it works perfectly," writes a buyer.
And a little tip from a buyer to make sure your cover will not be flying to your neighbor's yard. "Be sure to stake it in, or it will fly," he says.
This has additional ropes and anchors to further stabilize the portable greenhouse. They can be securely fastened to the ground and can withstand the forces of wind and rain. The zippered roll-up doors are also convenient for easy access and help to regulate external airflow and temperature.
PROS:
Provides a more secure and convenient overall design
It has a frame that is extremely stable
CON:
It can be hard to close a portion when a zipper is missing or malfunctions
This greenhouse provides you with peace of mind because you know your plants are protected and safe. "Right price, easy to assemble, great size, sturdy frame," says a buyer.
A little concern about the doors with zip closure, "I noticed one of the zippers was missing on the cover. So I am unable to zip a whole section," explains a buyer. It's important to make sure all zippers are in place before purchasing this type of product.
This large, spacious greenhouse is perfect for starting seedlings, sprouting young plants, planting flowers, and cultivating fresh vegetables. With four wire shelves, it offers plenty of room to grow both small and large plants. The three tiers and different heights between each shelf provide ample space for a variety of plants. It is suitable for a wide range of applications.
It also has a high-quality PVC cover that not only makes the cover more resistant to damage but also helps in protecting plants from harmful rays and bad weather. But, by still allowing good solar conditions, the VIVOSUN greenhouse cover helps to ensure they get the nourishment they need to thrive.
PROS:
It creates a perfect environment for the plants
Its additional feature is that it can be easily folded into a bag for storage and transport
CON:
It likely requires extra support or staking to keep it secure
The extra space and the ability to control the environment can make all the difference in the world. "It seems to be the perfect greenhouse for my large-sized gardens," says a buyer. "My plants are germinating and growing well."
Make sure to stake the tent down thoroughly, and you'll be able to rest easy knowing that your greenhouse will not be going anywhere. "I suggest purchasing extra tent stakes and staking the hell out of it and you'll be happy."
Which Greenhouse Is Best For You?
When it comes to greenhouses, it is essential to carefully look into all available options. With so many choices, it can be tempting to simply pick the first good-looking greenhouse you see. Taking the time to find the right greenhouse, on the other hand, will pay off in the long run.
Each option has its own set of advantages and disadvantages. But, once you have a good idea of your needs, you can begin to narrow down your options to find the perfect greenhouse for you.