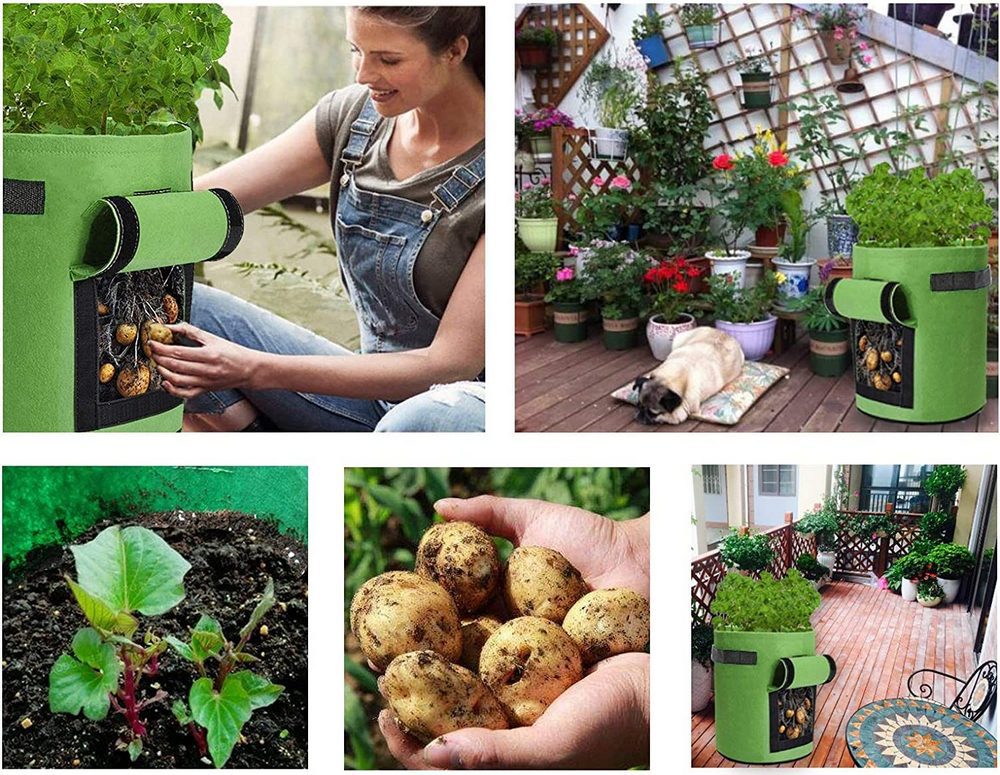 Potato grow bags are a godsend for gardening enthusiasts who love spuds but have limited space in which to grow them. They also make harvesting easy. All you have to do is empty the contents of the bag, collect up the tubers, and dispose of the compost on other beds or borders to improve the soil.
The joy of hunting for taters in a bag full of compost is a childishly delightful task. We here at OBN are always excited by the prospect of tipping over a potato grow bag to find edible gold.
Potatoes are packed with nutrition. A typical potato contains over half the day's requirement of vitamins B6 and C and almost half of the potassium. They're also a good source of fiber, niacin, thiamin, folate, magnesium, and manganese, among others.
People sometimes grow potatoes in backyard plots. But the plants are notoriously difficult to harvest from raised beds or borders. The spuds often leave behind seeds that may start an unwanted crop the following year.
Because potatoes tend to spread into all the soil available to their tuberous roots, they are best grown in containers or potato grow bags.
How to Raise Taters in Potato Grow Bags
But how do you grow spuds in a potato grow bag, anyway? To start a small homegrown crop of potatoes in limited space, you'll need chitted seed potatoes, some compost, and a few potatoes grow bags.
Some experts suggest that you use organic potatoes. That's because store-bought taters often contain growth inhibitors. You can also use specialty disease-free seed potatoes, which you can purchase in garden centers.
Wait until the spring to plant your potatoes. Before you begin the process, it's important to make sure the danger of frost has passed. Most potatoes should be planted between March and April.
However, you can start your potatoes as early as February, as long as you have a safe place to store your potato grow bags.
To sprout or "chit" seed potatoes, you simply arrange them 'eyes' upward in egg boxes or seed trays under sunlight in a cool but frost-free room. The chitting process will accelerate the growth of your potatoes.
The chitted seed potatoes will be ready for planting in your potato grow bags once the sprouts are 2cm tall. That usually takes four to six weeks.
"If you want to maximize the size of your potatoes, rub off all but three or four of the shoots at the top end of the tuber before planting out," says the gardener and writer, Sarah Raven. "If you leave all the shoots intact, you'll end up with lots of small potatoes."
1. How to Create the Best Growing Conditions in a Potato Grow Bag
By growing your spuds in potato grow bags rather than a raised bed or in the garden, you can create perfect growing conditions for your plants. Potatoes grow best in well-drained, light, deep, loose compost, high in organic matter.
Potato plants also 'perform best in acidic soil with a pH of 4.8 to 5.5. That said, some experts recommend ordinary peat-free compost for growing potatoes in a bag.
Remember, too, that choosing the right bag is just as important as selecting the right growing medium. We suggest that you use a large sturdy rubble bag or jute sack. You can also purchase potato grow bags.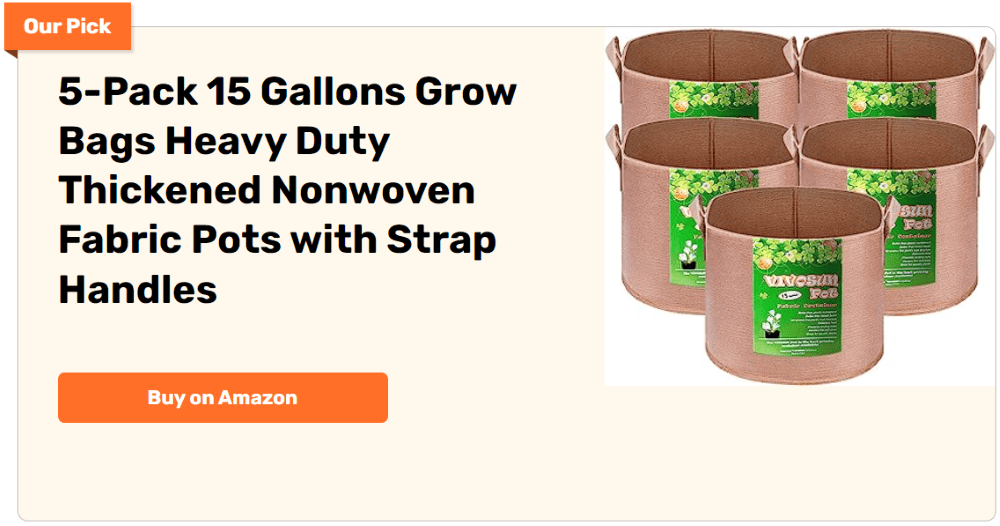 The most popular bag sizes are around 8 to 10 gallons. The bags should exclude light. Exposure to light can turn your potatoes green.
You can check against this kind of exposure by holding your potato grow bags against a light source. If any light comes through, simply line your bag with sheets of newspaper. Make sure you puncture small holes at the bottom of the bag to prevent it from becoming waterlogged.
"The important thing is that the bags need good drainage, so with re-used plastic bags do ensure that you make lots of extra holes in the bottom," says Bob Flowerdew of Amateur Gardening Magazine.
2. Planting Your Potato Seeds
Fill the bottom of the bag with around five inches of compost. Then roll the sides of the potato grow bag down to the level of the compost.
Plant three or four chitted potatoes – roots down – into the compost. Cover the seed potatoes with a few inches of additional compost. Unroll the first folds of the bag if needed.
Place your potato grow bag in a light, bright, frost-free space. One of the benefits of using potato grow bags is that you can move them when the weather turns bad or in search of sunlight. Your porch, balcony, or carport will suffice so long as the spot is sheltered but in good light. Water the seeds well.
"Potatoes require six to eight hours of full sun per day," says celebrity urban gardener, Ron Finley. "Growing season varies by location, but spuds do best in temperatures above freezing and below 80°F."
3. How to Care for Taters in a Potato Grow Bag
When the potato plant starts to grow green shoots, unfold the edges of the bag until it reaches the top of the shoots. Then cover the new shoots with another layer of compost.
Continue to do this every time shoots are visible or until the bag is full. When there is no more bag to unroll, then let the shoots grow.
Water your potatoes whenever the top few inches of the soil dry out. "If the tubers dry out while they are developing, they won't develop into potatoes, resulting in a smaller harvest," says Deborah Miuccio, product research, and testing coordinator at Gardener's Supply Company.
You should also watch out for potato beetles. These tiny pests lay eggs on the bottoms of leaves. If you catch them early in an infestation, you can pick them off by hand.
Traditionally, potato crops benefit from companion planting with horseradish, parsley, and flax to deter potato beetles. If you can, try keeping a few parsley plants near your potato grow bags to serve the same purpose.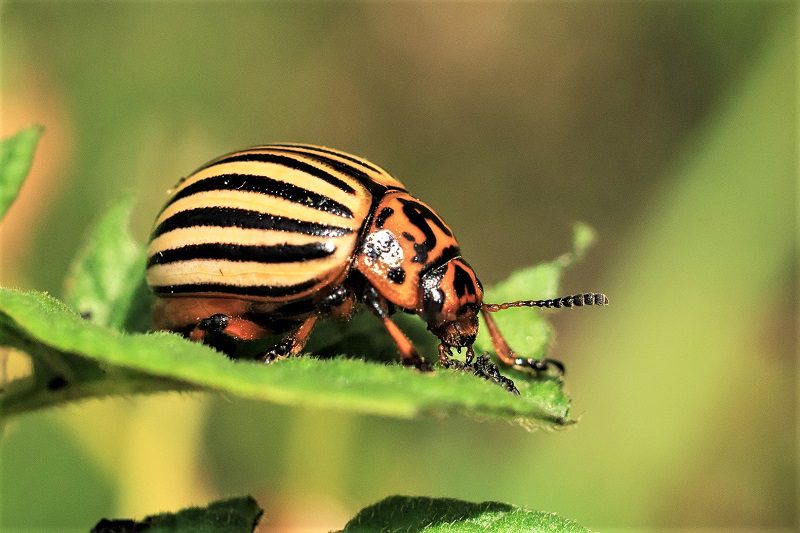 4. Harvesting and Storing Your Potatoes
The above-ground portion of the potato plants will grow for several months. They will eventually produce purple or white flowers.
You can harvest your potatoes once the flowers, leaves, and stems of the plants have started to die back. Simply tip your potato grow bags and empty the contents on a sheet of tarp.
The compost can then go into your compost heap. – just make sure there are no potatoes left in the mixture.
Once you've cleaned your new potatoes, it's time to store them. Small potatoes won't keep longer than a few weeks. But larger potatoes can be stored for a few months in cool, dark environments.
What do you think? Have you ever used potato grow bags to grow a crop of taters? If we've neglected to mention other useful tips, please feel free to write about them in the comment section below. We'd love to hear from you.
---