If you're short on space and want to get some green-fingered action, you should start considering vertical gardening.
Vertical gardening or farming has numerous advantages, including improved air quality, mental health, food miles, and, in some cases, energy costs or usage. Of course, there are some 'drawbacks' to consider, but this is completely normal.
Vertical Gardening Benefits
Growing upwards in urban areas enables us to garden even without a balcony.
Gardening or growing food in small spaces remains difficult in cities. There are, however, solutions, such as building a green wall and roof. They're also a great way to repurpose otherwise unused space in order to improve air quality, access to green spaces, and even the urban heat island effect.
Vertical projects, on the other hand, do not have to be as ambitious. As a starting point, you can use pallets, freestanding vertical gardens, or pocket planters to grow vertically.
1. BEST OVERALL ⁠— Meiwo New Upgraded 7 Pockets Hanging Large Vertical Garden Wall Planter
The Meiwo vertical planter is made of felt cloth and is a durable, self-absorbing, corrosion-resistant, breathable, and 7-pocket wall hanging planter for balcony vertical gardening.
It is also deep enough; recently upgraded with a larger and deeper planter pocket, ideal for planting flowers, vegetables, strawberries, hanging plants, and other plants. The pocket is deep enough for them to grow. It's also a great living plant wall decor. Simply hang in fences, balcony gardens, supermarket walls, and garden nurseries, among other places.
PROS:
A total space saver
It is easy to assemble with zip ties or hooks
Transplantation is quick and the transplant season is prolonged
Can cut a variety of costs
CONS:
Ideal for smaller plants
Filling it with soil can be tricky
"Great product," a buyer says. "The water flows nicely between the plants as well and it doesn't get all over the back of it either. Pockets are decent-sized and fit a few petunia plants. Will purchase another for other places around the house."
But, when you're finally starting to plant, "here is a tip when planting and filling, work from the bottom up it will be easier," comments one buyer.
2. BEST STACKABLE VERTICAL PLANTER — Amazing Creation Stackable Planter
The Amazing Creation Stackable Planter has the most stylish and long-lasting design. It is made of high-quality polypropylene and is resistant to fading and cracking. You can grow your plants vertically with stand-stacking planters, perfect as strawberry planting pots to make the most of small spaces.
The set includes one Vertical Planter made of 5 stackable pots that can hold up to 15 different plants with green stalks. Allows a large variety of different vegetables, flowers, succulents, herbs, and lettuce.
PROS:
Can be unstacked and restacked
Good for indoor and outdoor use
CON:
Watering can be a little challenging despite the drainage holes that allow water to trickle down to the tray below
A buyer says, "it's great, they are stackable, but you can also use them independently, wonderful".
When it comes to draining the water, there is a concern but correctable. "Watered the top expecting it to flow down into the bottom but the top stayed extremely wet long after my other plants were ready to be watered again," explains a buyer.
3. BEST SELF-WATERING — VIVOSUN 5-Tier Vertical Gardening Stackable Planter
The VIVOSUN 5-Tier Vertical Gardening Stackable Planter has a total of 15 pots for growing various fruits, vegetables, and flowers. It is made of thick, high-quality PP materials and can be used repeatedly without fading. Even in hot weather, it is not prone to cracking.
You can stack 2 or 3 or 4 or 5 tiers; this planter can be hung with chains or used on a cylindrical rod. The water filtration system from top to bottom can efficiently save and hold moisture, while the bottom dish will not stain the ground.
PROS:
High-quality product that will last longer
Fits into a small kitchen or balcony space
CON:
Not as large as others of the same style
It is cost-effective. "They are very strong and even without the dirt the tower feels very sturdy," says a buyer. "Each pot "locks" into place securely and doesn't just rest on the one below."
And despite its compact size, it can successfully grow plants. "Not as large as I hoped, but I grew several herbs this summer, and they did well," explains a buyer.
4. BEST HERB PLANTER — Worth Garden 36 Pockets Self-Watering Vertical Planter
The Worth Garden 36 Pockets Self-Watering Vertical Planter has a 3-pocket wall-mounted plant system which allows you to grow a variety of plants in a small space. But, each pocket is large enough to accommodate your plants without taking up valuable space in a small apartment or an outdoor area.
In a single area of your home, grow a variety of herbs, perennials, houseplants, succulents, or vegetables.
PROS:
Plastic pots that can be stacked and customized to your liking
Made of a durable propene polymer material and lightweight
It has a self-watering system that provides enough water to the plants for several days
CONS:
Not suitable for plants that can grow to be quite big
Lower pots tend to dry out faster
Overall, it is still a steal. A buyer explains, "the planters are just what I was looking for… or the best product available on the market currently. I did extensive research & found these to be the best for vertical garden walls. The pots are made of good & seemingly durable plastic."
But, it's not ideal for basil plants. "Expect any well-growing plant to possibly become root bound and need transplanting," comments one buyer. "One of my basil plants was already too large to move to one of these containers."
5. BEST WITH WHEELS — CoLuck 4-Tier Vertical Garden Ladder Bed With Wheels
The CoLuck 4-Tier Vertical Garden Ladder Bed has an excellent structure and materials. Made of rust-resistant metal, this lovely vertical garden bed will last longer. It comes with a mesh storage shelf that is ideal for storing watering cans and spare pots.
It can roll around and has a lock to keep itself in place. It's also designed for indoor-outdoor use, the wheels give you both options. The improved drainage holes on the bottom allow for good drainage and airflow. The base water tray can be also separated, preventing water from overflowing and creating a reservoir. It's suitable for growing herbs, succulents, flowers, and a wide variety of other plants.
PROS:
A movable garden bed with a mesh storage shelf provides users with a great deal of flexibility
Compact window boxes are very efficient to use
CON:
"The window boxes are more compact than a typical one you would find at the store but make it perfect for those with limited space," says one buyer. "Even though there are a few parts you have assembled, it goes together relatively smoothly. Once together it's easy to move around, especially since the window boxes sit on top of the frame. If you want to move a specific box, you can just lift it off the frame rather than moving the whole thing."
At first glance, it appears flimsy. "When I saw the box and how small it was, I felt it was going to be flimsy. But it turns out it's very sturdy and very movable," explains a buyer.
6. BEST IN DESIGN — GREEN MOUNT Garden Bed Planter Box With Trellis
The GREEN MOUNT Garden Bed Planter Box comes with a trellis frame that provides strong support for large plants, removing the need for constant staking and tying. The strong plant support prevents heavy vines from 'snapping off' and increases yield.
As your plant grows, simply add more risers and rings. This small container has enough space for one large tomato plant and a few low-growing herbs or lettuces tucked in around its feet. The trellis supports vining flowers like sweet peas as well as top-heavy flowers like dahlias.
PROS:
It has an extensible design for different vining requirements
It comes in a variety of shapes and sizes to accommodate a variety of needs
CON:
Smaller containers can be quite limiting
It is an excellent choice for those who love growing vining flowers. A buyer says, "my passionflower vine looks beautiful in this container. I love that it has room to climb on the trellis. Another plus is the drainage holes in the bottom. It is easy to move & once winter comes, I can very easily bring it back inside."
While it can be unsuitable for growing a flowering plant like a tomato. "I am skeptical as to how my tomato plant will do in this planter, considering the size of the root system for tomatoes," a buyer writes.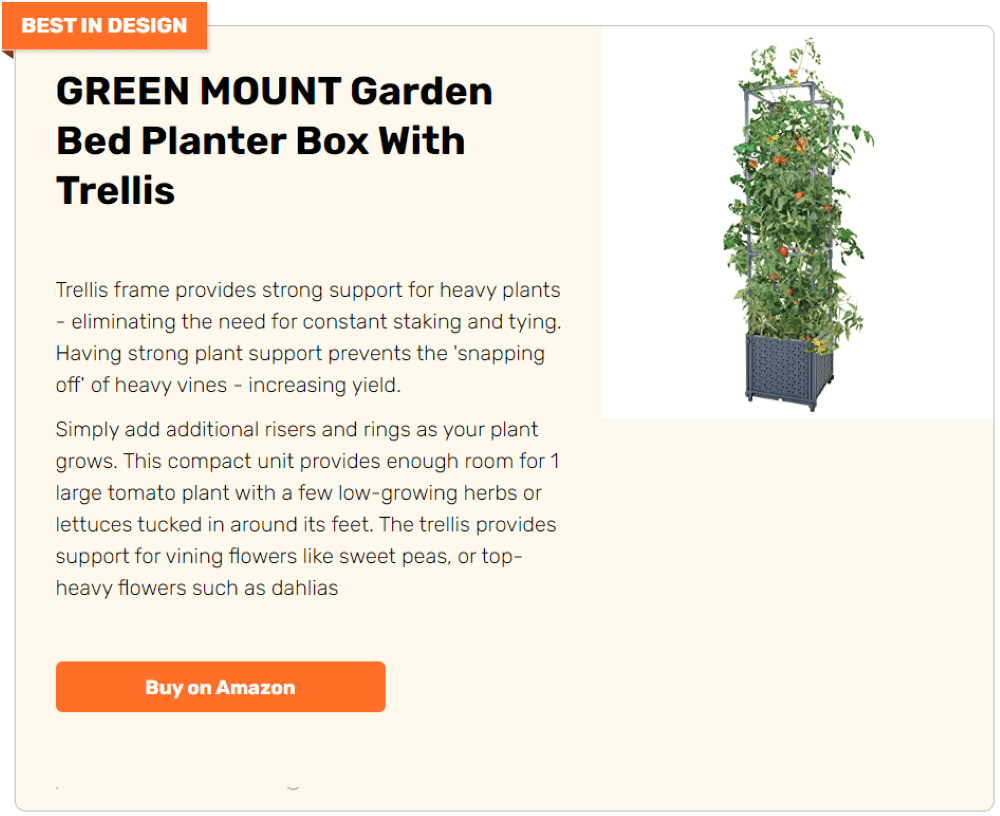 7. BEST ORGANIZER — MR. Stacky 5-Tier Clover Vertical Garden System
The 5-tier planter has attractive vertical garden beds that can accommodate strawberries and other low-growing vegetation. It works well both inside and outside. Even in a small space, you can grow anything. It also has a drip tray at the bottom to keep things tidy.
PROS:
Its 20 containers can hold a significant amount of soil and organize growths
With a lovable clover design
CON:
This is usually best for strawberry growers and the like. "I have purchased a number of these to act as both a strawberry garden and to hide unsightly lines," says a buyer. The strawberries love them and they fall over the edge to ripen beautifully."
While another buyer thinks there are larger planters for the same price. "It was a great price but I imagine there are much bigger towers out there so check dim sizes," he writes.
8. BEST PRICE — BandTie 12-Pocket Vertical Wall Garden Planter
The BandTie 12-Pocket Vertical Wall Garden Planter is known for being inexpensive and being already made of non-toxic material, and intended for long-term use. It's an environmentally friendly felt material.
It can be easily mounted on a wall using reinforced metal eyelets for strength. Hanging on the walls saves space while planting strawberries, vegetables, and foliage plants. It is also simple to remove if you want to plant it somewhere else.
PROS:
There is no need for assembly or tools
Best for starters
CON:
One buyer comments, "I put it up today on my balcony and it looks great! It's a nice way to plant flowers in a small space."
Because it is woven, there can be some loose stitches or threads, but this can be easily remedied. A minor flaw. "I gave 4 stars instead of 5 because the planter has some loose/stray threads in a few places – overall the construction seems solid, but it could be neater," a buyer writes.
Our Best Advice
Vertical gardening is the right approach when space is limited. You can, however, use it to decorate a wall or any portion of your balcony, kitchen, or other areas of your home.
It is easy to get started. You also understand now which vertical garden planters are the best based on a variety of factors.
Just keep in mind that, depending on where your vertical garden is located, plants that are not planted in the ground and are exposed to more sun and wind require more frequent watering. They are also vulnerable to larger temperature fluctuations. To compensate, add more mulch, water wisely, and carefully select your plant species.
To avoid root damage once the plants have begun to grow, make sure your vertical support structure is erected or installed before planting.