No matter how sociable you are, everyone loves to have some privacy. One of the best ways to block the sightlines of nosy neighbors and passersby is to erect some kind of privacy screen. Making your own privacy screens can be an enjoyable project for the whole family. Here are some ideas to get your creative juices flowing.
GREEN SCREENS
Plants make the perfect basis for a privacy screen. Not only does a wall of greenery look beautiful, they smell great and are, for the most part, low maintenance, only requiring watering and the occasional pruning.
CLIMBING PLANTS
Any lattice structure – wire fencing, wooden lattice, trellises and even woven cord can serve as a fine surface on which to grow climbing plants.
The Dortmund Climbing Rose can make for a truly spectacular climbing plant screen thanks to its lush dark green foliage and beautiful flowers. It's a fairly vigorous climber and quite hardy in a number of different conditions, but like most of the rose family, beware the thorns.
Bougainvillea is a sun-loving, drought resistant climbing plant with beautiful red flowers. This hardy plant is one of the fastest climbers around so can create a privacy barrier in a remarkably short time. Be careful to get one of the smaller species of bougainvillea if you're looking to grow one – some species can grow to a height of 30 feet, making them rather difficult, if not impossible to contain in a small space.
Known for its red and yellow trumpet shaped flowers, the Trumpet Vine is another fast climbing plant that thrives with little maintenance and makes an excellent green screen.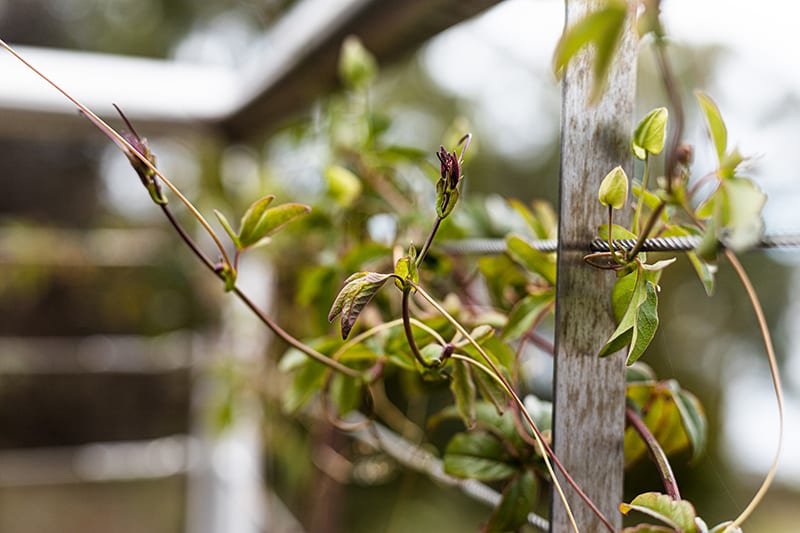 If you want your privacy screen to do more than look pretty, consider growing a climbing edible plant, like runner beans, peas, passionfruit or the like. Not only do all these plants have lovely flowers, they are all relatively easy to grow and can supply a healthy yield of fresh fruit!
VERTICAL GARDENS (vertical garden gif/gallery)
A vertical garden is, like the name suggests, a garden planted or growing vertically through the use of a trellis or some other support or hanging system. Vertical gardens can be free-standing or attached to a wall, fence or other surface.
Curtain Garden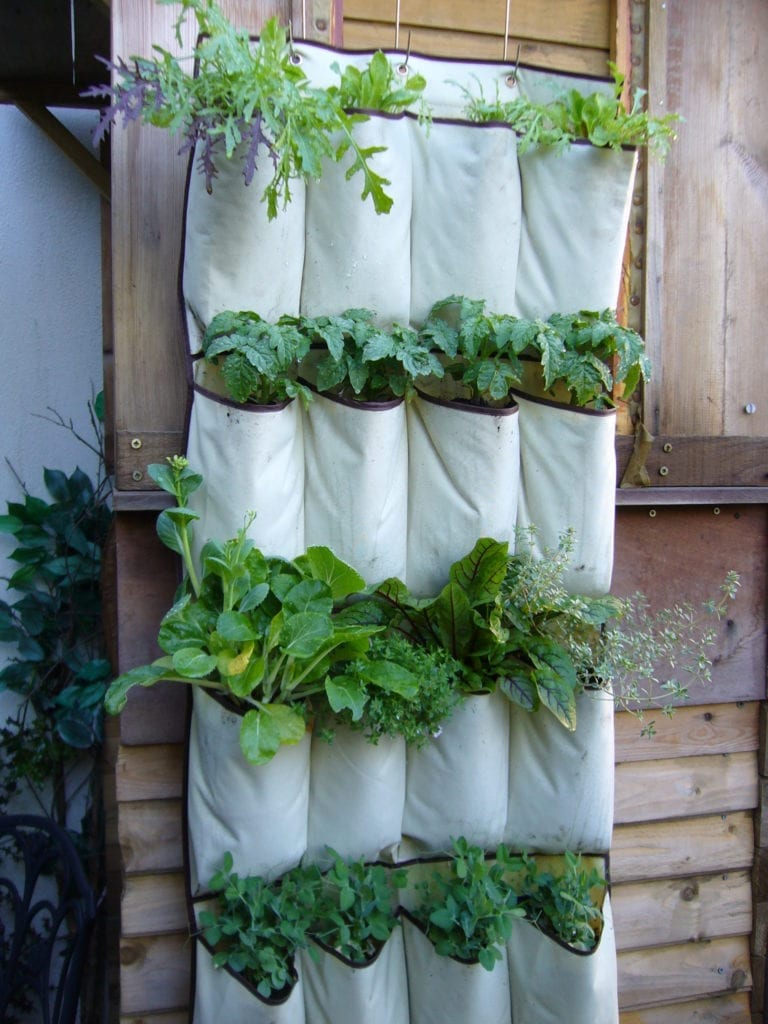 A curtain garden is made from some kind of hard wearing fabric like landscaping fabric or all weather canvas, with pockets for containing small pots or soil. This style of hanging planter is perfect for a herb garden. Is there better and more delicious way to add some privacy to an outdoor kitchen or barbeque area than with a hanging herb garden? If you're interested in creating a hanging garden from a shoe organizer, check out our DIY guide!
Hanging Pots
Everyone likes beaded curtains, right? No? Just us? Well, imagine a beaded curtain, but instead of macramé and glass baubles, it's a series of pots containing small plants, like shrubs, herbs, ferns or succulents linked together with cord or chain. The amount of privacy that handing pots provide depends on the density of foliage and how close the pots are together.
Pot Wall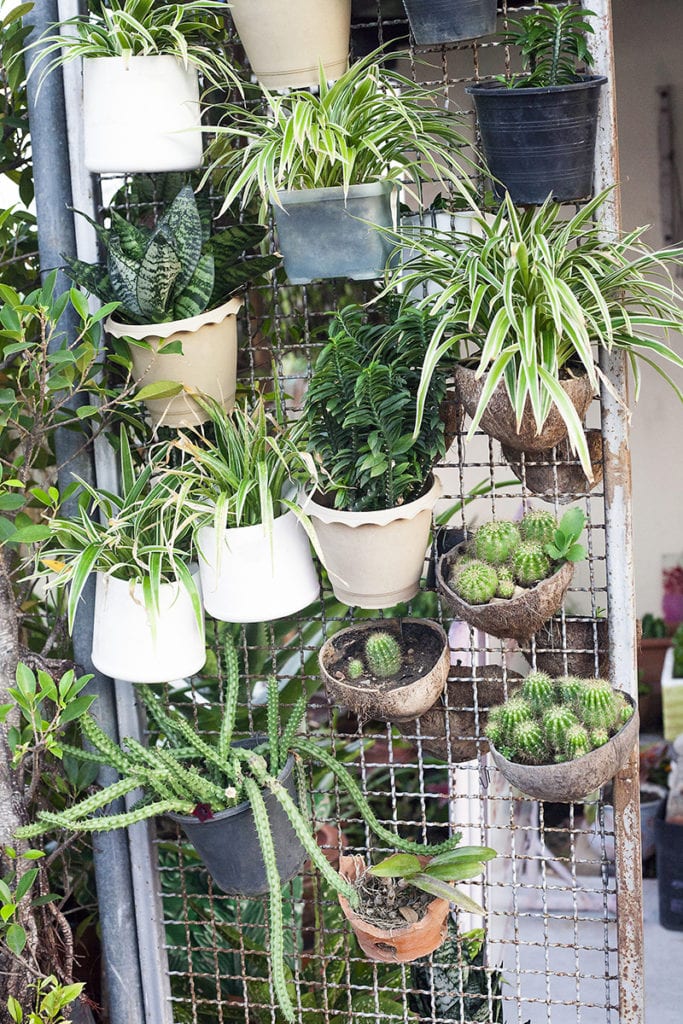 A wall of pots, either hung from a frame or placed on some kind of support makes for a lovely and modular privacy screen. A simple wooden frame with a chicken wire insert makes an excellent surface for hanging pots, but so do a number of found or salvage objects, like vintage bed springs, slatted bases or wooden pallet.
Excellent supports for pots to make a wall include old dressers and ladders.
Stacked Crates/Planter Boxes
Stacked crates or planters make for an interesting architectural privacy screen. Stacking the crates or planter boxes so only their edges are touching leaves room for smaller plants in the middle of the stack and larger ones on the top.
HEDGES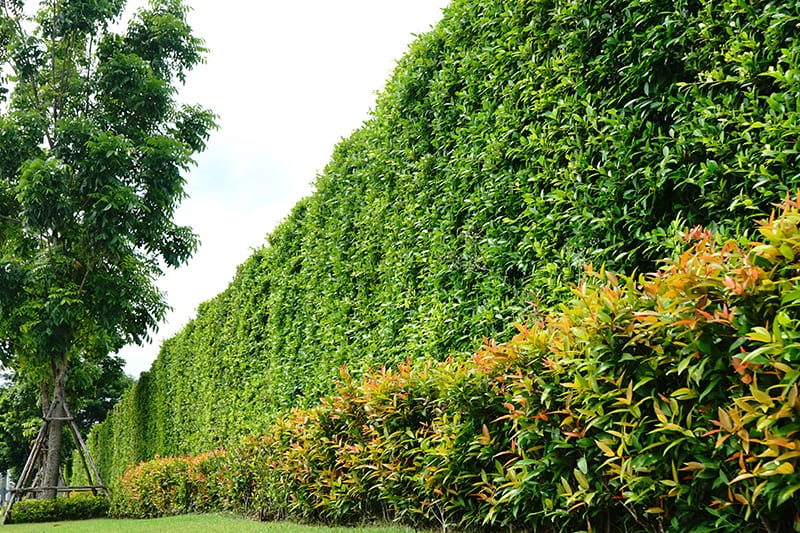 Hedges require a fair amount of maintenance to keep them looking neat, but a solid wall of greenery is excellent for blocking lines of sight and muffle noise.
LARGE PLANTERS
Large planter pots make an excellent base for a privacy screen. While undoubtedly heavy, they can be moved, making for a moveable screen fit for any outdoor purpose. While any suitable shrub or plant can be grown in one of these planters, there are some in particular that make truly excellent, low maintenance privacy screens.
Tall Grass
Tall grasses, like Pampas, Feather Reed, Maiden Grass, Zebra Grass, Big Bluestem and bamboo (the world's tallest grass) make an excellent screen. Each of these grasses, and many more, can easily grow to a height of at least 5 feet and can thrive in most conditions and require very little upkeep.
Some grasses can take a fair time to take root and grow, but in the case of bamboo, some varieties grow extremely fast. Bamboo holds the Guinness world record for fastest growing plant, with recorded growth of up to 35" a day! You most probably won't be able to expect such amazingly fast growth, but a few inches of growth a day is a definite possibility.
SHRUBS AND TREES
Numerous shrubs and trees can thrive in large pots or planters, and while they may require a little more TLC than hardy grasses, can make for a beautiful an effective privacy screen. Some excellent option for shrubs and trees to grow for privacy include:
Conifers, like Fir, Pine, Juniper and Cypress are evergreen, and grow well in pots and direct sunlight. The thick foliage of conifers and narrow, vertical growth make them an excellent tree for privacy purposes.
Boxwoods are a family of plants commonly used for hedges and topiary. Boxwoods grow in a variety of shaped and sized, from smaller 1-3 foot spherical plants to tall, 6+ foot narrow trees, but all share dense foliage and hardiness in common.
Hydrangeas may be deciduous, but they make up for having to sweep up fallen leaves with huge, beautiful, sweet smelling flowers.
TIMBER PRIVACY SCREENS
Wood has an appeal that is hard to match with any other building material and fits well with nearly any style of architecture. You don't have to splash out on rare and expensive timbers to make a beautiful wooden screen.
Wooden Pallets

Wooden pallets are an almost perfect building material if you're looking to make something attractively rustic and hard-wearing. When broken down the individual planks make excellent timber for all manner of DIY projects, but when kept whole, a pallet makes an excellent mount for a pot wall or trellis for climbing plants.
Wattle
Wattle may be a beautiful tree native to Australia, but it's also a method of construction in which reeds, thin branches or planks are woven between struts to form a lightweight material commonly used for fences.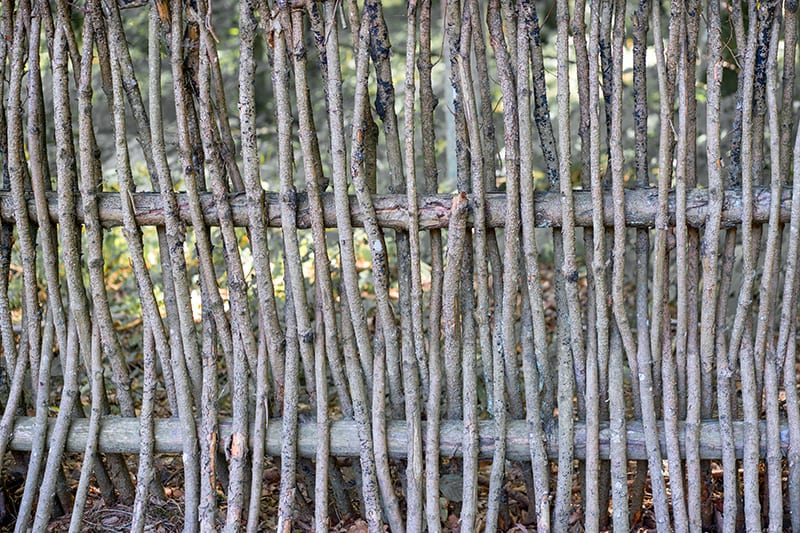 Wattle has a lovely, rugged and rustic appearance and is quite easy to construct – all you need is a large quantity of thin, flexible branches or planks and some patience. Willow makes a great substitute if wattle is not available in your region.
Bamboo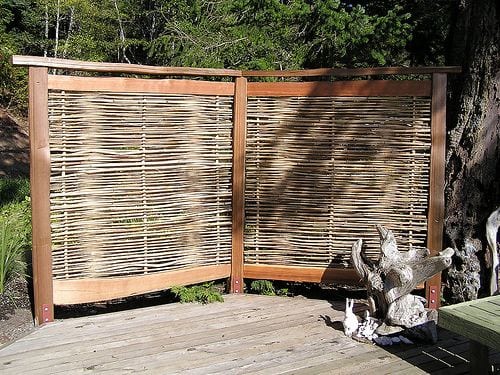 Bamboo is an excellent and hardy material for DIY privacy screens. Bamboo is tough, light weight, flexible and easy to grow, so is an excellent, renewable construction material for a variety of different styles of privacy screen, such as wattle, bamboo blinds, lattice work or trellises for climbing plants or vertical gardens.
Old Doors and Shutters
Why throw out old doors and shutters when you can use them to build a quirky but attractive concertina style privacy screen suitable for both indoor and outdoor use.
CLOTH PRIVACY SCREENS
As long as it's used in a place with enough cover to shelter it from inclement weather, cloth can make for an attractive and economical privacy barrier.
Hanging curtains or rolling cloth blinds are an attractive way to add privacy to a balcony, deck or porch. Heavier, waterproof materials, like all weather canvas or oilcloth are the most hard wearing options for cloth, but mosquito mesh can also make for an excellent screen.
STEEL PRIVACY SCREENS
When it comes to hard wearing and versatile building materials for privacy screens, both indoors and outdoors, it's impossible to go past laser cut steel privacy screens – they are made specifically for that purpose after all.
Steel Privacy screens are an affordable and structurally sound material suitable for all privacy screen needs both indoors and outdoors, from fencing to balustrading, window shutters, room dividers and more.
If you're interested in buying some laser cut steel privacy screens, BeMetalBe is an Australian company that ships exclusively to the United States. Each BeMetalBe screen is pre-oxidised to give it a warm, organic look and texture. While some other companies offer bespoke panel designs for a premium price, BeMetalBe sells nine uniquely patterned screens. Working from a template means that the laser cutter doesn't constantly have to be recalibrated for a new pattern, keeping prices low.
Are you feeling inspired to finally create that privacy screen you've been thinking about?
---