Raised garden beds can be as simple or as elaborate as you wish. A raised bed planter can be a permanent fixture for perennial plants to establish themselves and mature. The cost of installing your raised bed will vary depending on how detailed you design it, but once placed, raised beds are less expensive to maintain than normal gardens. They offer several benefits.
With so many choices available, selecting the right raised garden bed can be a tricky task. However, comparing some of the essential qualities that most garden beds offer, such as material, size, and assembly requirements, as well as your gardening goals, space, and design pattern will help you sort through the possibilities.
What to Look For
Some categories can overlap but there are four basic types of raised garden beds: raised ground beds, containerized raised beds, elevated raised beds and supported raised beds.
Raised Ground Beds
Other than dirt, a raised ground bed requires no further components. It's a simple raised bed with flat-topped mounds that are normally 6 to 8 inches high. Raised ground beds are ideal for gardeners who wish to plant big areas but do not want to incur the additional expenditure of erecting support frameworks.
Containerized Raised Bed
The sidewalls of a containerized raised bed are higher (10 inches or more). Containerized raised beds can be used in almost any place, including lawns, sidewalks, and terraces. They require more soil to fill, but because of their adaptability and simplicity of usage, they are suitable for high-traffic areas or those with mobility concerns.
Elevated Raised Bed
An elevated raised bed is similar to a containerized raised bed, but it sits higher, supported by legs that raise the growing area to a comfortable standing height. These beds are highly useful for people with limited movement, such as the elderly.
Supported Raised Beds
A supported raised bed is defined by an edge or frame that surrounds the bed and is often made of wood, stone, plastic, or metal. Supported raised garden beds are ideal for sloped or uneven yards, and they give gardens a polished look.
Our Top Picks
There is no "standard" when it comes to raised garden beds because every garden is unique. The perfect raised garden bed will be defined by your space restrictions, physical comfort, design, and the sort of plants grown.
We have a list of the top ten raised garden bed models on the market in the hopes of assisting gardening enthusiasts. If the requirements are known, one can choose from our suggestions and begin planting in a raised garden bed.
The models listed below passed our tough performance evaluations and earned a spot in this list of the finest raised garden beds. They are strong enough to sustain the weight of the soil mix and can provide enough root area as well as proper drainage.
A raised garden bed that will last for many growing seasons is the finest option. This galvanized type is made of double-layer, anti-corrosion sheet metal that can withstand moisture as well as significant pressure.
It just takes around five minutes to put together. And the open base helps to prevent overwatering by allowing residual liquids to seep into the earth. Choose your preferred color and the size that best meets your needs, and prepare for a better gardening experience this season.
Pros:
Despite being constructed of metal the edges are not sharp as the improved arc-shaped design smoothens the interface
If you buy two sets you can combine them into one giant planter by adding a few extra support stakes
Con:
You will need to bend over a little when doing some garden work as it is closer to the ground
"Much better than the standard above-ground planters. It's not flimsy, easy to assemble, and looks great! 5 stars from me," says one buyer.
While it appears to be a little labor for the back, this planter will satisfy. "I believe it will do the job," a buyer assures everyone.
This planter is ideal for producing veggies, herbs, and flowers. Gardening without bending over can help you beautify your outside living environment. It is also made with North American Cedar grown in the United States. Untreated cedar is safe for fruits and veggies. To keep food sources clean, the garden bed is never treated with chemicals, giving you the confidence to put your harvest on the dinner table.
Pros:
It has good drainage with an elevated bed and includes small openings between the flooring to drain water away
It also includes a fabric liner to keep the soil in while still draining water
Keeps pests away from your plants
Cons:
There are no wheels for portability
It can be quite heavy when filled
Gardeners have been purchasing from Greenes for many years because of the durability and functionality of their products. "These planters are sturdy. I like that the wood is not treated with chemicals so my veggies are not either. My first planter lasted many years and was still in use," adds one hobbyist.
It lacks legs; however, it eliminates the need for elderly persons to bend over when using this garden bed. It can still be a practical option! "Got this for my parents since they can't bend over to the garden," one of the buyers adds.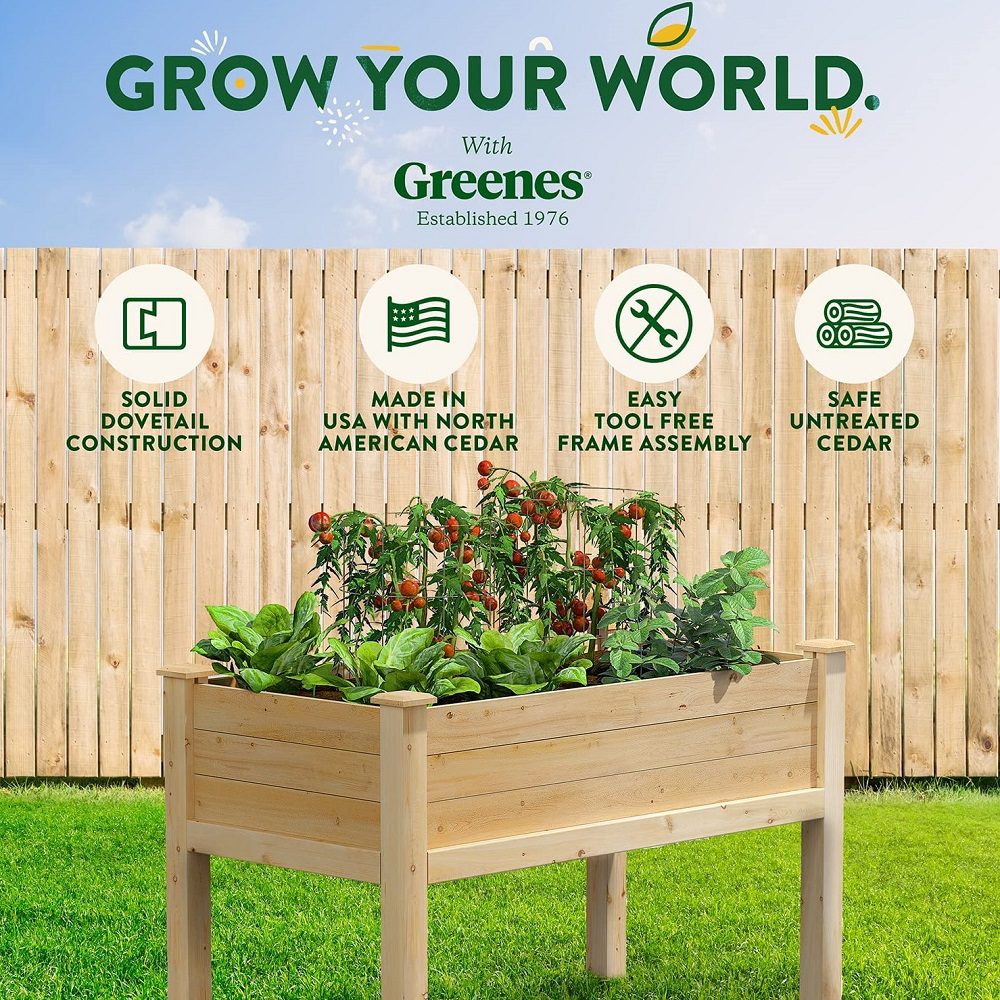 BEST WITH LEGS
This is one of the best city living solutions. You don't have to move to a farm to enjoy fresh fruits and veggies. This garden bed is sufficient! It has good advantages such as a drainage tap, watering system with reservoir, detachable seed sprouting tray, and water gauge.
The drainage tap makes it simple to remove excess water and allows you to carry your planter inside without fear of leakage. Other fantastic features such as the watering system with reservoir, detachable tray and water gauge allow neat and proper indoor and outdoor gardening.
Pros:
It will not rust or corrode over time because it is made of resin
Ideal for both indoor and outdoor planting
Cons:
Although this is a smaller raised garden bed than many others, you can always use several beds to maximize your growing space
It lacks wheels for easy transport
Because of the good quality of the materials used, it will last a long time. "I purchased this planter because a friend has the exact brand that she purchased a few years ago," says one buyer. "Hers was placed in a sunny area of her screened lanai. It is still in good shape. So far, I love the features. I look forward to getting a lot of use out of it."
For the wheels, who knows, the maker is already considering adding them to make this planter more user-friendly. As "would be much better if it had the option to add wheels," remarks one buyer.
BEST URBAN PLANTER
Keter Urban Bloomer 12.7 Gallon Raised Garden Bed
WATER GAUGE: Easy-to-read water gauge indicates when plants need additional moisture.
DRAINAGE SYSTEM that can be opened or closed for full control of watering.
WATER RESERVOIR: Full watering system includes a reservoir to prevent root decay and over-watering.
Buy on Amazon
We earn a commission if you make a purchase, at no additional cost to you.
10/26/2022 07:00 am GMT
This simple yet ideal package for vegetable or flower growing is the ideal present for moms and dads looking to improve the appearance of their yard or other outside space.
It easily converts into one large garden box or two smaller raised beds. 8 stakes ensure that this garden kit is safely planted and stays in place. You can use it in a one- or two-box configuration, but there are also alternative shapes and designs to expand the utility of this planter with raised walls.
Pros:
Collapsible raised planter box with additional storage and organizing
Excellent for managing space
Con:
You will need to stoop over a little when doing outdoor labor as it is nearer the ground
This appears to be a simple garden bed however it is efficient and reliable. "I have 3 sets and am considering a few more," one buyer comments." I have mine configured into rectangles. But I did play around with them just to see if the stacked version was viable. Yes, they are. I am impressed with the simplicity of this system."
Some people suffer back problems since it lacks legs. But younger people will appreciate it. "I didn't want to be leaning over anything. Thought it would help save my back too," one of them says.
BEST IN DESIGN
The Lakeside Collection Raised Garden Bed Set for Vegetable and Flower Gardening
Perfect for vegetable or flower gardening, this convenient kit is the perfect gift for moms and dads trying to enhance the look of their yard or other outdoor space.
Easily assembles into one large garden box or two smaller raised beds. 8 stakes ensure this garden kit is securely planted into the ground and stays in place.
Buy on Amazon
We earn a commission if you make a purchase, at no additional cost to you.
10/26/2022 07:02 am GMT
This is a 3-in-1 set that has a garden bed, a dismountable mini greenhouse, and a garden bed with a greenhouse combination. Ideal for personalizing your garden!
Its outdoor garden bed cover screen window enables fresh air in while keeping birds out, as well as good ventilation. It provides an ideal environment for plants. You can also adjust the temperature within the cover by opening and shutting the glass.
It has a lot of space. Raised planting bed is 6 x 3 x 1 ft, holds around 18 cu ft of soil, and provides a huge growth place for vegetables, herbs, and flowers in your garden, farm, or backyard. Ideal for gardens of any size.
Pros:
Suitable for many plants
Extra durable super thick galvanized metal that is stable and weather-resistant
5 years warranty for the garden bed and lifetime warranty for the frame connectors
Con:
The greenhouse should be installed before adding soil as it's a chore to take it on and off once there is soil
Overall, the model is great and is backed up with competent customer service. "Loved my product, easy to assemble, thank you so much for the customer service also you guys are great," comments one buyer.
And for the greenhouse, it is advisable to put it on before adding soil. "The raised bed does expand after the soil is in it and it was a chore to get the greenhouses on," a buyer writes. "Don't plan on taking the greenhouses on and off."
This planter comes with 5 container boxes and can grow a variety of herbs, flowers, and vegetables in a little space at home, on the deck, in the yard, or in the garden. It features grid trays and drainage holes to minimize waterlogging, making it ideal for growing herbs, seeds, flowers, succulents, or veggies.
Bins are made of 100% new Polypropylene material (PP), which is food-safe and weather-resistant, and are composed of high-grade steel that has been powder coated to avoid corrosion.
Pros:
Hanging box containers look great especially when filled with vibrant plants
You can plant anything you wish on each level of the display
Con:
A little difficult to move once full of plants
This is an attractive vertical bed alternative. "A fantastic vertical garden planter. It's not big, so make sure the measurements work for you," says one buyer. "In each pot, you can plant one or two herbs. I recommend one because they grow quickly. It is lightweight and relatively strong."
However, if it is full, it can be difficult to move from one location to another and can require some fastening. "A little hard to move when full. I also recommended securing it somehow so as not to get toppled over. I used bungee cords to secure it to my deck," a buyer writes.
BEST HERB PLANTER
FOYUEE Vertical 5 Container Herb Garden Planter Box Elevated Raised Bed
✓ WITH DRAINAGE: All planters have one grid tray and a drainage hole to prevent waterlogging, perfect to grow herbs, seeds, flowers, succulents, or vegetables
✓ SPACING SAVING: come with 5 container boxes, can grow various herbs, flowers and vegetables in just a small place at home, deck, yard, or garden
Buy on Amazon
We earn a commission if you make a purchase, at no additional cost to you.
10/26/2022 07:09 am GMT
The most remarkable design is not only its easy and quick installation without tools, but also its clever design to greatly boost the loading ability and capacity.
Using vertical stripes rather than horizontal stripes can improve the raised garden bed's ability to hold soil and make the raised garden planter more textured. Its excellent galvanized paint will never fade. Grow beautiful and nutritious veggies, fruits, herbs, and flowers for a longer period. Galvanized steel beds are more durable than wooden planters.
Pros:
It will not easily break or distort because of its double-card frame
It is simple to move and keeps worms and rain at bay
The entire planter bed is covered by a two-year warranty
Con:
Assembly without tools can be challenging
It's a fantastic planter. A buyer writes, "great beds, easy access for planting (love these beds!!! You are going to love them too!!!"
It's easy to assemble if you follow the instructions. "First of all, read the directions. It's one page. It's not complicated, but there are some subtleties that, if missed, can yield a lot of frustration," comments one buyer.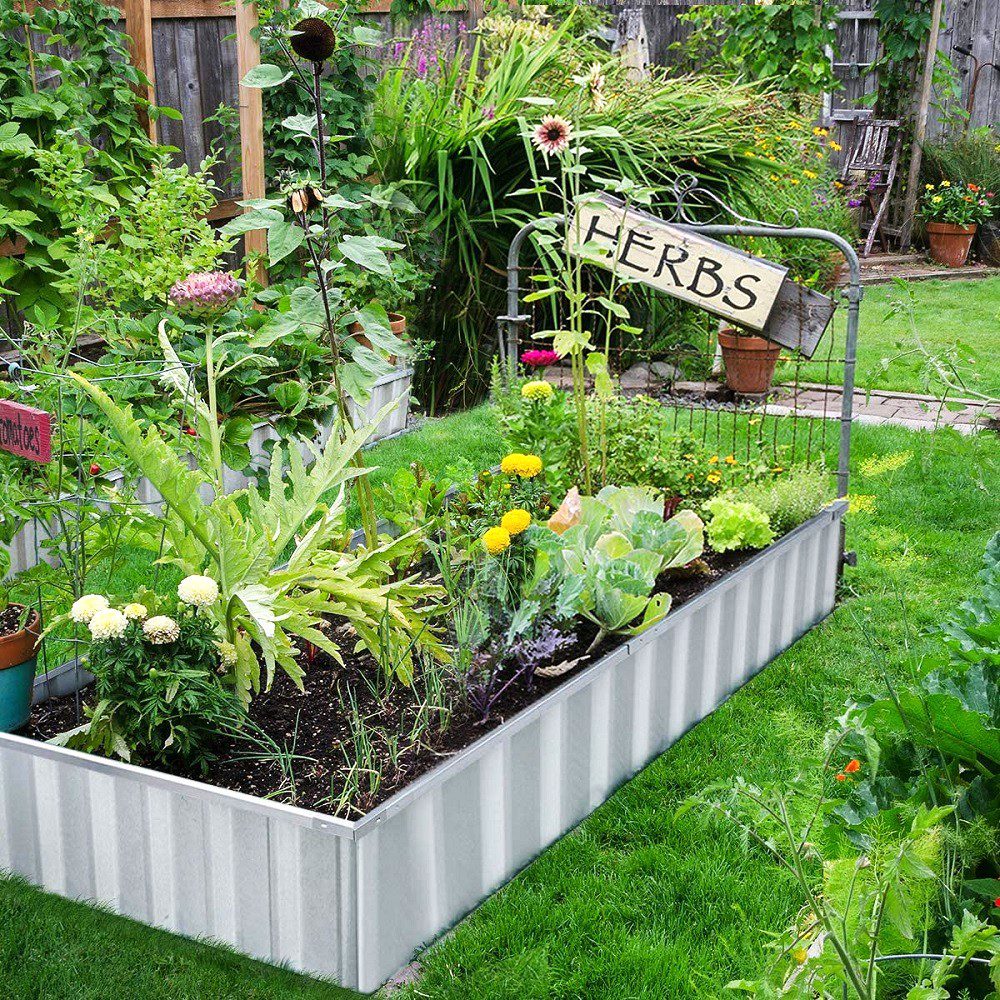 The Vego Garden raised bed has an innovative modular design, allowing you to construct a kit into multiple configurations that match any backyard or garden space. For example, in a 9-in-1 kit, you can build one of nine alternative configurations to fit your garden designs.
It is made of high-quality materials. Zinc, magnesium, and aluminum-coated steel are coupled with the award-winning and USDA-approved AkzoNobel paint to create VZ 2.0. The first substance of its kind is completely safe and environment-friendly, with a lifespan of 20 years or more.
The outstanding performance of VZ 2.0 has been validated at the Texas A&M National Corrosion & Materials Reliability Lab.
Pros:
With no sharp corners due to the additional strong-duty rubber edging to ensure the edges will not harm
The higher depth of 17″ gives plenty of room for root systems to develop and soil quality as well as easing the strain of bending down
Con:
It's one of the best garden beds available. It comes in a variety of vibrant colors. "We chose the olive green. It is so much prettier than I expected. It's a great size for our yard," a buyer writes.
And even if it is a little costly, it is still a good alternative. A buyer explains, "price is a little on the high side but the materials are really nice. I bought another one soon after and am looking to get a few more!"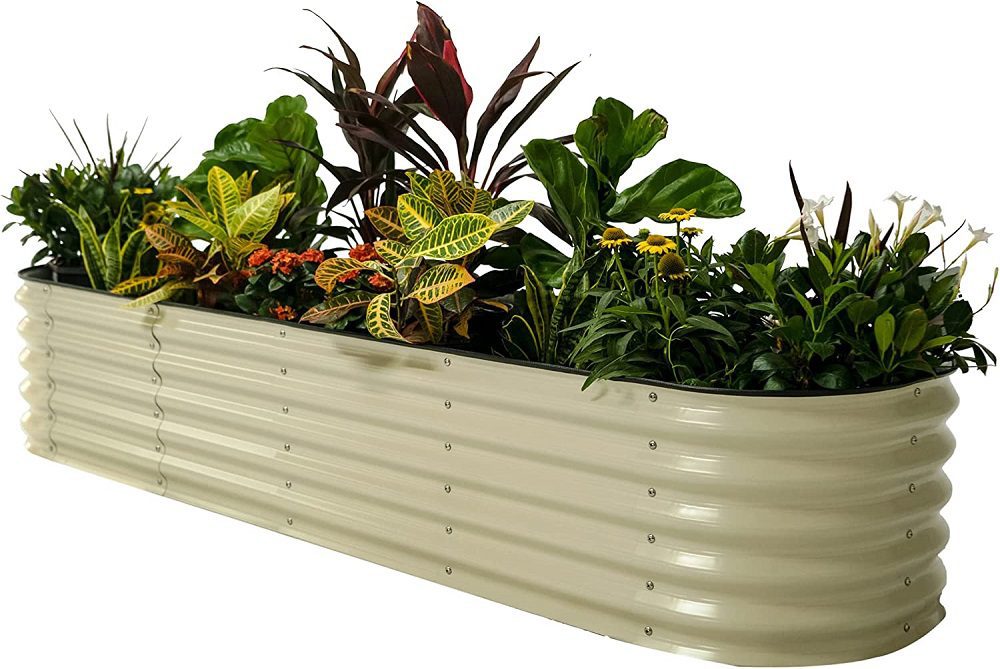 This raised garden bed is on the list because of the high quality of its raw materials. It also has an X-shaped stabilizer bar, which makes the raised garden bed structure more robust and sturdy. It can keep your soil safe for a longer period.
Its robust galvanized steel construction is 0.5 mm thick and can withstand pressure and large objects.
Pros:
Protects soil from wind, rain, and gravity
Boost plant growth and crop production
Con:
A little tricky to assemble
Overall, this garden bed is a good buy. It is cost-effective. "I knew it was going to be big, but bigger than expected! Great value for the price," adds one buyer.
Also, it is still possible to complete the assembly by following the instructions and employing different tactics, there is no need to be concerned. "This is a little tip. When you assemble each part, don't tight all the way until you put all parts connected together."
This is a raised garden bed made of metal, with reinforced corners and frame, is more sturdy and robust, and can be used for a long time. It has a bottomless frame that provides a strong drainage effect and makes the soil more permeable to protect the plant roots, allowing the plants to grow more successfully.
Pros:
Not too pricey for a galvanized metal planter
It has an eco-friendly coating that does not pollute the soil and keeps plants safer and healthier
Con:
Different panel lengths can be puzzling for some
This one is hard to beat when it comes to cost-effectiveness. One buyer says, "I just have to say "wow". The quality of the materials and metal thickness is great."
One feedback about the design though is, "they have different lengths for the end panel and the side panels," one buyer writes. There are zero reasons for this. If all panels were identical, it would still go together perfectly without many people accidentally putting an end panel in the wrong place and having to take it apart twice."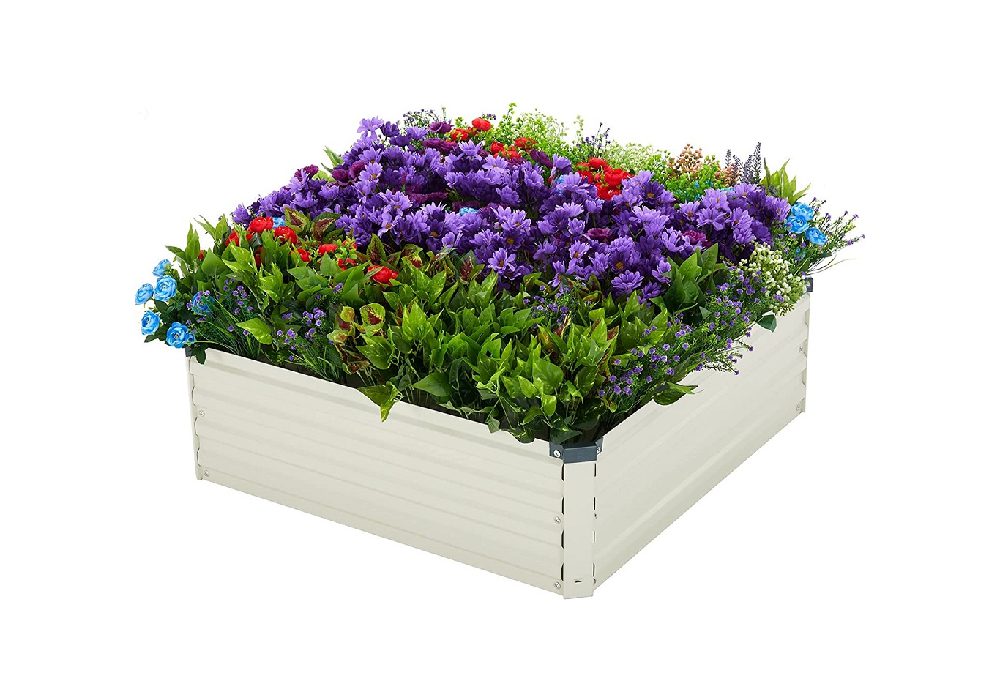 Our Best Advice
Raised garden beds can have a variety of features. Some have detachable greenhouse covers, storage containers, elevating legs, or soil support.
Stackability is another distinctive feature. Some raised garden beds can be stacked to provide greater depth or a different layout.
But whatever the growing requirements are, there is a raised garden bed that will work in almost every circumstance. There is one that will fit perfectly!