Nothing beats the taste of homegrown herbs and vegetables in a home-cooked meal. That's why the experienced gardener will grow a few of them indoors, right on the kitchen windowsill.
The good news is that even gardeners with dubious growing skills can now harvest the benefits of indoor gardening. That's mostly thanks to the innovative soil-less indoor garden kits now available in the market. 
Inspired by NASA technology, today's soil-less indoor garden kits and systems provide the perfect environment for plants to thrive. Many come with all the basics of indoor gardening, including grow lights, seeds, and auto-timers.
The Best Soil-Less Indoor Garden Kits
We've rounded up four of the best indoor hydroponic garden kits and systems available on Amazon. Whether you're a novice or an expert, these kits can ensure you a year-round supply of fresh herbs and vegetables.
To help you make a choice, we've included our insights into each product on the list. We have also turned to the experts at PC Mag, NBC News, and Plant Food at Home for further information.
Best Overall Soil-Less Indoor Garden Kit
The AeroGarden Harvest Elite lets you grow herbs and vegetables all year round without the need for direct sunlight. The kit features a stainless-steel base and uses a simple hydroponic growing system to support plants.
The Harvest Elite comes with high-performance LED grow lights. The customizable timer on the front panel timer will automatically turn the lights on and off.
The 6-pod herb seed kit includes thyme, curly parsley, dill, Thai basil, Genovese basil, and Mint. You can look for other seed kit options if you want to grow anything else.
The all-natural liquid plant food you'll find in the box is non-GMO and free of any pesticides and herbicides. The digital display automatically reminds you when to add water and plant food.
Some users have complained about receiving defective kits. The kit we tested worked flawlessly, though. We began harvesting beautiful fresh herbs in about three weeks.
Our Premium Soil-less Indoor Garden Pick
If you're looking for a top-quality smart indoor garden kit, you're looking for the AeroGarden Bounty Indoor Hydroponic Garden. This herb-growing system has a nine-plant capacity. That means you'll be growing a larger selection of fresh herbs. These might include Genovese basil, Thai basil, curly parsley, Italian parsley, thyme, chives, dill, and mint.
The Bounty hydroponic gardening kit is equipped with a touchscreen control panel and adjustable lighting. You can raise the lighting to allow room for growing plants. You get a dimming option for the 40-Watt LED lights, too.
The kit is Wi-Fi enabled so it connects to the AeroGarden mobile app or your home's Alexa smart hub. You can check your garden's status or turn its lights on or off with your smartphone no matter where you are.
Some reviewers have reported faulty WiFi connectivity in their units. We encountered no such problems with the unit we tested. We were able to control the lighting remotely using the downloadable app. We also got alerts when it was time to add water and plant food to our test garden.
The kit also offers a vacation mode. This feature ensures your garden continues to thrive even when you're away.
Our verdict? This system has everything you need to grow fresh herbs and vegetables indoors. If you don't mind the price, then this kit offers good value for your money.
The Budget Best Soil-Less Indoor Garden Kit
Unlike the AeroGarden Elite and the AeroGarden Bounty, the iDOO Indoor Garden Kit does not come with seed pods. We liked this as it allows you to choose the plants you'll grow. You don't have to repurchase seed from the manufacturer when you require more, either.
Other than seeds, this seven-plant kit has everything you need to start an indoor herb garden. The kit includes growing pods, plant food, and 24-Watt LED grow lights.
The system features three different lighting modes for different growing requirements. You can adjust the height of the lights as your plants grow. The lights turn on and off automatically, too.
The iDOO indoor hydroponic garden kit is equipped with an automatic water pump. The pump circulates the water, allowing oxygen to flow freely through the system.
All in all, we say the iDOO hydroponic garden starter kit is excellent for growing edible plants indoors. We chose to grow only basil and thyme in our test kit and these grew into healthy, robust plants within three weeks or so. With space for 12 plants, you, too, should be able to grow a thriving indoor garden with this product.
Best for Home and Office Decor
So, you want an aquarium and a small indoor garden but don't have space for both? The Back to the Roots Water Garden and Fish Tank provides the perfect solution. Using an aquaponics system, this kit is a self-cleaning fish tank that grows microgreens and wheatgrass.
Aquaponics combines hydroponics and aquaculture in a single ecosystem. This ancient farming system uses 90 percent less water than traditional agriculture.
The Back to the Roots indoor garden encapsulates the method by creating a mini-ecosystem with an aquarium. The kit is a self-cleaning three-gallon fish tank that grows organic vegetables on the top.
The self-cleaning system works perfectly. Fish waste fertilizes the plants. The plants help to clean the water for the fish.
The kit includes microgreen seeds, fish food, and a natural de-chlorinator to keep the water safe for fish. You also get wheat and basil seeds, a grow bed, a bag of gravel, and a submersible water pump. You'll find grows stones in the box, as well – an excellent growing medium for the plants.
Overall, we say the Back to the Roots Water Garden is a good purchase. Some might find feeding the fish a little tedious, given the design of the system.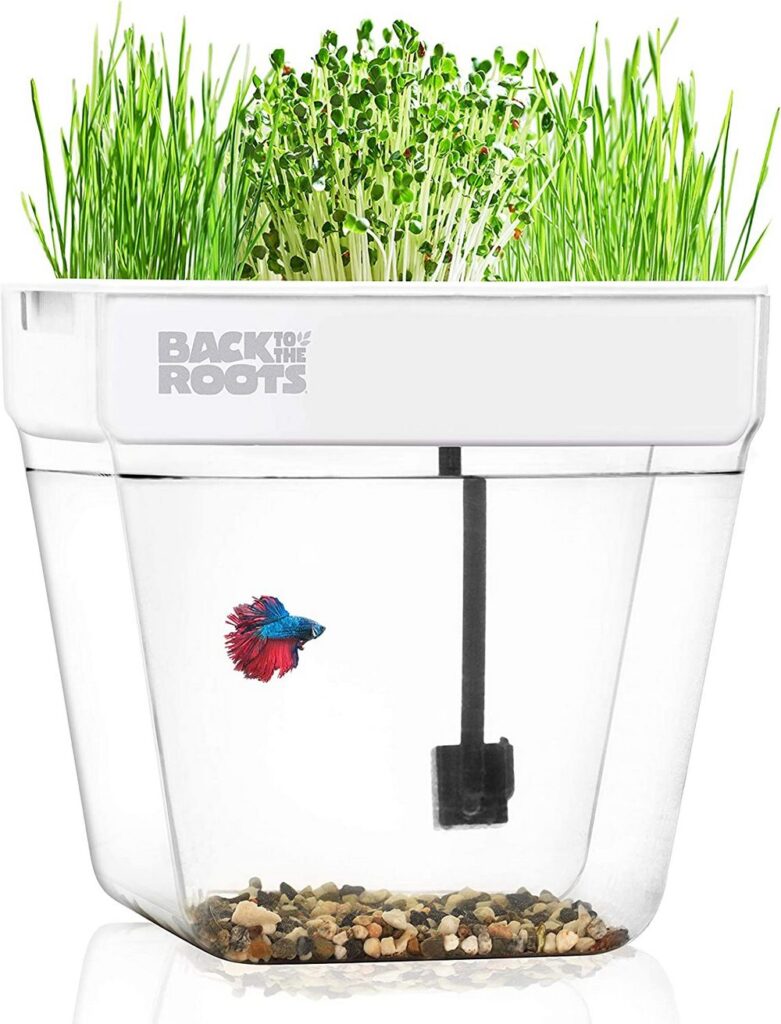 This is also the only kit on this list that doesn't guarantee a year-round supply of fresh herbs. (The kit doesn't come with grow lights.) But you do get a lot in return.
The water garden is clean, looks beautiful, and makes for wonderful decor for your home, kitchen, or office. You get fresh microgreens every two weeks or so during the growing season, too.
Wrapping it up…
Are you ready to grow a garden in your living room, kitchen, or office? As you can see, the right soil-less indoor garden kit equipment is readily available and quite reasonably priced. Better still, you can order and have it delivered without even leaving your home. You can be enjoying fresh, homegrown herbs in as little as three weeks!
---