Few household machines are subject to so much use and abuse as lawnmowers. We demand much of these machines even as we often ignore their maintenance. We put them to work all through spring and summer, and then again in the leaf-covered fall.
Yet many homeowners never as much as check the oil or change a spark plug on their machines throughout.
That's why it's important to select a mower with care and consideration. You want a machine that's tough, uncomplicated, and suited to your needs.
Most of today's lawnmowers will do an excellent job keeping your lawn trimmed. But that doesn't make choosing the right lawnmower an easy task. Today's mowers don't come cheap and they are built to offer specific benefits.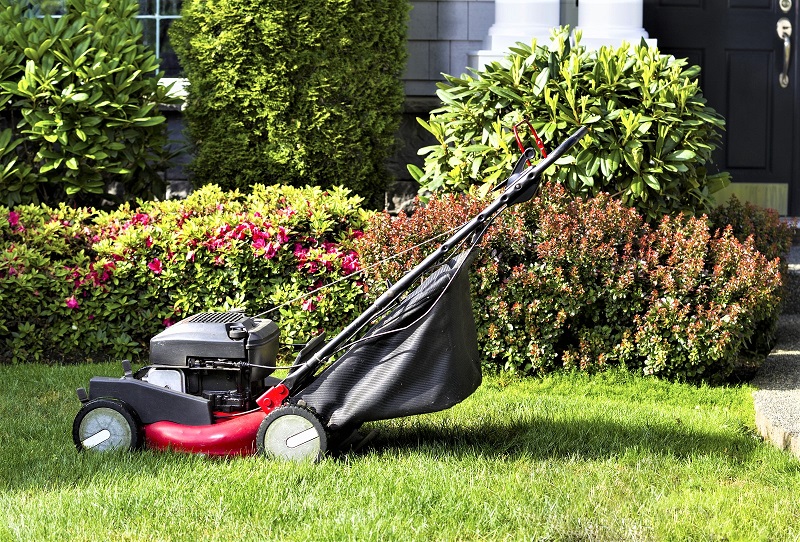 Choosing the Right Lawn Mower
Each type of mower has its pros and cons. Battery mowers are quieter than their gas engine counterparts. They don't need fuel and there's no exhaust.
Front-drive mowers are easy to maneuver but will not perform well uphill. Rear-drive mowers aren't as maneuverable but they'll cut uphill as well as they do on flat surfaces.
Consider what you need and shop with that in mind. We've assembled our picks for the best lawnmowers in the market right now to help you decide.
The Best Battery-Powered Lawn Mower
Mowing the lawn is a chore, but it's one you might enjoy with Greenworks 40V 20-inch Cordless Twin Force Lawn Mower. This particular Greenworks model stands apart from all other cordless mowers with its splendid dual-blade cutting and user-friendly interface.
The mower has a dual-stage safety feature so you avoid starting the machine by accident. You first press the button on the right handle to activate the batteries. That done, you hold down the safety bail handle to start the blades.
The GreenWorks Cordless Twin Force Mower has two separate cutting blades. They both rotate inwards and throw cut grass into the catcher in the rear of the machine. This makes for excellent mowing and mulching with a very clean cut across the entire cutting deck.
You can set the cutting height to 5 positions. These range from just under two inches to just above three inches. The mowing deck height is easy to adjust with the lever on the top of the mower. That said, we did experience a little difficulty when moving the lever upwards.
We noted that the handle height on the mower isn't adjustable, too. This means it might feel a little short for taller individuals, or too high for shorter people. We found this obvious design deficit odd considering the mower's price point.
The mower features an automatic battery switchover capability. The machine pulls power from only one battery when you start mowing. When that's depleted, it switches over to the second battery.
You can keep the mower running for about an hour and 15 minutes when you use the recommended 4.0Ah and 2.0Ah batteries. That's more than enough time to mow an average-sized suburban lawn.
The batteries come with a GreenWorks Li-Ion charger and a two-year warranty. The mower itself has a four-year warranty against defective parts and workmanship. That's more peace of mind than other companies can offer.
All in all, the GreenWorks 20-inch Twin Force is a good replacement for a conventional gas mower. This product has sufficient power, excellent mowing and mulching capabilities, and an adequate run time for most suburban yards.
This battery-powered mower does have minor drawbacks you wouldn't expect in any mower at its price point. But the machine's performance, maneuverability, balance, and overall convenience more than make up for its small failings.
The Best Gas-Powered Lawn Mower
The Craftsman M105 is a mid-range gas-powered mower with several good features for the price it commands. The mower is equipped with a 21-inch cutting deck that makes it suitable for both small and medium-sized lawns.
Setting up the M105 is quick and easy. Just attach the handle and the grass bag, add the oil and gas, and that's it. The pull cord rests halfway up the handle. There's no need to bend over to grab it each time you startup.
From there, you'll find that the M105 is among the easiest gas-powered mowers to start. The mower is powered by a 140cc Craftsman engine that's equipped with recoil and auto choke to prevent fussing.
But it's out in the yard where the M105 demonstrates its real worth. Once you put the machine to work, you'll find that its blade cuts clean and efficiently.
If you appreciate options, you'll like what Craftsman's engineers have put into this product. You can bag, side discharge, or mulch your clippings. Whatever the conditions or situation, whatever your needs, you'll find an option for them all.
Throughout, you'll find operating the Craftsman M105 easy and simple. We liked its user-friendly features, all of which help make using the machine a pleasure. Convenience is among this machine's selling points, from the easy-to-reach starter cord to the easy-to-use height adjustment levers.
However, we did find the grass bag on the M105 a bit small. This means you have to empty it more frequently. This, in turn, might mean you'll be spending a bit more time getting the job done.
If you're going to be using this mower on a small lawn, the size of the bag probably won't be an issue. But it's something that's worth noting if you have an extensive lawn.
The machine weighs a full 70 lbs., too, which some might find heavy. This is a push mower. There's no self-propel feature to help you move and maneuver it about your lawn.
Be that as it may, the Craftsman M105 is a good gas-powered option for all-around lawn maintenance and care. We like it.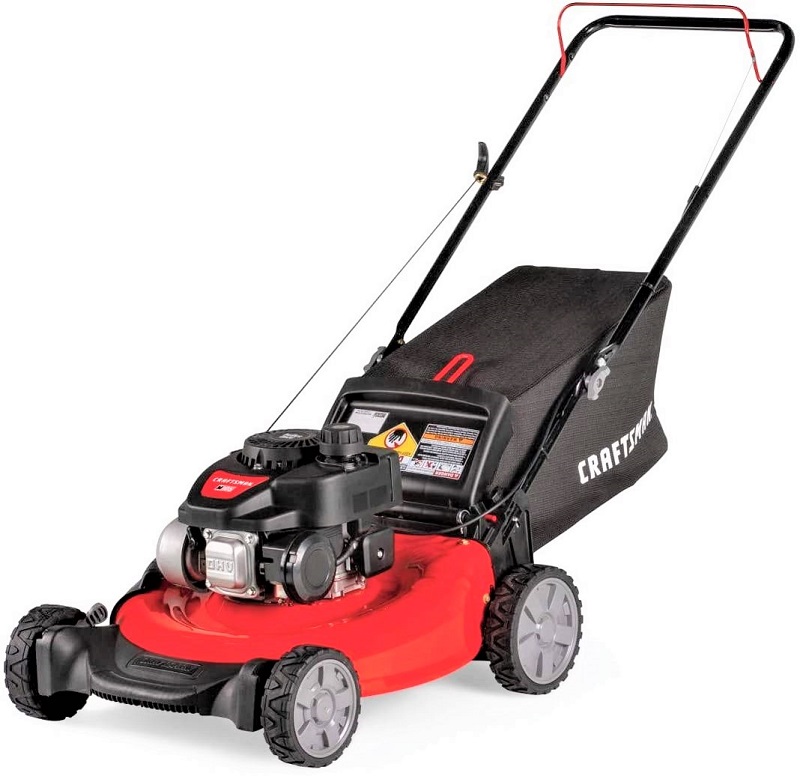 The Best Corded Mower
If you have easy access to an electrical socket in your yard, why not consider a corded electric mower? The Greenworks 25142 16-Inch 10 Amp Corded Electric Lawn Mower is one of the top-rated examples in its class.
This model from Greenworks is a low-cost option for small yards. Since it's corded, you do have to mind the cable which, in the case of the 25142, is 150 feet long.
The machine is relatively light at 37.5 lbs. and it comes with a cord lock in the handle. The lock prevents you from yanking the cord from the outlet when you move the mower around.
The 25142's electric starter works on a simple push-button and lever system. You won't have to bother with a cumbersome pull cord. The mower's high-quality 10-amp motor provides enough power for even the toughest of small lawns, as well.
This mower features a 16-inch cutting deck which should be enough for a small yard. You can use a lever to toggle through five cutting height adjustments. These range from 0.625" to 2.625".
The mower doesn't demand much by way of maintenance. You won't ever have to worry about having to sharpen the mower's blades on a bench grinder. You can just purchase the replacement blades. They are quite inexpensive.
The Greenworks 25142 even comes with a mulching attachment. But the 10 Amp motor might prove inadequate if you're cutting and mulching tall grass at the same time.
So, it's best to mow frequently if you want to mulch your grass clippings. Otherwise, the 25142 tends to leave small patches of uncut grass behind.
You might also notice that the rear wheels of this mower are bigger than its front wheels. The one-inch difference in diameter might be a minor problem in an extensive yard. Considering the 25142's 150-foot cord, this shouldn't be an issue at all.
What can be a problem is the cord itself. You might not notice it at all if your lawn is wide open. The cord lock on the handle will prevent accidental unplugging. But things won't be as easy if your yard has more complex landscaping.
If your yard has tall flowers or a tree, the GreenWorks 25142 cord might cause some frustration. Setting up pegs or shepherd's hooks at the edges of flower beds might help, though.
Our verdict? The GreenWorks 25142 performs well for the price it commands. It's lightweight, sturdy, and easy to maintain. We say this is your best option if you have a small, open lawn with easy access to an electrical outlet.
Best Manual Push Mower
If you're looking to buy a high-quality mower that's inexpensive and environment-friendly, consider American Lawn Mower 1204-14. That said, it's a manual push mower. This means you'll be putting in more work tending to your lawn than with a battery-or-gas-powered machine.
But taken on its own, there is much to like about this product. While it might not always provide a perfect cut, use the 1204-14 the right way and it will deliver.
The first thing to remember here is that the 1204-14 is designed for general maintenance. This means you'll need to mow more during the growing season to ensure optimum performance. Many users have reported that it doesn't do as well if you let the grass grow too long.
But it does offer advantages. For example, it requires little in the way of an initial setup. There's not much to do as it comes pre-assembled from the factory.
You just need to put the handle together and attach everything to the base of the mower. The locknuts have little plastic wings. You won't need tools to tighten them. The only implement you might need is a pair of pliers when you squeeze the c-clips into place.
Using it is even simpler. You won't have to bother with a grass catcher to transport to and from the compost pile. There is no start-up process. You don't have to worry about regular gas and oil checks, either. You just roll the 1204-14 out onto the lawn and start mowing. That's it.
The downside? The machine is prone to jamming. Most consumers say you'll be stopped dead in your tracks when dealing with thick weeds and long grass. That's why it's essential to mow your lawn more often when you use this mower.
You will also find that adjusting the cut height isn't a simple matter of toggling a lever. You will need a wrench and to remove some locknuts and bolts to move between the 3 height settings. These settings are limited to 1", 1.6", and 2.25".
But, all in all, this mower's good blade and simple design make it a worthy investment. We think it would be just the right tool for small city lots and lawns.
When buying a mower, keep in mind that they require regular maintenance work. This is the only way to ensure that they continue to function. In general, there is little difference between the maintenance of gas-powered and battery-powered mowers.
The former just requires gas tank refills while the latter needs batteries that are charged. Beyond this, all mowers need regular cleaning, lubrication, and a regular inspection of the blades.
You should consider the warranty when buying a mower, too. You need to be sure you're investing in a machine that commands the manufacturer's confidence. Do not spend money on a product that the maker will not guarantee.
A good lawn mower warranty is easy to reference. It should provide information about the length of time it covers the mower. There should also be information about any activities that nullify the parts and services contract.
---