PEOPLE have been cooking and curing with herbs for thousands of years. Surgeons traveling with the Roman army spread their herbal expertise throughout the Roman empire, bringing aromatic sprigs to Spain, Germany, France, and England. The ancient Chinese, Egyptians, Babylonians, and Native Americans were all herbalists.
Herbs are generous plants. Our long and genial relationship with them should suffice as proof. Not only do they reward small effort with great flavor, they are almost without exception fine-looking flora. Even the fussiest horticulturist would be happy to allow a grander space for them in the garden – if only herbs weren't so needed in the kitchen.
Gardening with Herbs
The robust, aromatic plants rarely demand much of the gardener, too. If you cook but don't garden, then herbs are the perfect excuse to start. A few chives and some thyme in a flowerbox below the kitchen window is a perfect introduction to the joys of 'growing your own.'
For more experienced gardeners, herbs inspire bolder incursions into the culinary world – perhaps even a more refined culinary style. A good gardener is a better cook.
Here are a few ways to arrange a place for herbs in your garden this summer.
Mix and Match
You do not need an elaborate plan to incorporate herbs into your garden's design. They are quite the neighborly bunch. You can always grow them in between other plants. They make fantastic space fillers and companion plants. Try planting sage around celery to help keep aphids away. Hyssop dissuades the white butterfly from brassicas like cabbages and Brussels sprouts. Basil will improve the flavor of your tomatoes.
Herbs are generally summer hardy, too. Over the summer, you can rest assured that basil, mint, rosemary, thyme, oregano, chives, and parsley will grow well together with little effort on your part.
If you want to try something novel, plant a cluster of Vietnamese mint, Thai basil, and lemongrass. These herbs are wonderful additions to Asian cooking and all three are quite tolerant of hot weather.
Some herbs like to take over the garden once planted. These include mint, lemongrass, and borage. To avoid a full-scale herbal invasion, plant these varieties in pots rather than garden beds.
Perfectly Potted
If you have never grown herbs before, then you will discover that proximity is of utmost importance in their rearing and habit. Plant them in pots and keep them by your kitchen door. Having them close at hand while you cook will encourage you to use them often.
The continuous snipping and nipping of the ends of their branches helps keep them bushy, ample, and vigorous. They quite enjoy the rough treatment.
Mediterranean herbs such as thyme, oregano, and lavender lend themselves particularly well to container growing. Because they have evolved to thrive in sun-drenched hillsides, they abhor cool, damp soils.
Containers are moveable, and mobility allows you to play at creating a Mediterranean terrain, fooling your plants into a state of lush contentment. Put the pots out in sun and let the plants bask a little this summer.
Hippy Swirls
Grizzled hippies will attest to a certain aesthetic to a permaculture garden. While the appeal might often involve far more flower-shaped beds and wishing trees than you'd want in your backyard, its logic is often undeniable. The permaculturists' herb spiral is a well-ordered planting method that allows you to grow herbs with different requirements into one small area, convenient for picking.
By creating a gently sloping swirl of soil peaking at the center, you develop three different growing conditions: well-drained and sun-drenched at the top, moist yet sunny on one side, moist and shady on the other.
Constructing a small wildlife pond at the base will keep the soil moist and also provide a home for frogs, which devour chive-chomping slugs.
If you want to raise herbs with even less work than usual, endeavor an herb spiral with an eye toward simplicity. Just build the walls of your spiral with stones or upright logs, fill in with compost, and plant.
Princely Parterres
You can build on the sheer beauty of herbs in a formal parterre, which will suit a small urban garden just as well as a palatial countryside rockery. Claude Mollet – principal gardener to three French kings – first designed the parterre to be viewed from the drawing rooms of grand palaces. You will achieve the same effect with an herb parterre that can be viewed from your patio or your bedroom.
The general idea is a formal garden constructed on a level substrate, consisting of plant beds in symmetrical patterns. In the old days, the spaces in between were devoted to bedding plants for blocks of color, but you can just as well fill those spaces with herbs.
You could opt for a simple quadrant of hedged squares to fill with four different herbs. Or, alternately, you can construct a parterre based on a more complex knot design to create formal spaces for a variety of herbs.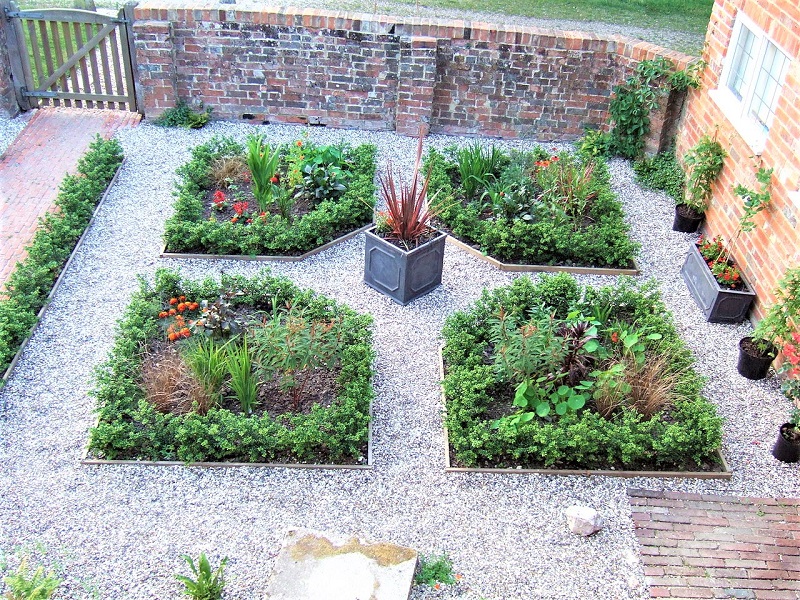 Are you ready to use herbs in your summer garden's design?
---