The garden is blooming. You have swept away the season's debris. Cleared the flowerbeds of weeds. You have mown the lawn, arranged the containers, put the beer in the chiller. You've checked the barbecue and you are sure it is working. You know that you have enough fuel to cook the steaks, as well.
Everything is in good order, but there is one more task you need to accomplish before your backyard is ready for guests. Your garden furniture needs cleaning.
Whether the furniture is wicker, wood, plastic, or metal, the initial steps are always the same. Brush or vacuum off loose debris and wash the surfaces with soapy water. Then, rinse thoroughly with a hose equipped with a nozzle.
How to Clean Outdoor Furniture
If you need a cleaning solution that will work on any material, mix a 1/4 cup of clear dishwashing liquid in a gallon of water. Warm water removes grime better than cold water.
Make sure the water is not too hot, though. Many manufacturers of outdoor fabrics warn against using anything hotter than 100 degrees.
Never use a power washer on your patio furniture, either. The high-pressure water might save you time and effort, yes. But all it takes is a single, tiny nick in the finish and that jet of pressurized water can start a ruinous chipping process.
Cleaning Plastic Furniture
If the standard cleaning with dishwashing soap and water still leaves plastic furniture looking grimy, put on rubber gloves and clean again. This time, add two tablespoons of oxygen bleach for each gallon of water in your all-purpose cleaning solution.
Dishwasher detergent and oxygen bleach contain sodium percarbonate. The chemical reacts in water to form hydrogen peroxide, a bleach, and sodium carbonate, also known as soda ash.
Rinse your furniture thoroughly once you are done cleaning them with this second solution. You can wipe off residual mildew stains with a sponge dipped in a gallon of water mixed with a cup of bleach. Rinse and allow to dry.
Once you are satisfied, polish the pieces with car wax. The resulting glossy surface will not only repel dirt, but also make the pieces easier to clean.
Cleaning Wicker Furniture
These days, many manufacturers use synthetic materials like vinyl to produce imitation wicker furniture. Traditional wicker is made from natural materials. You can clean both with a sponge or a rag and the earlier described all-purpose cleaning solution. If you spot loose strands of wicker, tuck them back in. Cleaning is the time for such repairs. Natural wicker is more pliable when damp.
However, if you notice big sections of your wicker furniture coming loose, then you might need to call a professional for the repairs. You can also repaint natural wicker to refresh its look or change its color. Use standard exterior paint for this.
If you simply want to re-touch the existing paint, you can probably order matching paint through the store from which you purchased the furniture.
Cleaning Wood Furniture
For outdoor furniture made of wood, use a scrub pad during the initial cleaning. If your furniture is made of cedar or other soft wood, scrub only in the direction of the wood grain. If basic cleaning does not yield a satisfactory outcome, you can start again using the dishwasher detergent or oxygen bleach mixture. Rinse and let the furniture dry.
If the wood finish has grown rough over time, sand the ridges smooth with medium-grit sandpaper or a sanding sponge. Be sure you sand in the direction of the wood grain.
You can let wood weather naturally or add color by applying an oil or wood stain. Use a stain that protects cedar and other soft wood against the sun's ultraviolet rays. Ultraviolet rays gradually break down wood fibers.
While a coat of paint will also protect against ultraviolet rays, it is likely to peel if the furniture is regularly left out in the rain. Wood stain does not peel.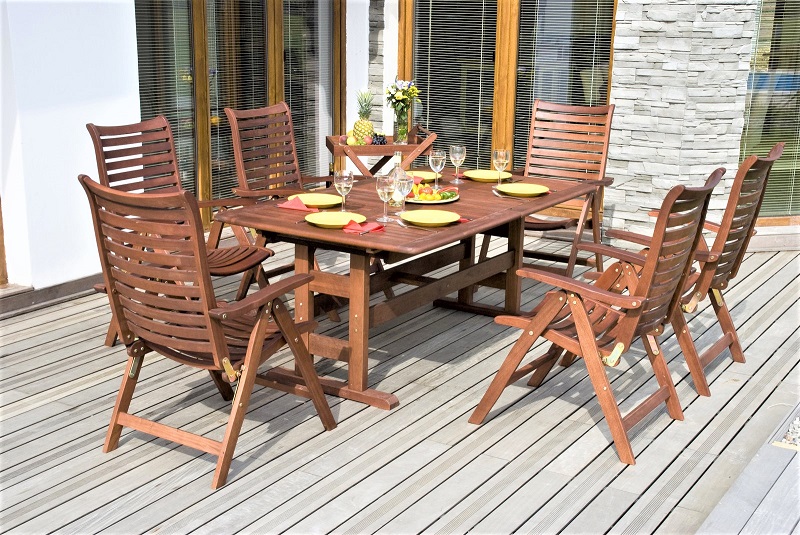 Cleaning Metal Furniture
Most metal outdoor furniture is painted to prevent rust, but manufacturers will sometimes produce unpainted stainless steel and aluminum pieces. Be on the lookout for rust while cleaning, especially at joints. Painted metal will eventually rust. Even stainless steel will rust after a while. Aluminum corrodes but will not rust.
If you spot rust on your painted metal furniture, sand the affected section to bare metal using steel wool or sandpaper. As with wicker, find matching paint from the shop that sold you the furniture.
Obviously, you will not have to do the same with unpainted stainless steel. In this case, note the fine brush marks in the original finish of the steel and sand in the same direction.
Repainting Metal Furniture
You can repaint the metal furniture yourself. But for best results, entrust the task to a company equipped for powder coating, which allows a finer, more durable finish. Should you decide to repaint on your own, scrub the existing finish down with steel wool. That is, unless you suspect the paint is so old that it might contain lead. If that is the case, use an etching product sold at paint stores, instead.
You do not need to use a primer on the existing paint, but do spot-prime any bare metal with an oil-based primer. For a new finish, consider using an alkyd paint. Water-based finishes work but are not as long-lasting.
Cleaning Fabric Covers and Slings
Furniture manufacturers sometimes use cotton canvas or some other thick, natural material to make outdoor cushions, slings, seat covers, and umbrella covers. Most of the time, however, they will use synthetic fabrics such as acrylic, vinyl, or polyester. If the manufacturer's care tag is still attached, follow the cleaning instructions.
If you are unsure as to the material of the fabric, a basic cleaning with soapy, lukewarm water is always safe. If the pieces are removable, you can throw them into a washing machine and set the cycle for a gentle wash. Do not use a dryer on the fabric pieces.
Fasten the slings and covers onto the cushions while they are still damp. They will stretch to fit as they dry.
Removing Stubborn Stains from Fabric
Check the care label to determine whether you can use chlorine bleach to eliminate insistent fabric stains. Otherwise, you can test by using one tablespoon of bleach mixed into a cup of water. Apply the solution onto a discreet area of the stain.
If the bleach-water mixture cleans the area without damaging the color or texture of the fabric, then mix a bigger batch of the cleaning fluid. Mix one cup of bleach into a gallon of water and use the solution to remove the stain entirely.
Outdoor cushions should have filling that resists mildew. Still, it is advisable to dry them as quickly as possible after washing. If the covers have zippers, experts recommend opening the zipper and drying the cushion with the zipper side down. This should allow water to drain more freely.
No gardener worth his salt will allow his guests to sit on a grimy patio chair or eat newly-harvested vegetables at a dirty table. Routine cleaning is key to keeping your garden furniture in pristine condition. You can brighten and protect your outdoor furniture with the easy cleaning strategies we have outlined above.
---