If you live in Europe, China, or the United States, then you are likely to see wild chicory flowers in full bloom soon. Wild chicory will grow just about anywhere and the flowers are impossible to miss. Bunched in roadside clusters, the blossoms are among the most striking in the bright summer landscape. The individual flowers are as big as silver dollars, blue as the July sky.
The famously bitter radicchio of Italian cuisine is actually a variety of this perennial wild plant, although you would never guess that by their appearance. There are three main forms of radicchio: ball-headed, which are cabbage-shaped; upright forms, which have pointed leaves; and closed-head radicchios, which look more like lettuce.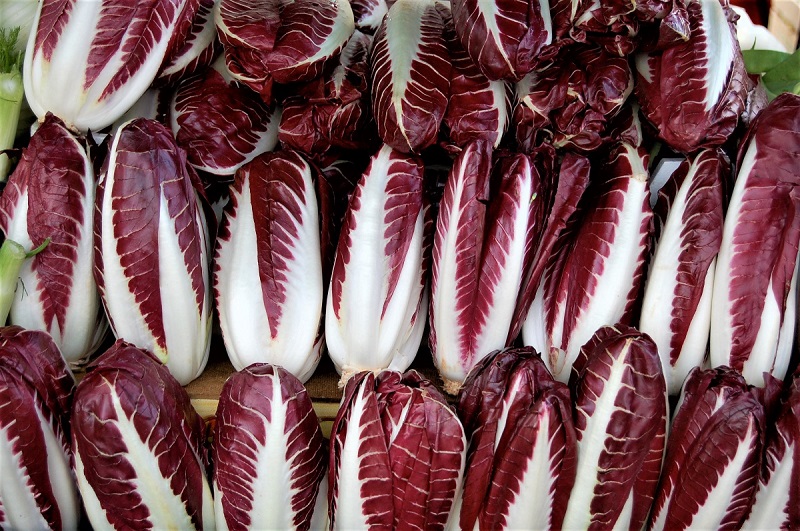 How to Grow Radicchio from Seeds
Radicchio will flourish in a sunny, well-prepared garden bed with moist, moderately fertile soil. You can sow radicchio seeds in early spring, about two to three weeks before the last frost. But you can also sow in mid-summer for a fall harvest.
Sow radicchio seeds evenly in rows that are 12 inches apart. Cover the seeds with about a quarter-inch of fine soil. Tamp the soil down lightly over the seeds and gently water the planting bed.
Radicchio seedlings should emerge within a week or two of planting, depending on soil and weather conditions. You can begin thinning each row when the seedlings are three inches high. Thin your radicchio patch gradually, leaving only the strongest of the young plants standing 12 inches apart.
Care and Maintenance
Keep weeds in check by laying a sheet of black plastic around the planting beds during the growing season. Weeds compete with vegetable plants for water, space, and nutrients. Be careful when weeding around the vegetables. Radicchio is shallow-rooted.
Keep the plants well-watered during dry periods to promote rapid, uninterrupted growth. Radicchio requires an inch of water each week. If possible, use drip or trickle irrigation system that delivers water at low pressure at the soil level.
If you water with overhead sprinklers, do so early in the day. This will allow enough time for the foliage to dry before evening. Keep the soil moist but not saturated.
While radicchio is rarely bothered by pests and diseases, check your patch on a regular basis. If need be, consult your local extension service for the best natural pest and disease control methods in your area.
Harvesting Radicchio
You can harvest individual radicchio leaves any time once the plant is well-established. If you want to harvest full radicchio heads, do so when they are firm to touch. That will usually be the case around 65 days after sowing. The older the head, the more bitter the flavor.
If fresh radicchio is too bitter for your taste, try harvesting the heads after a frost. The cold tends to sweeten their flavor.
For those who do not mind its gently bitter taste, radicchio is an excellent substitute for lettuce in salads. You can also sauté or steam the leaves. Grilling sweetens the taste of the vegetable, as well.
Are you ready to grow your own radicchio?
---