Last Updated on
The phrase "small is beautiful" will almost certainly come to mind when one is confronted with the challenge of designing a garden for a compact space. The small space may already exist as an area separated by paths, natural curves in the yard, or perhaps a little alcove.
You can also create this singular location by using terracing or existing steps to develop elevation changes. You can employ a fountain or pergola, or a few decorative pots.
Designing a Small Garden
Small gardens can be as tiny as 2 feet by 2 feet, or it can be the size of your patio or balcony. The garden can be bounded a brick wall, a wood fence, a line of shrubs, a hedge of flowers, or a wire fence dripping with vines. In short, it is any area you have built into a miniature version of paradise.
There are a number of ways to achieve the objective and so it is pointless to argue that there is a single right way. But below are a few tried-and-tested design ideas for backyard miniature marvels that may work for you.
1. Install a water feature.
You can turn an otherwise nondescript little space into an oasis with a cunning water feature. This could be a small pond you make yourself using a liner, a bubbling gravel fountain, or a large raised fountain. You can set up a water feature with descending pools, densely planted, and with little aquatic touches such as ceramic frogs and snails.
There is no limit to what you can do. Ultimately, however, you will have to answer three critical questions. Will the water be stationary or moving? Will you use terrestrial or aquatic plants – or both? Will your water feature involve real fish?
2. Establish a sitting spot.
Do not imagine you can give all your space, which is small to begin with, to plants. From the outset, allow space for sitting, and resign yourself to the work of paving it. What good would your garden be without a place to sit and enjoy your handiwork?
Many experts argue that the best pavement is brick. Cut stone is almost as good and a good bit more costly, and wood is rarely truly rot-free, as good-looking, or as cheap as you might imagine.
3. Create a dry gulch garden.
Dry gardens are all the rage these days. This hauntingly beautiful design idea starts with an assortment of small stones – pulverized pieces of terra-cotta or ceramic pottery, even small pieces of tumbled glass. These should form the dry riverbed itself. Create a subtle elevation change and a curved direction, both meant to suggest a dried-up creek bed.
As for plants, start with the prominent denizens: two or four larger aloes, agaves, echeverias, or yuccas. The succulents might include diminutive sedums, tiny cacti, and dwarf aloes.
4. Build a single, strategic walkway.
What about walkways, you ask? Try not to have too many is the consensus among experts. Of course, you'll need one when you carry the garbage out or get to the car, or simply to get to the back of the garden. But err always on the side of too few pathways rather than too many. One is enough for most small gardens.
There may be some compelling reason why this walk should not be straight. But in general, make the path straight and at least four feet wide. Again, experts recommend concrete or brick. And it should look good. Whatever you do, do not make it look like a common sidewalk.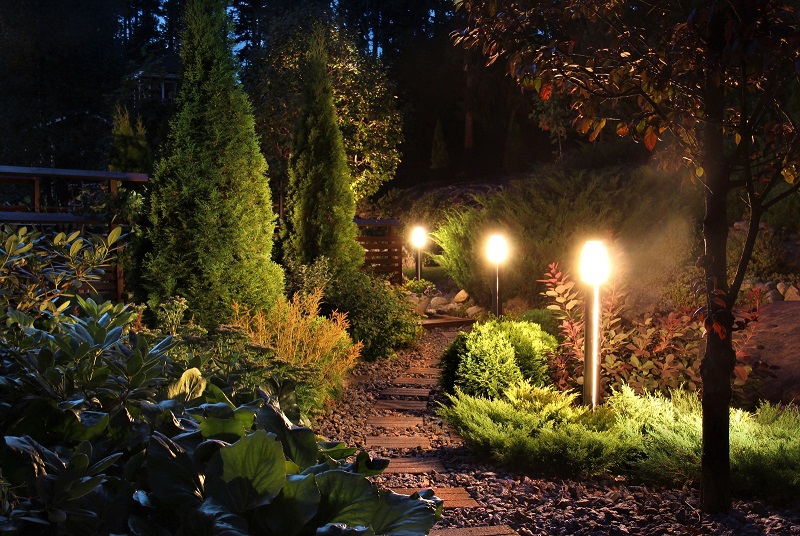 5. Think vertically.
You can use any vertical wall space to make the most of a limited area. The simple addition of horizontal fence panels, hooks, and shelves can turn the side of a shed into a thriving, living wall. The same could occupy a section of bare fence or the side of a balcony. Any of these small outdoor spaces can be transformed into a vertical garden for small plant pots and hanging baskets.
6. Grow a container garden.
You don't need a lawn or even flower beds to create a lush garden. Given spatial limitations, a large selection of plants may seem unlikely. But the simple addition of pots, filled with everything from the tiniest flowering plants to tall and bushy trees, will create the illusion of grand diversity. Finish off with some gravel flooring and garden furniture and you'll have the perfect spot to enjoy a summer's day.
7. Create a child's garden.
The right bit of quirkiness and some art are perfect complements for a small garden for children. Most children love friendly insects, too. Butterflies are a favorite for nearly every child. To encourage these pollinators, grow African daisies, calendula, and yarrow. Invite the sense of touch with the "dried" flowers of sea lavender or furry lamb's ear.
If you choose to take this route, make sure you include a few curiosity plants. The dolphin plant and Asclepias physocarpa, the so-called Family Jewels bush, are excellent selections for their unusual, fun aspect.
Creating a Small Garden
Small gardens may require a little more thought and planning than larger spaces, but you can convert even the tiniest area into an elegant outdoor retreat. Small gardens do have their advantages, as well. The most obvious being that they are wonderfully low-maintenance.
They are also great spaces for creativity. Even the smallest additions, from colorful cushions, to subtle changes in elevation, to stylish garden lighting, will have an almost theatrical effect.
Small gardens do not have to be limited by their size. In fact, the trick to designing a fabulous small garden is in thinking big.