You might think that living in an apartment with little or no outdoor space means you cannot grow your own food. But the fact is, you don't need a backyard to raise vegetables
You can grow a number of vegetables indoors. With the right materials and know-how, you can raise salad greens, scallions, peppers, tomatoes, and even potatoes in your apartment.
Yes, you can grow your own spuds indoors. All you will need are a 2.5-gallon container, potting mix, seed potatoes you can buy online, and a sunny window sill.
Starting Your Indoor Potato Crop
The easiest, quickest way to start growing potatoes indoors is to select potatoes that have already sprouted. This means your seed potatoes should have at least one eye – preferably more – with a protruding sprout.
If your potatoes have not yet sprouted, you can chit them yourself. Chitting is the process of preparing potatoes for planting.
To chit your potatoes, find the eye of the tuber that looks most promising. This is usually one that has already begun a tiny sprout. With this part facing up, place each potato in an appropriate container – an egg carton will do.
Keep your potatoes near a window with natural light and watch the sprouts grow over the next few days or weeks.
Preparing Seed Potatoes for Planting
Once your potatoes have sprouted, you need to ensure that they are of a size for planting. If your potatoes are about two inches or less in diameter, you can plant them whole. If not, they'll need to be cut.
In the case of the latter, cut each potato into 2-inch chunks. Make sure that each piece has at least one or two sprouts. You should then store the pieces at room temperature for two to three days to allow them to heal.
Choosing Containers
Use the time to gather potting mix and containers. Outdoors, you can grow potatoes in just about any container. But since you are growing your spuds indoors, you'll need a container that permits the best growing conditions possible.
That's not to say that spuds are choosy about containers. You can use a gardening pot, a plastic bucket, or even a bag of fertilizer.
Just make sure your container is several inches tall and has at least a 2.5-gallon capacity. If you plant your potatoes in anything smaller, you will likely harvest small – or few – potatoes.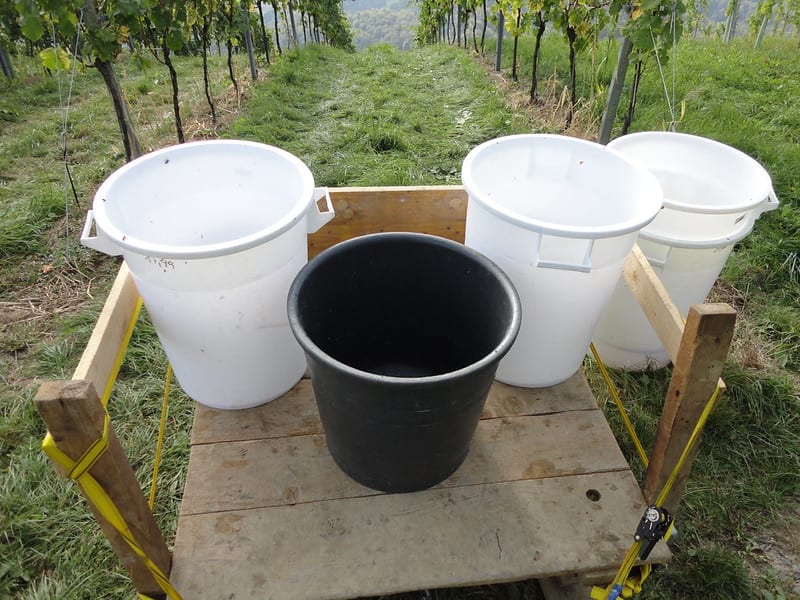 Preparing the Medium
Drainage and soil condition are important. Potatoes do not thrive in soggy soil. If your container does not have drainage holes at the bottom, poke or drill a few holes through.
To further ensure adequate drainage, pour a three-to-four-inch layer of gritty soil or small pebbles into the bottom of your container. Then, fill the rest of the container with potting mix to within a few inches of the rim.
If you have a more alkaline than acidic soil, consider adding sulfur to the mixture. Sulfur helps potatoes feed more efficiently.
Planting Your Seed Potatoes
If you have a wide container, you can place two or three potatoes on top of the soil. Each potato should have its sprouting end facing up. If you have smaller containers, plant one potato in each.
Each potato should have its most productive sprout facing upwards. Cover each potato with about two more inches of loose soil. Water the soil until it's sufficiently moist – not soggy. Again, you do not want to drench your seed potatoes.
Caring for Potato Plants
Caring for your potato plants is simply a matter of ensuring them adequate sunshine and water. Place your containers in a sunny windowsill or in a corner of your apartment that receives full sun several hours each day.
The plants will not need frequent watering, but you should provide them with a consistent supply of water by keeping the soil moist.
Check on the soil every two to three days, maintaining proper soil moisture throughout. You can add a post-planting organic fertilizer to your soil for added nutrients to aid growth. If you decide to do so, dilute your fertilizer, as potatoes don't need much to boost growth.
Hilling the Soil
Your potatoes will grow, and you'll need to add more soil as they do. The process of adding soil is called hilling and there is a simple method to it. Just create a mound of soil up and around the stalk of the potato plant.
The hilling process keeps your potatoes under the soil, protected from exposure to light. Continue to do this as your plant grows. You should have a mound of soil about six inches high by the time your spuds are ready for harvest.
Harvesting Your Potatoes
The tubers will usually be ready for harvest once the leaves of plants turn yellow. You can also wait until the plants die off completely to ensure maximum growth of the spuds.
To check for the maturity of the tubers, rub your thumb gently against the skin of one potato. If the skin stays firmly in place, your potatoes are ready for harvest.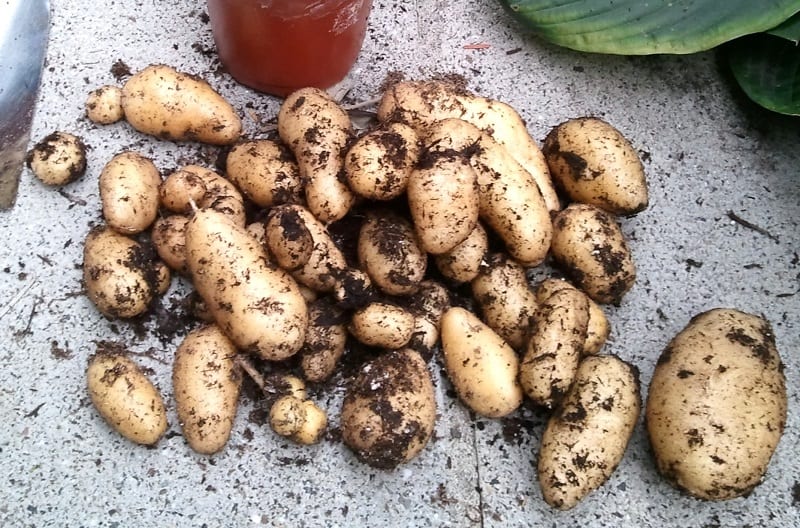 To harvest your potatoes, gently pull the plant from the container. Pull off each spud from the plant. Brush off the soil from the tubers and allow them to dry in the sun for a few hours before cleaning and cooking.
Are you ready to grow potatoes in your apartment? Give it a try and tell us about your experience here.