"Call a spade a spade," goes the idiom borrowed from the poker table. Yet many still insist on calling a spade a shovel – or is it the other way around?
One of the charming peculiarities of the English language is that it permits a good deal of chaos here and there. Many respectable lexicons ascribe equivalent definitions to the nouns "spade" and "shovel."
For some people there's no practical difference between a spade and shovel. They're both garden tools we use for digging.
But then "Everything looks like a nail to someone holding a hammer," says another idiom.
What's the Difference?
The fact is, for the discerning gardener, a spade and a shovel are as different as a pen and a pencil. Each has its proper use and is a better tool for certain tasks.
What's the difference and which do you use for what tasks in the garden? We'll try to explain here as best as we can.
Blade Shape and Angle
You will spot the most obvious differences between the two tools when you lean them against a wall next to each other. A spade is usually shorter and has a flat blade. Meanwhile, a shovel is longer, angled, and its blade is curved into the approximate shape of a scoop.
You may also notice that a spade tends to be straighter than a shovel from handle to blade tip. The shovel blade is usually angled forward, the spade blade is not.
Different Functions
That angle accounts for the biggest difference in functionality between the two tools. The angled shovel blade makes it efficient for digging.
You can also use the straighter spade for digging, of course. But the spade is more properly used for slicing through and lifting sod, skimming weeds, edging lawns and bed, and excavating straight-sided holes or trenches.
Handles and Material
The shovel's longer handle, or shaft, provides greater leverage and is useful for heavier work. You'd use a shovel to dig through roots and tough, compacted ground. The spade's shorter handle allows greater control and precision. That is why it's the better tool for planting or digging up bulbs.
Because spades are used for breaking ground, they need to be sturdy. A spade will almost always consist of a heavy steel blade with a wood or steel handle.
When used properly, shovels are under less stress. That's why manufacturers sometimes get away with shovels made from thinner steel – in some cases even plastic.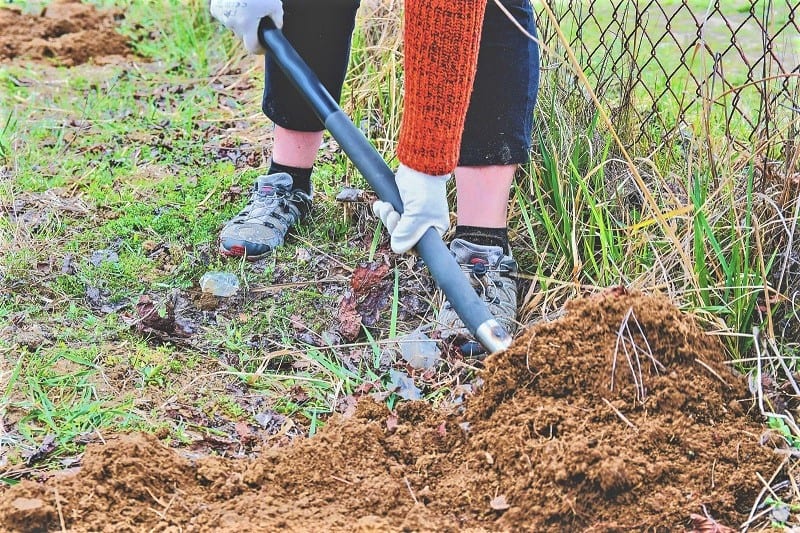 How to Use Spades and Shovels
First off, when working with digging tools, be sure to wear suitable footwear. You are likely to hurt yourself otherwise. Kick those flip-flops off and pull your gardening boots on.
For both spades and shovels, the basic technique is to insert the blade into the ground. You do this by using one foot to push down on the ledge at the top of the blade. This part of the blade is appropriately called the "step."
Shovels should be inserted into the ground at an angle, pushed slightly forward. You should push a spade into the ground vertically to create a straight edge.
The Right Tool for the Right Job
Of course, the reality is that you could do the job of a spade or shovel with either tool. You could probably drive a small nail home with the butt of your screwdriver, too. But a job is always easier, quicker, and less complicated when you use the right tool.
That's it. We hope we've cleared at least some basic differences between shovels and spades for you. Keep those points in mind next time you shop for either tool for your garden.