The experienced gardener will tell you that cover crops are an essential component of soil care. Farmers have used cover crops to suppress weeds, manage soil erosion, improve soil fertility, control pests, and encourage biodiversity in their farms for centuries.
You can use a wide variety of legumes, grasses, and herbs as cover crops, but for sheer versatility, borage is probably among the best.
Chances are, you are already familiar with the herbaceous plant, which festoons summer gardens with bright blue, star-shaped flowers that taste like cucumbers.
The leaves and flowers are cool and fresh-tasting with a slight saltiness. Gourmet chefs add borage to green salads and use the stems and leaves for flavoring.
Growing Borage as a Cover Crop
Borage is among the first to greet the arrival of spring in the garden, where its wide leaves act like a living mulch. When planted over bare ground, the leaves also work against runoff and erosion where spring rains would otherwise wash the soil away.
To grow borage as a cover crop, interplant your main edible crops with the annual herb. If and when your main crops spread and require more room, you can remove borage before maturity and add it to your compost.
Planting Borage Seeds
Borage is best planted from seed in the garden after the last spring frost. Sow the seeds in moist, well-draining soil rich in organic matter. The herb will thrive in full sun but will also tolerate a bit of shade.
To ensure a vigorous crop, add aged compost to the planting bed and turn it under to a depth of around 12 inches before planting. Borage will grow in poor or alkaline soil as long as it is well-draining. Borage prefers a soil pH of 6.0 to 7.0.
Plant the small, black seeds about ¼ to ½ inch beneath the surface of the soil. The seeds require some soil cover to germinate. Thin the seedlings 18 to 24 inches apart once they are 6 to 8 inches tall. You'll need about the same amount of space between rows.
Caring for Borage Plants
Your borage plants will require even and regular watering until they are established. Once established, you can allow the soil to dry out between waterings.
You will not need to fertilize the planting bed regularly. Too much nitrogen will discourage blooms. If you must, then fertilize with compost tea or a dilute solution of fish emulsion to give flowering plants a boost.
Put down a layer of mulch around the plants to keep foliage off of the ground, where they may rot. Start regular pruning once the plants are 6 inches tall. Pruning will encourage bushiness. You can prune back borage by one-half in midsummer. This will encourage new leaves for a late summer harvest.
Keep the planting beds well-weeded. Taller plants may require staking or support. You should pinch off faded flowers from the plants to prolong blooming.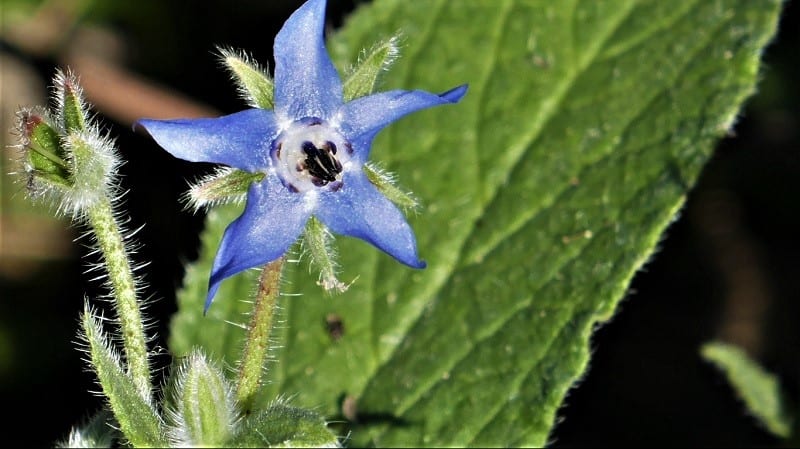 Harvesting Borage for the Kitchen
You can snip fresh, young leaves with a pair of scissors in spring and summer as needed. Harvest young leaves before they develop bristly hairs. Older leaves can be coarse. You can harvest the edible flowers as soon as they open.
In the kitchen, use young borage leaves raw, steamed, or sautéed in butter with a pinch of salt and pepper. When steamed, you can eat the young leaves as a vegetable. The furry coating disappears when the leaves are steamed.
Mince young leaves in yogurt or over soups, chicken dishes, curries, salads, and fish. You can enhance cheese, fish, poultry, eggs, green salads, ice beverages, and salad dressings with minced young borage leaves.
Be careful not to consume mature borage leaves, though, as they can be toxic when ingested in large quantities.