If the recent seed shortage brought on by the pandemic tells us anything, it's that the age-old practice of saving seeds is due for a revival. In the old days, you set aside a patch of tomatoes, peppers, or carrots and let them flower and seed. This is not only how you obtained seed for the next season, but it is also how you ensured a consistent crop year after year.
By perpetuating the best peppers or the most flavorful tomato or that vine that produced the most beans last year, you could select for good traits. The practice may sound like extra work, but it ensures a reliably strong crop and more than a few dollars in savings.
How to Harvest Seeds from Your Vegetable Garden
If you intend to establish a sustainable seed stash, one you can rely on season after season, you should only save seeds from open-pollinated varieties. Do not attempt to save seeds from F1 hybrid plants as these will yield inconsistent crops that sometimes do not produce seeds at all.
Open pollinated vegetable varieties are often heirloom seed varieties that have naturally evolved to thrive under local conditions. They produce crops with traits similar to those of the parent plant.
If you have never saved seeds before, then we suggest that you start with the easiest: tomatoes, peas, beans, lettuce, and peppers.
Harvesting Pepper Seeds
When harvesting pepper seeds, be sure to choose fruit from the most vigorous plant that yields the best-tasting fruits. Allow the chosen fruit to remain on the plant until it becomes completely ripe and begins to wrinkle. Then, remove the seeds from the peppers and spread them out on paper towels to dry. Once fully dry, store the seeds in an envelope in a cool, dry place.
Harvesting Lettuce Seeds
The leafy lettuce acquires a bitter taste once it starts to bolt, so grow a separate seed patch. Lettuce flowers in clusters, and not all at once. The flowers open briefly, close, then reopen as fluffy seed heads similar to dandelions. When over half of the stalk has fluff, cut and bring indoors.
The seeds will fall out when you break apart the flower heads. Lettuce seeds are small, flat and oval shaped. They can vary in color from dark gray-brown to almost white. Allow the seeds to dry in a paper bag stored in a cool, well-ventilated area.
Harvesting Tomato Seeds
Fully ripe disease-free tomatoes are the best candidates for saving. You can harvest tomato seeds by scooping out the seeds and pulp and letting them sit in a jar of water. The seeds will separate from the pulp and sink to the bottom after a few days. Once that happens, pour the liquid away and rinse the seeds. Leave them to dry on a paper towel and, when fully dry, store in an envelope in a cool, dry place.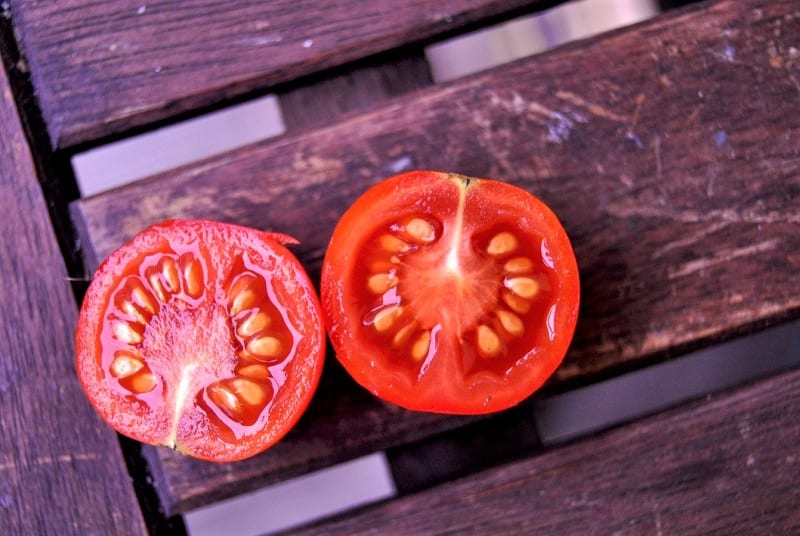 Harvesting Bean and Pea Seeds
To harvest bean and pea seeds, allow the pods to fully mature on the vine. The pods will start to dry and turn brown after a while. Sometimes the seeds will even rattle around inside the pod, which is an indication that they're ready to be harvested. When that happens, remove the pods from the plant and spread them on a tray indoors to dry. Let them sit for at least two weeks before shelling. You can also wait until you are ready to sow before shelling the pods the following spring.
Seed Storage Advice
Store your seed envelopes in an airtight container. Be sure to keep the container in a dry place above ground level to prevent moisture from spoiling the seeds. Raising your seed stash above the ground will also help discourage all but the most determined mice from eating your seeds.
Remember to label your seed envelopes correctly. Include the name, variety, and date you collected them. Not only does this ensure that you know which seeds you are sowing, it also allows you to accomplish an accurate evaluation of your seed-saving project when necessary.
When properly stored, good seeds will remain viable for at least one year and, depending on the plant, may even last two to five years.