While many associate sweet potatoes with warmer regions, the sweet, starchy root vegetable will grow in just about any garden. The plants require four months of warm temperatures to develop full-size tubers but they are surprisingly easy to grow.
Since the vines sprout roots wherever they touch the ground, just a few plants can produce an abundant harvest. There are also bush varieties for smaller gardens.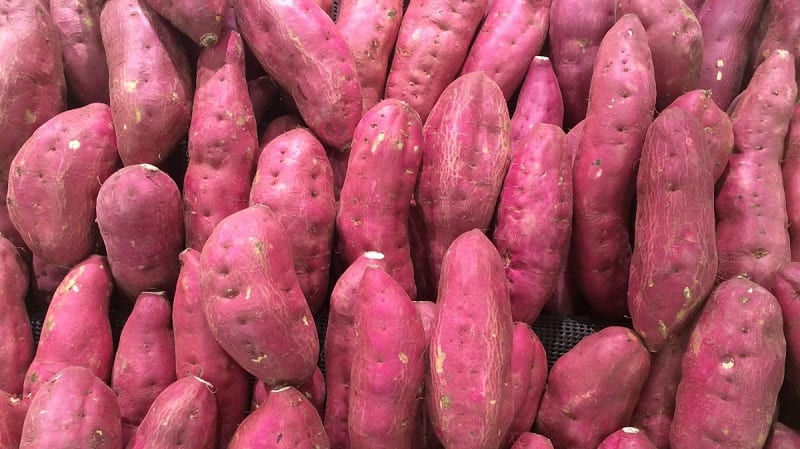 Growing Sweet Potatoes
Sweet potatoes provide a wealth of important nutrients. They contain a good amount of fiber as well as vitamin A, vitamin C, manganese, and several other vitamins and minerals. They make for excellent eating.
Here's how to grow sweet potatoes in your backyard:
Starting Sweet Potatoes from Slips
You can start sweet potatoes from slips, which are sprouts from stored tubers. You can buy slips from garden centers, nurseries, or local farmers.
You can create your own slips by slicing a sweet potato in half lengthwise. Place the halves on a bed of damp potting soil. Cover the pieces with a few inches of soil, taking care to keep them moist and warm.
You can also grow slips in a glass jar of water. You want half of the sweet potato under water. The submerged part will grow roots and the part above water will grow sprouts.
If your sweet potato is too skinny you can use toothpicks to keep it from falling right down into the jar of water.
Small roots should develop within a few days. These will be followed by leaves. The slips are ready to be lifted and planted once they are between 4 and 8 inches tall.
Keep them in a sunny indoor spot until outdoor temperatures are warm enough for planting.
You should not attempt to plant sweet potatoes outdoors until the temperature of the soil has warmed to above 15°C. The plants will also need an air growing temperature of around 18.3°C to 35°C.
Planting Sweet Potatoes
Plant your sweet potatoes in warm soil that is rich in organic matter about a month after the last spring frost. The plants prefer full sun but will need some afternoon shade in hot, dry regions.
Experienced gardeners plant sweet potatoes in raised rows, about 8 inches high. This not only helps warm the soil faster but also facilitates good drainage.
Space plants about 12 to 18 inches apart. Permit a space of about 3 to 4 feet between rows. The vines will spread. Give them plenty of room. If you are gardening in a cooler climate, spread black plastic on the soil to ensure sufficient warmth.
Water generously for a few days to make sure the plants root well. Once established, sweet potatoes will tolerate growing in dry soil. Still, it's best to keep the patch evenly moist with an inch of water once a week.
Harvesting Sweet Potatoes
The tubers are ready to harvest in about four months. Don't water your sweet potatoes during the final 3 to 4 weeks prior to harvest. This should help keep mature tubers from splitting.
If you like to eat the leaves as greens, you can do so in moderation throughout the season. But be sure to leave enough leaves to keep the plant growing.
You can dig your tubers once the foliage starts to yellow. Be gentle when digging. Sweet potato tubers grow close to the surface of the soil. Their skins are tender and easily damaged.
Are you ready to grow sweet potatoes in your backyard?