Winter is here and for most people in the Northern Hemisphere, that means snow. There is not much to do out in the garden this time of year except a little shoveling here and there.
That's why some gardeners who live in this half of the world dread the 'white stuff' and long for spring.
Snow is good for your garden
But what some may not realize is that snow is a good thing and our gardens are better when it falls.
In fact, snow is actually an important part of a healthy garden in cold winter areas.
In this article, we consider the benefits of snow in your garden.
Snow is an excellent insulator
Snow is mostly air surrounded by a little frozen water, and despite how cold it feels to the skin, it is an excellent insulator of the soil.
Some tests indicate that snowfall raises soil temperature by as much as 2°F for every inch that is on the ground.
Snow protects your garden against fluctuations in temperature
Snow protects your garden against wide temperature fluctuations in the soil. Under the blanket of wintry white, the roots of perennials, bulbs, ground covers, and strawberry plants are protected from the freeze-thaw cycle that can heave tender roots out of the ground.
Snow is mulch
Snow is a form of mulch. If you have not yet mulched your perennial beds, you may not need to with adequate snowfall.
However, if little snow is on the beds, it would be good to mulch. In most cases, 2 to 4 inches of mulch, such as straw, pine needles, hay or bark chips, will provide suitable protection. For some plants, such as roses, more protection is needed.
Snow is a good fertilizer
Snow is an excellent fertilizer. As snow falls through the atmosphere, nitrogen and sulfur attach to the flakes.
When the snow melts, these elements are released into the soil and absorbed by plants. Nitrogen is essential to plant growth.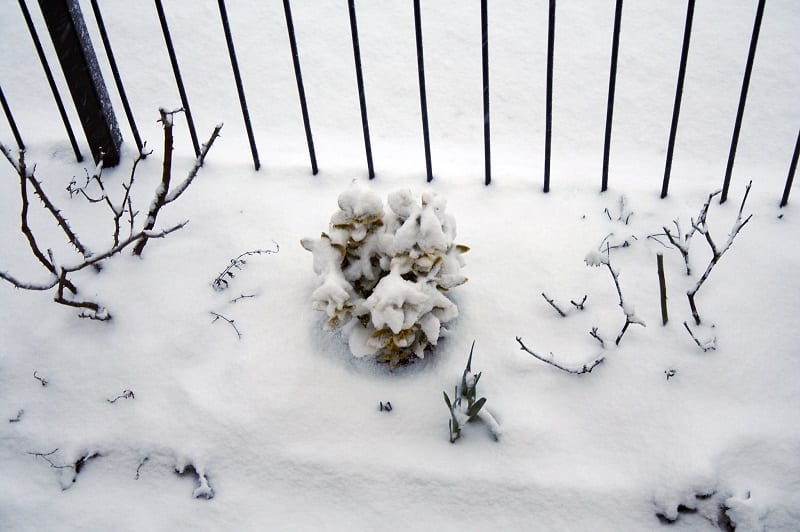 "Snow makes all the plants grow"
Of course, heavy snow can weigh down branches. The weight of the snow can bend branches to the ground, cutting off circulation of food manufactured by the leaves to the roots.
If possible, bundle stems together using burlap or canvas in the fall. In winter, take a broom and carefully brush heavy snows from branches as soon as possible.
Don't try to remove ice. That might damage the bark. The best thing to do is to allow the ice to melt on its own, says Robin Sweetser for the Old Farmer's Almanac.
Other than moving to a warmer climate, there isn't anything we can do about snow. If you are sitting indoors moping, you are better off taking some time to enjoy the changes in seasons. Learn to appreciate all the benefits that snow can provide.
As the old saying goes: "A good winter with snow makes all the plants grow."